Giving back to the mountain—our year-round office.
The Alta Environmental Center (AEC) was created in 2008 to guide the ski area's sustainability efforts and look after the natural environment in which we operate. The AEC crew has been hard at work this summer with a to-do list than includes trail restoration and management, wetland restoration efforts as well as organizing 20-plus Summer Stewardship and Environmental Education events for the Alta community.
Since 1991, Alta Ski Area and the AEC have planted 41,624 trees and 78,808 plants around the ski area.
Another big part of the AEC's busy summer schedule includes the revegetation of Alta's slopes through the planting of native plant seedlings and tree seedlings—all of which were harvested from the mountain. When wildflowers and plants go to seed each fall, the AEC collects the seeds during the opportune germination phase. The seeds are then cleaned, sorted and sent to a local horticulturist where they continue to grow until they returned to Alta the following summer.
This summer was slightly different. Instead of acquiring native trees from a local nursery, the AEC harvested 500 trees—including their roots and neighboring native vegetation—from Alta's groomed runs. These trees were moved to nutrient-rich soil for one month and then replanted along Little Cottonwood Creek.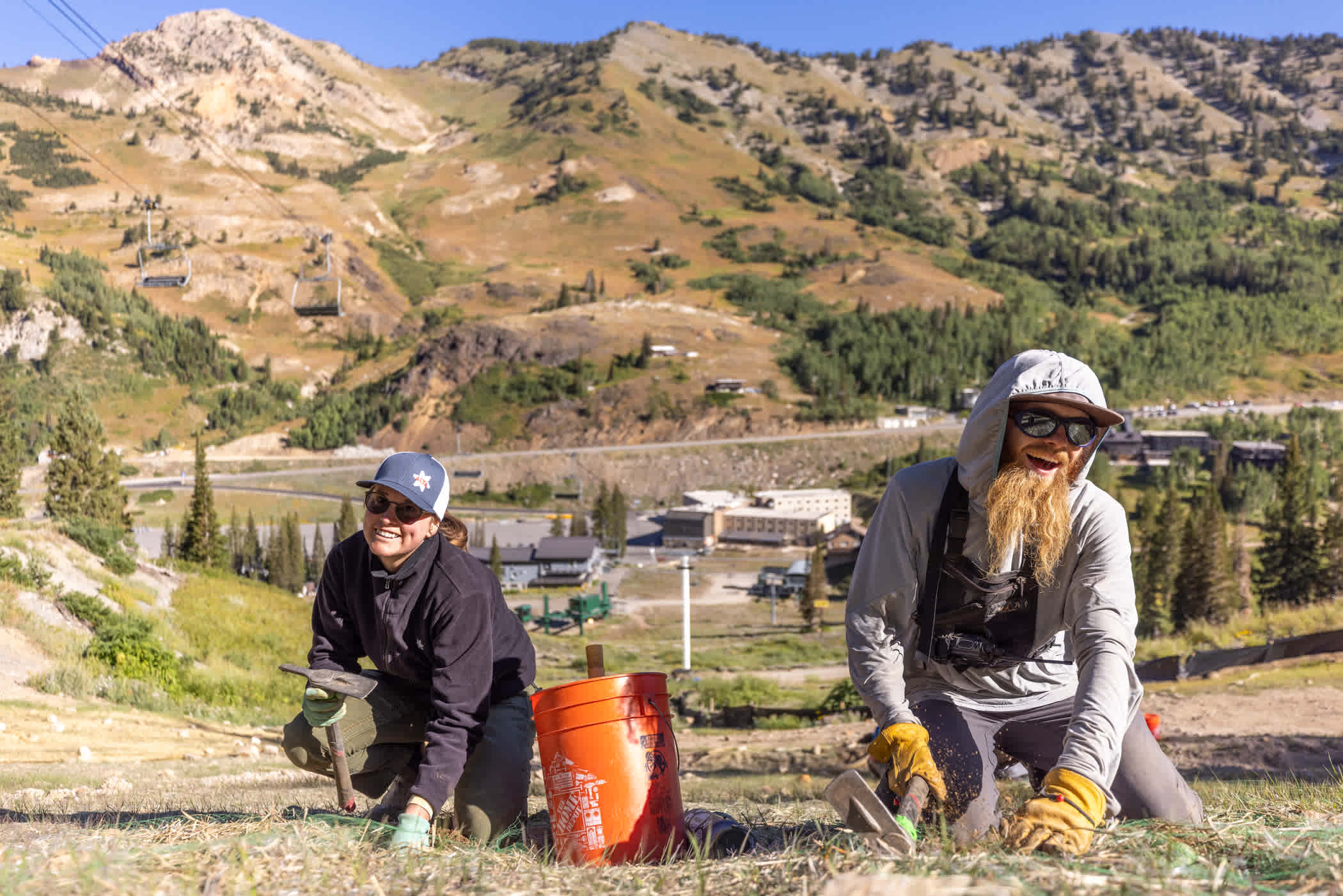 Jen and Quinn with the AEC helped organize this summer's Employee Conservation Days | Photo: Rocko Menzyk
With fewer nursery-grown trees to plant this summer, the AEC went all-in on native plant seedlings. After waiting for the snow to melt, the AEC was hard at work planting over 9,000 native plant seedlings through daily plantings and Monthly Volunteer Days with our partner organizations.
In order to help achieve this lofty goal, the AEC organized two Alta Ski Area summer Employee Conservation Days—one in mid-July and one in late-August. The AEC enlisted the help of 25–50 summer employees across multiple departments to dig holes and plant seedlings on Nina's, a slope that was regraded during the summer of 2021.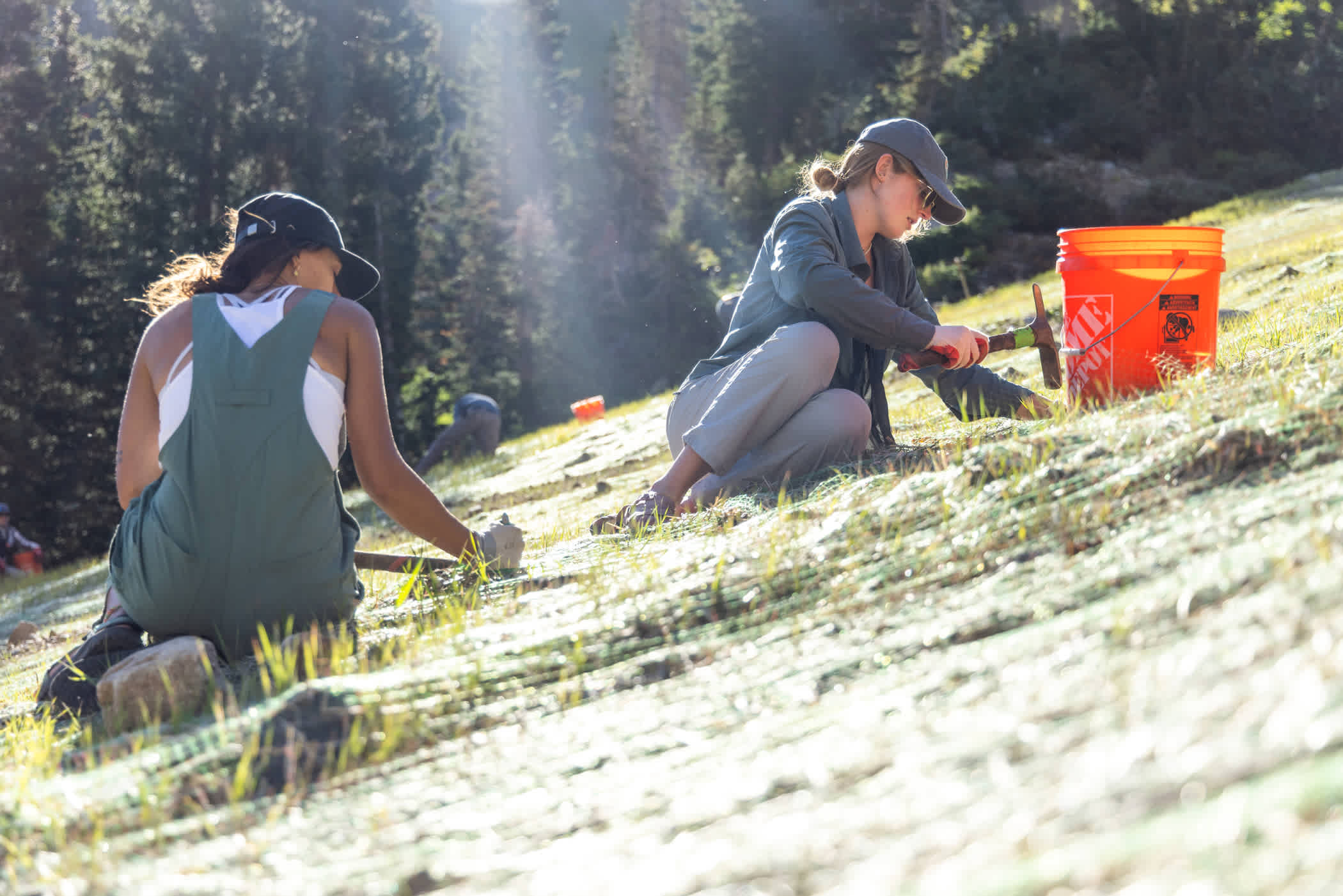 Nikki Baldassari & Julia Cloward digging holes on Nina's | Photo: Rocko Menzyk
The beautiful mountain scenery, fresh air and opportunity for recreation in the mountains are just a few of the many benefits of working year-round at Alta Ski Area. For our summer staff, Employee Conservation Days were a great excuse to get out from behind our desks or take a break from other work on the mountain to put our collective hands in the dirt and give back to the mountains that called us to work at Alta.
When it was all said and done, Alta Ski Area's summer employees helped the AEC put 1,344 native plant seedlings in the ground over two beautiful mountain mornings.
These two Employee Conservation Days are a part of a larger effort to plant 3,000 native seedlings on Nina's every year for three years. The revegetation efforts are already paying off, as Nina's is already seeing noticeable growth.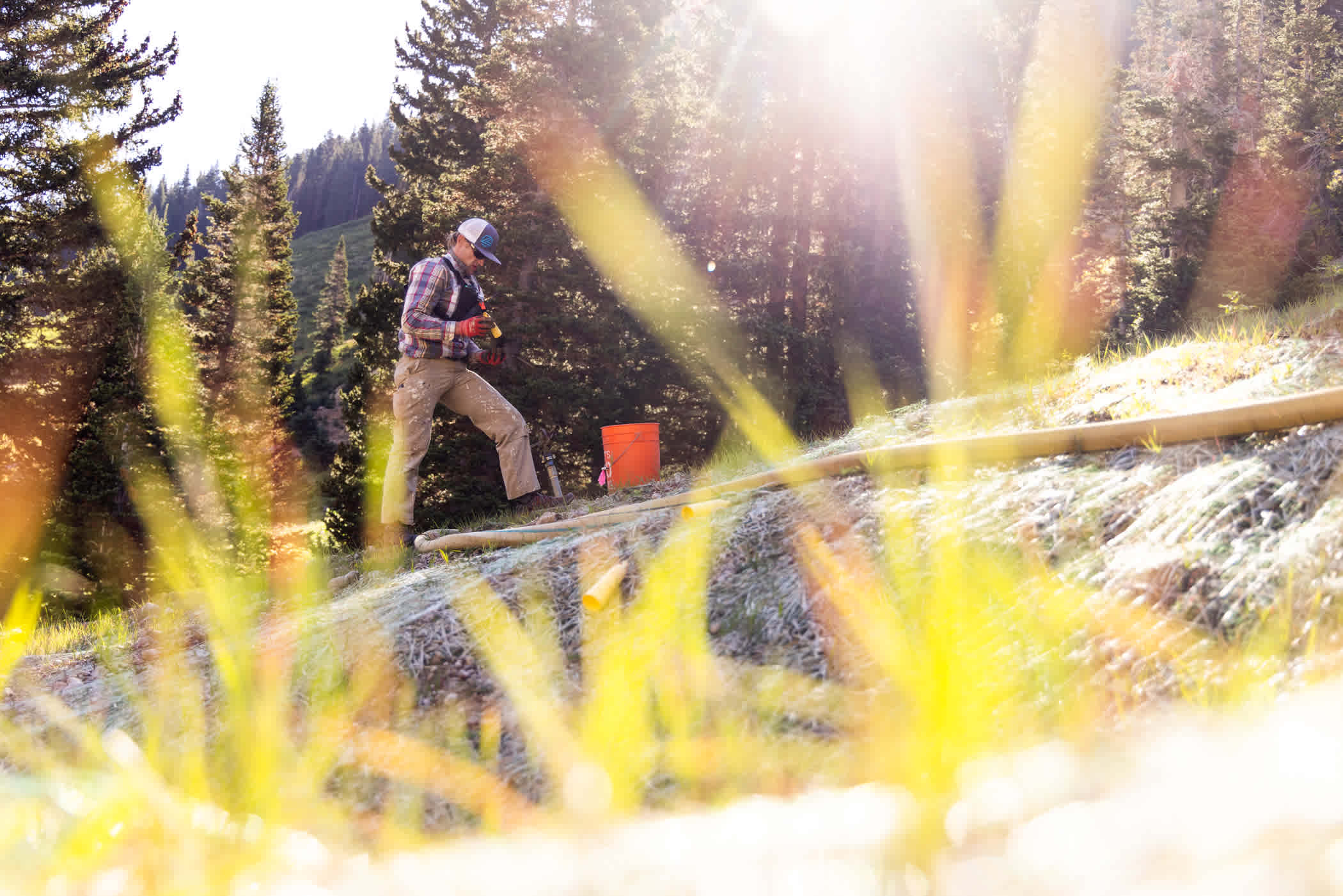 Alta Ski Patroler Andrew McCloskey puts another seedling in the ground | Photo: Rocko Menzyk
Once the snow starts falling, these plants will lie dormant until the late spring when we'll again take a break from the office to check in on this summer's planting efforts and put some more native plants in the ground.
Next time you're skiing on the slopes of Collins Gulch say a few words of encouragement to the sleeping native plant seedlings under all the snow.
Employee Conservation Days
July 13th, 2022: 588 native plant seedlings planted
August 31st, 2022: 756 native plant seedlings planted
Species Planted
Coneflower

Coyote Mint

Yarrow

White Sage

Fireweed

Wasatch Penstemon

Pearly Everlasting

One-head Mounding Sunflower

Grey Aster

Lanceleaf Figwort

Whorled Buckwheat

Nettleleaf Horsemint