share your favorite moments from this Ski Season #AltaMagic2020
We are a village. Our mountains are stunning and our snow is deep but the real story told each winter comes from YOU. To help us all feel like we're skiing together after a winter cut short now is the time to share your favorite Alta story from this winter.
We recently asked Alta skiers to share some of their favorite moments from the 2019-20 ski season. Here are some of our favorites images and stories shared on Alta's Facebook page. Thank you to everyone that took the time to share our photos or share their favorite moments.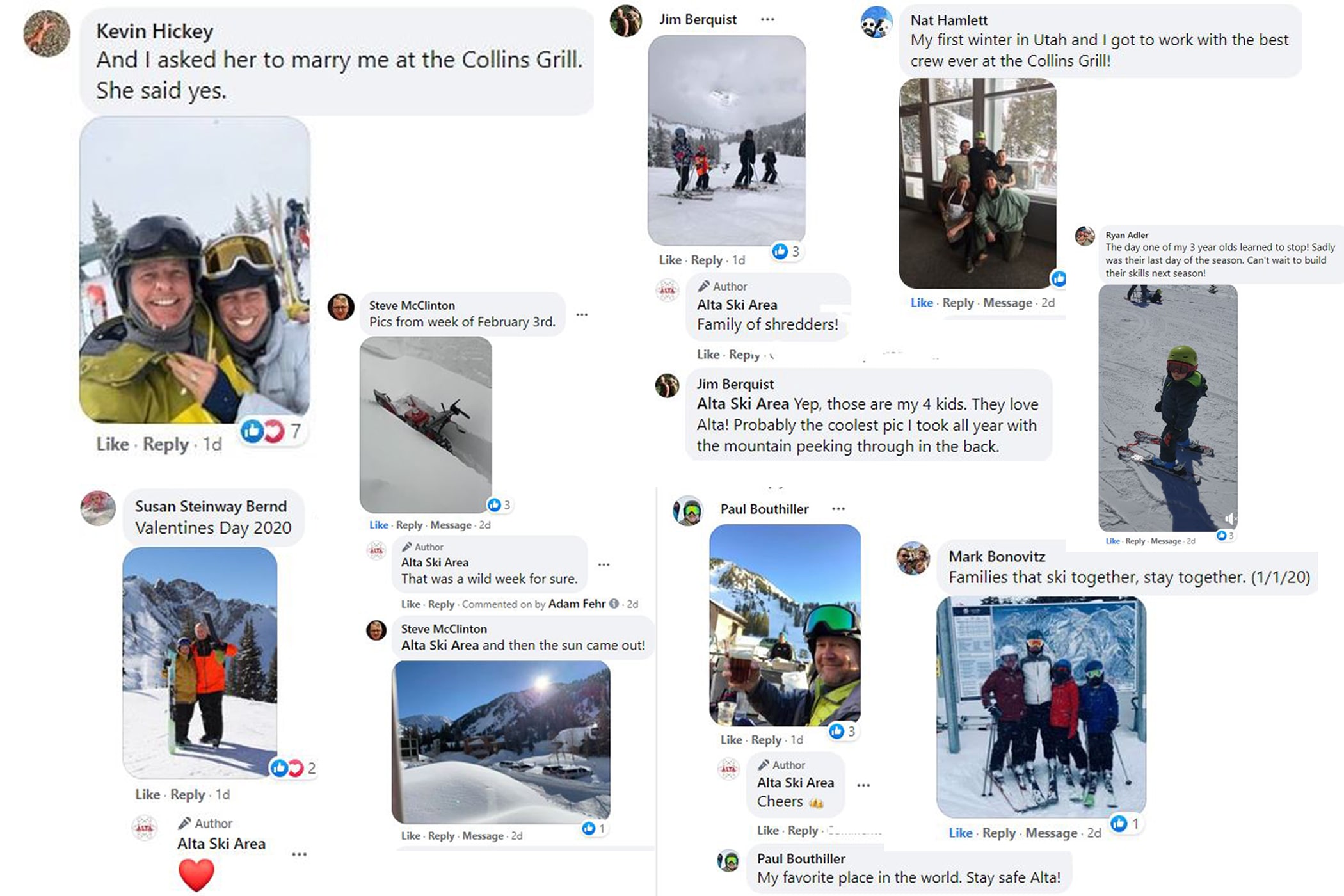 There were a lot of people that are missing the Alta community as we all do our best to Stay Safe, Stay Home. Here were some of our favorite comments from a recent Instagram post asking Alta skiers to reflect on their favorite moments from the 2019-20 season.
My girls learned to ski this year and it has all been done at Alta! - @rjnestman




❤️❤️❤️Alta is where my family goes to reset and enjoy each other. The mountains feed our soul. We love Alta! ❤️❤️❤️ - @amysebelin




Laps at devils castle on a bluebird day the week before you closed. Alllllll gooood!!!!!😊❤️⛷. My happy place!!! - @mcnamara2619




I love you guys and I love Alta. I'm just treating this as a really long interlodge. We will be back in no time - @jake_noorda




I introduced my girlfriend to Little Cottonwood Canyon this winter. So much fun. What a magical place! - @chrisapicella
SHARE YOUR FAVORITE MOMENTS OF A WINTER CUT SHORT with the hashtag: #ALTAMAGIC2020
The following gallery is a collection of images from our talented Alta staff photographers who share all aspects of our village, each and every winter day. Keep an eye out for Rocko Menzyk, Photo-John and Iz La Motte on the slopes of Alta, as they make the rounds each day, capturing the natural beauty, wildlife, characters and Alta Magic of our mountain home.
Follow Alta's Photo of the Day daily updates during the ski season. We will update intermittently as we make the transition to spring and summer.