Skiing Alta for the first time is a memorable and addictive experience. The hallowed ground for powder skiing in North America has sculpted the lives of skiers who chase that ethereal feeling of arcing down the mountain in a weightless snow globe.
For everything that makes Alta magical are the distinct nuances that make it unique. The town, access and the way the mountain is skied are likely different than any other mountain you have skied. After a couple of days, you'll feel the hum of this skiers' mountain and wonder why you ever skied anywhere else. Consider the below tutorial as your intro course.
Snowboarding is not permitted at Alta Ski Area.
Using Your Ikon or Mountain Collective Pass.
Your Ikon or Mountain Collective pass provides direct-to-ski access, which means that you can skip the ticket window and head straight to the lift line. If you need to pick up a pass, you can do so at Skier Services.
Parking reservations will be required on weekends & holidays for the 2022–23 season.
All Alta skiers, even those Ikon and Mountain Collective passholders will be subject to paid parking reservations on weekends & holidays. Please check our Parking and Road page for our daily parking forecasts.
Ikon Pass benefits
Your 2022–23 Ikon Pass or Ikon Base Plus Pass provides direct-to-lift skiing at Alta and Snowbird. Skiers can choose to start their day at either Snowbird or Alta.
Ikon Pass: 7 days of skiing at Alta/Snowbird with no blackout dates
Ikon Base Plus: 5 days of skiing at Alta/Snowbird with the following blackout dates:

Winter Holidays: December 26th–31st, 2022
MLK Weekend: January 14th–15th, 2023
Presidents Weekend: February 18th–19th, 2023

Friends and Family Discount: receive 25% off an Alta-Bird day pass for a friend or family member (not yourself), available day of at any ticket window.
We do not provide an Ikon discount on food and beverage, retail and rental or other services.
Mountain Collective benefits
Two days of skiing at Alta and two days of skiing at Snowbird
Half-off additional lift tickets for Alta and/or Snowbird
No blackout dates
Getting Here.
Alta is located 26 miles from downtown Salt Lake City, 32 miles from Salt Lake City International Airport and 42 miles from Park City. The proximity to Salt Lake City provides an urban contrast to the wild nature of winter within the Cottonwood Canyons. If you are arriving to Salt Lake City via plane and are staying at one of the several lodges in Alta, there's no need for a rental car. The easiest way to visit Alta is to leave the driving to someone else. This will save you time, money and hassle. Once you have arrived, there are various shuttles around Alta to get you from the chairlift to your hotel and to other nearby locales.
DRIVING TO ALTA—RULES OF THE ROAD IN LITTLE COTTONWOOD CANYON
You'll notice signs along the highway that read 'Snow Avalanche Area No Parking or Standing'. Please respect those as well as No Parking Signs within the Town of Alta. Alta sits at the terminus of Highway 210. The dead-end road is 13 miles long, crosses 64 avalanche paths and has the highest highway avalanche hazard index of any major road in the United States. It's a stunning and beautiful ride, even for the most seasoned local, but needs to be treated with respect during the winter months.
State law requires that you carry chains in your vehicle or have snow tires on your vehicle in Little Cottonwood Canyon from November 1st through May 1st.
There are times when the Little Cottonwood Canyon Road, SR 210, may be restricted to travel
Public & Private Transportation—Skip the Drive
Private Shuttles
Transportation from SLC International Airport can be provided from the following companies:
View more private transportation options >
Utah Transit Authority Ski Bus
If you are staying in the valley and driving up to Alta, consider carpooling or using the Ski Bus, a service provided by Utah Transit Authority (UTA). Ikon pass holders can ride the UTA Ski Bus for free.
Ride the Ski Bus to Alta | Alta Stories >
NAVIGATING TWO BASE AREAS—Albion & Wildcat.
Upon arrival, you can begin your day at the Wildcat and Collins base or at the Albion. Each of these areas provides specific needs that cater to the individual skier and family, so it's best to plan ahead to which suits your needs. Both are connected via a rope tow or shuttle.
Albion Base Area
The Albion Basin is ideal for beginners, families and those who are enrolling in a ski lesson with the Alf Engen Ski School. The Albion Day lodge is also a bit quieter than the Goldminer's. The Albion has food, a ski shop and Alta Java—a local's favorite for coffee.
Sunnyside and Albion lifts (beginner and intermediate terrain)
Albion Ticket Office and restrooms
Wildcat Base Area
Advanced skiers typically park at Wildcat and Collins and use the Goldminer's Daughter Lodge as their home base. There are food, lockers and two ski shops. The Deep Powder House and Alta Ski Shop provide rentals, gear, and novelty items.
Skier Services Building - Main Season Pass Office
Wildcat Ticket Office and restrooms
Enjoying The Alta Vibe.
The feel-good Alta vibe is not only a product of the copious amounts of snow and locals that frequent this place, but also because Alta is about the skiing not opulent amenities.
"Heated sidewalks with villages full of trendy strip mall stores, well you won't find that here and that's the way we like it."
However, that is not to say that Alta doesn't provide modern-day amenities, which it does. We just rather focus on the skiing and the mountain rather than things that detract from spending time in the mountains and skiing with friends.
While you are skiing, you'll find some chairs are faster while others are classic old-school doubles, including some without safety bars. Take time to enjoy the slow rides as they preserve snow quality and can often spark a good conversation.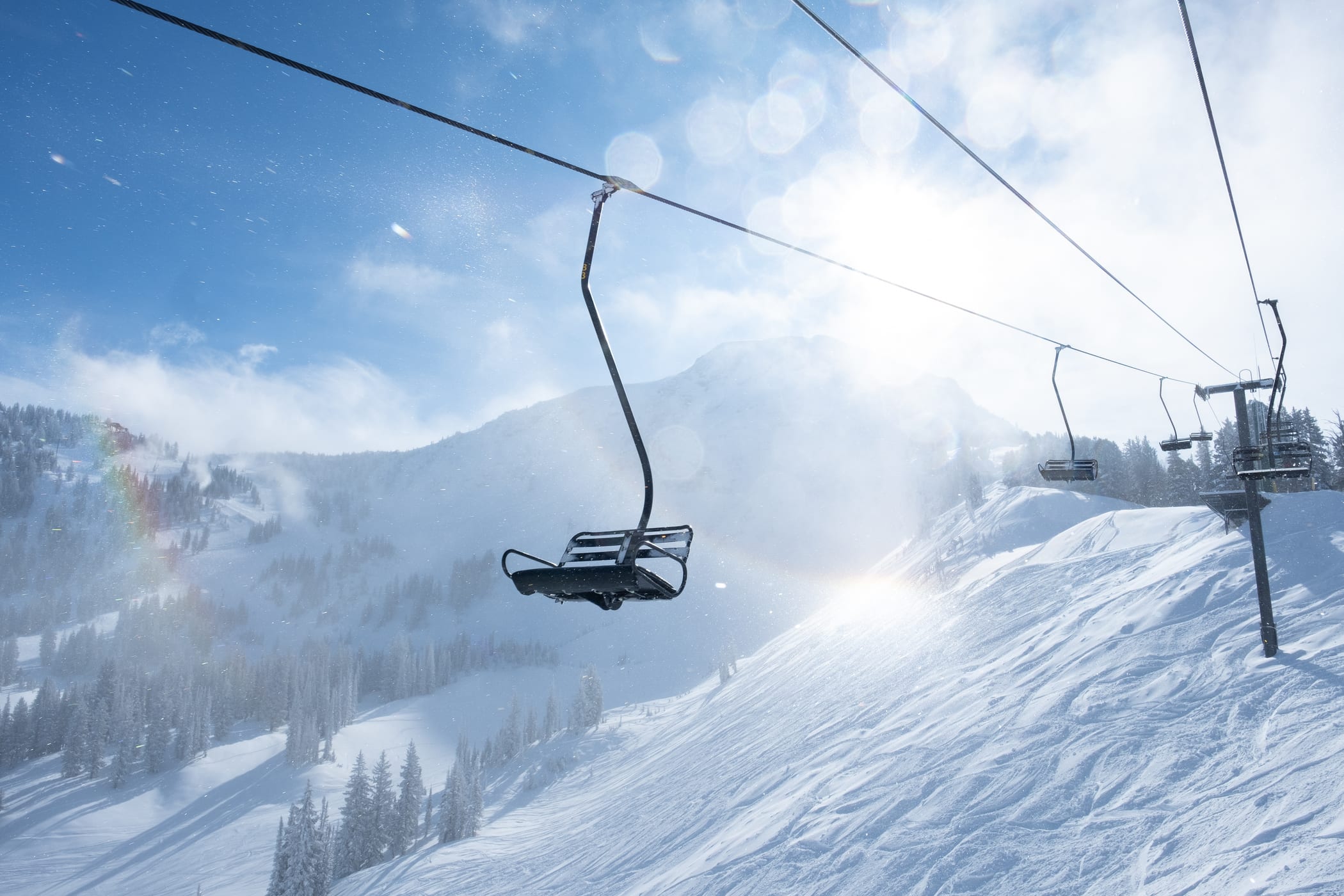 On-mountain amenities can be found near the Sugarloaf and Supreme chair at the newly expanded Alf's Restaurant or at Watson's Shelter near the Collins chairlift. Both are ideal for lunch and midday snacks.
What is INTERLODGE?
Interlodge means everyone must stay inside a building with no outdoor travel. Simply put, there is too much snow outside for you to travel safely. Staying inside during Interlodge protects you from the avalanche control that is taking place outside. Alta Ski Area or the Utah Department of Transportation are intentionally triggering avalanches to make the road and ski area safer for travel.
For skiers, Interlodge means deep powder skiing and a unique experience you'll likely tell your friends and perhaps your grandchildren about. Yes, you'll have to weather the storm and follow the rules of Interlodge—but you might also experience the best day of skiing of your life.
Go behind the scenes with Alta Ski Area and Alta Community Enrichment who partnered with Sweetgrass Productions and Iz La Motte as they tell the definitive story of Interlodge.
Thanks for visiting beautiful Alta Ski Area. We hope you have a great day on the mountain with family and friends.
Check out our Tips For Skiing Alta including our Alta : 101 video series >