Alta's ski-anything mantra is best exemplified not by what it does, but by what it doesn't do
"If you can see it, you can ski it." This is the mantra of 81-year-old Alta, a classic ski area in Utah's Little Cottonwood Canyon that sees an average of 547 inches of snow annually.
Alta Ski Area has a ski-anything mantra best exemplified not by what it does, but by what it doesn't do. The ski area preserves individuals' ski experiences by consciously deciding not to put a lift in every last nook and cranny. The entire ski area has just six lifts, which means you might have to work a little to find your favorite spot.
Alta has a limited number of lifts to ensure the mountain doesn't get too crowded | Photo: Iz La Motte | Skier: Madison Rose Ostergren
To keep crowds at bay, Alta intentionally limits uphill capacity, too. Because of this dedication to creating the best ski experience, you never feel overrun or crowded in. This policy also prevents Alta from placing a cap on daily lift ticket sales.
These strategies make locally owned and operated Alta different from the corporate-owned resorts that have become the norm in today's ski industry. Alta is still independently owned by the same family that founded it, the Quinneys. They established Alta in 1938 after convincing the Forest Service that the mountains surrounding this mining town would be a perfect place to ski.
Joe Quinney, Alta's patriarch, wanted the resort to be for locals, and it's a mentality that continues today in how the resort is operated. J. Laughlin caught Quinney's vision early on, and with his added financing, they together built Alta as a sustainable, self-funded home for skiing.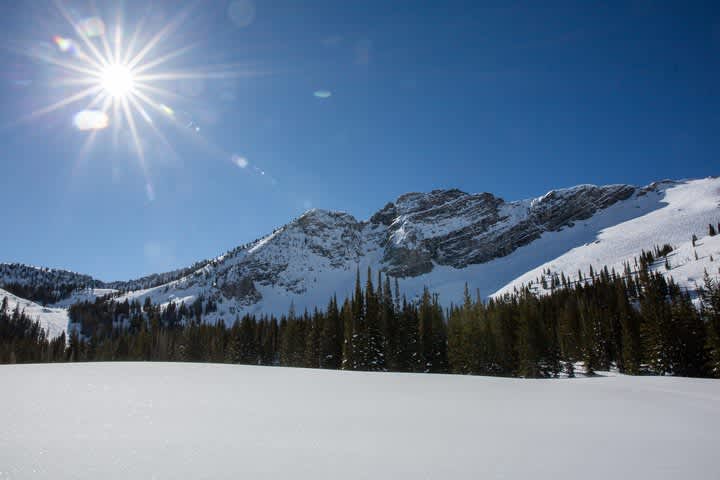 One of the oldest ski areas in the U.S., Alta has always focused on promoting open terrain for skiers | Photo: Rocko Menzyk
Alta's first chairlift came in 1939, constructed from a surplus mining ore tramway system, and new additions have come only as skier demand requires. That means building lifts one at a time and paying for each one out of pocket—to keep the resort from going into debt. This heritage—policies on preventing crowding and keeping terrain open—have made Alta stand out from other ski areas, and skiers have taken notice.
"People have learned to call Alta their spiritual home," says Connie Marshall, Alta's former director of marketing and public relations, who retired last season after 44 years at Alta. "You can be a bit of a wanderer. We have tried to not get in the way of that feeling."
In an era of controlled skiing and strict resort boundaries, Alta lets skiers wander. This freedom brings visitors and locals back year after year to venture far beyond the resort's 116 named runs. Some of Alta's steepest, deepest, and best trails are unlisted on the trail map and discovering them yourself is part of the adventure. And unless there is a rope sign blocking off terrain due to cliffs or avalanche danger, you're free to explore the mountains.
Not many ski resorts have this feeling or allow you to find your own way. Use the freedom wisely by studying the terrain before committing to a line—lest you find yourself in over your head. This is equally important in bounds as Alta doesn't differentiate black runs from double blacks as many resorts do.
Skiers of any ability will find something to love at Alta | Photo: Iz La Motte
Skiing here makes you almost forget you're in a ski area at all. But Alta's wide-open terrain is not the backcountry. Unless you exit at a gate, you're still in bounds—so beacons, probes, and helmets are not required. That said, Alta advises everyone to bring these safety tools along and to know how to use them.
Beyond these skier-friendly policies, Alta is known best for its snow. The resort boasts its own microclimate and averages more than 45 feet of snow per year! And Alta's snow isn't just any snow, it's the legendary Utah powder that's a perfect combination of fluff and stability, which makes for excellent skiing.

Typical Alta powder day | Photo: Photo-John | Skier: Mike Maughan
While other resorts build massive lodges or roll out an endless stream of fancy new toys, Alta will just be Alta. A throwback to the golden age when the skiing was the most important thing about a ski resort, Alta's continual focus on pure skiing brings visitors looking for an authentic experience back season after season. After all, Alta is for skiers, and that's one thing time won't change.
Written by Jenny Willden for RootsRated in partnership with Alta.