Because Alta is more than just deep powder.
Alta Ski Area near Salt Lake City is famous for some of the deepest powder snow and challenging terrain in the west. Many of the world's best skiers cut their teeth at Alta, and come back to get their kicks on this classic mountain. It is the second oldest lift-served ski area in the west and is still old school in many ways. Alta does not differentiate between black diamond and double black, so the trail map alone won't reveal the steepest of the steep, and with 55 percent of the resort's nearly 116+ named runs marked as expert, you could chase steeps all day without finding the best.
Alta has some of the steepest in-bounds runs in America, though it's true that side-stepping and even booting are sometimes required to get to them. A long-running joke states that Alta is actually an acronym for Another Long Traverse Ahead. The plus side is that plenty of powder caches and steep shots stay guarded the skiers unwilling to put in the work.
This guide to Alta's steepest slopes will help you make the most of the mountain and allow you to find your own features to pile on the challenge.
These descriptions are not scientific in calculating precise steepness or pitch, because there are different methods of measurement and results may vary depending on where you break out the clinometer. The average pitch tends to underestimate the pucker factor while staring down the initial drop of an Alta steep. So without further ado, we present the 8 "Steepest" Runs at Alta.
1. ALF'S HIGH RUSTLER (AKA HIGH BOY)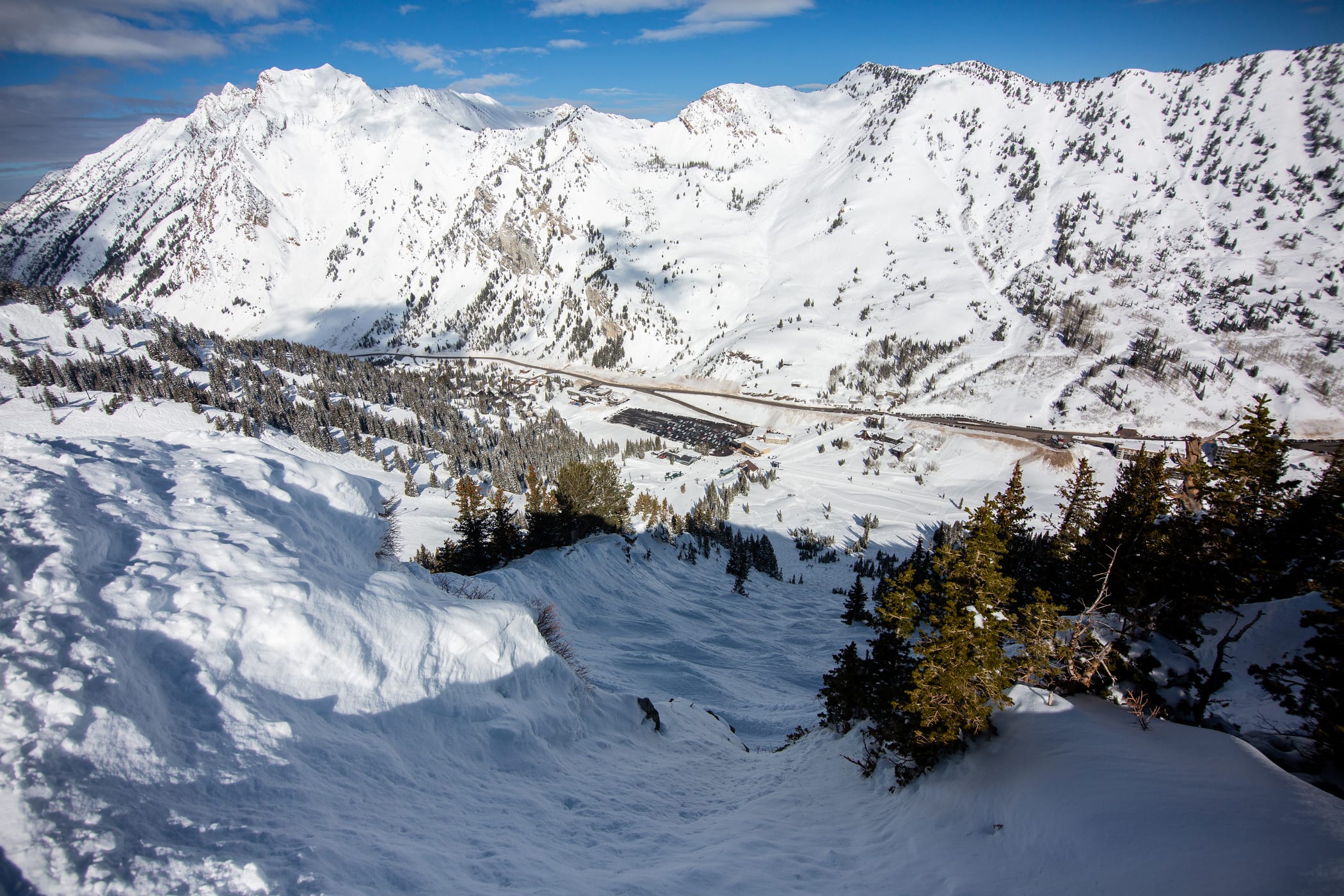 Looking down Alf's High Rustler | Photo: Rocko Menzyk
Staring you in the face from the moment you set foot in the town of Alta is Alta's (and maybe Utah's) most famous steep shot, Alf's High Rustler, named after Alta legend and powder skiing pioneer Alf Engen who reportedly straight-lined this beast in the leather boots and long wooden boards of his day. If you can follow in Alf's ski tracks, drop in for a screaming start of nearly 45 degrees (interspersed with options for glorious air time), and enjoy the ride of more than 1,000 vertical feet down to Wildcat Base and another round on Collins lift. Ski it if you can, then buy the t-shirt to show off back home. For decades, locals have a rite of passage that calls for day-ending top-to-bottom High Boys.
2. EAGLE'S NEST/HOURGLASS CHUTE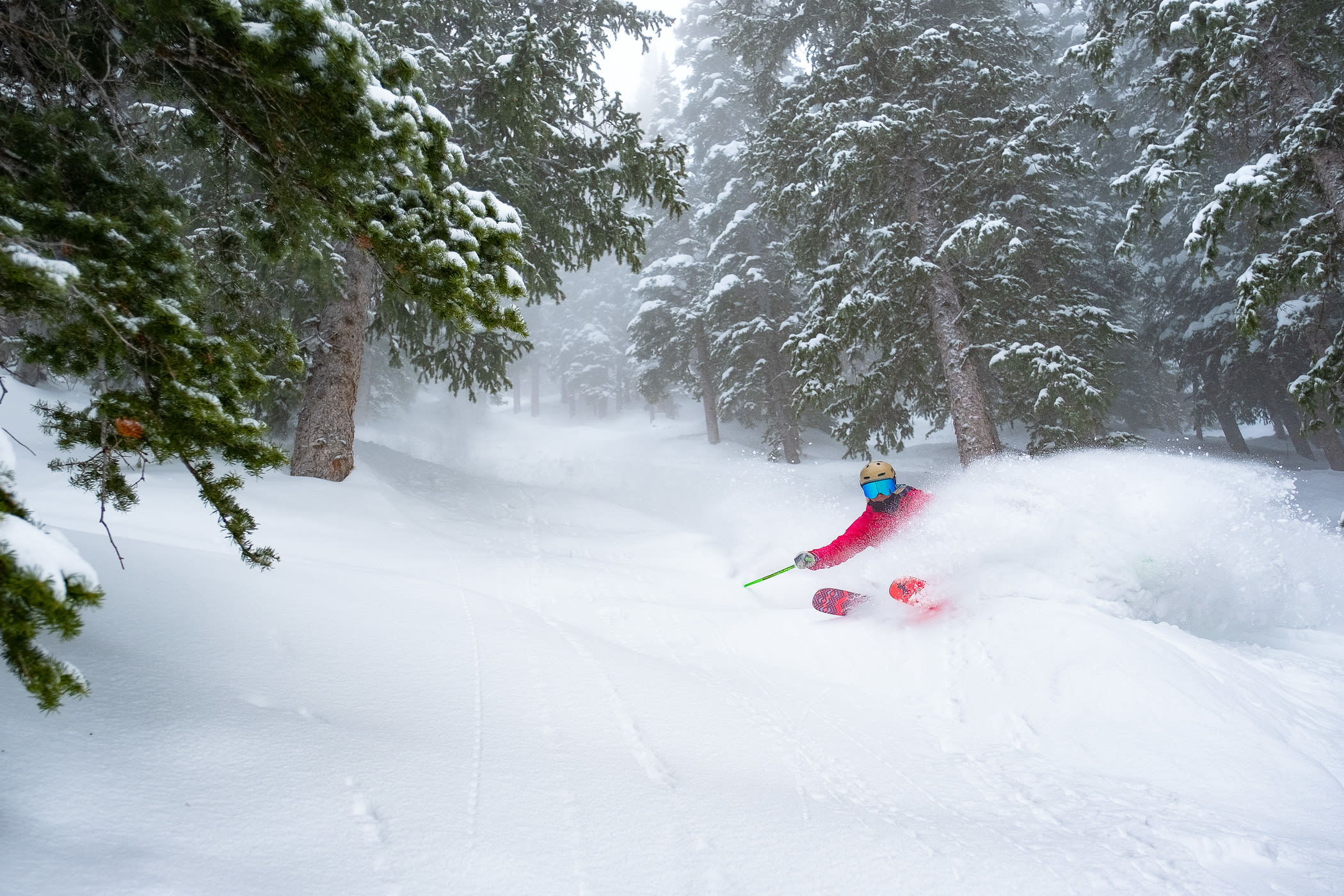 Clare Chapman finds some steep pow in Eagle's Nest | Photo: Iz La Motte
A bit further still out the High Traverse, near the end of the ridgeline, lies Eagle's Nest and Hourglass. A steep shot between the trees of 1,000 vertical feet of black diamond bliss. Eagle's Nest and Hourglass Chute drops at the precipitous pitch of 42 degrees, and the trees dictate tight turns. Once it runs into lower Eagle's Nest, the angle relaxes and trees open up, just in time to give your burning legs a breather before finishing the long descent.
3. GUNSIGHT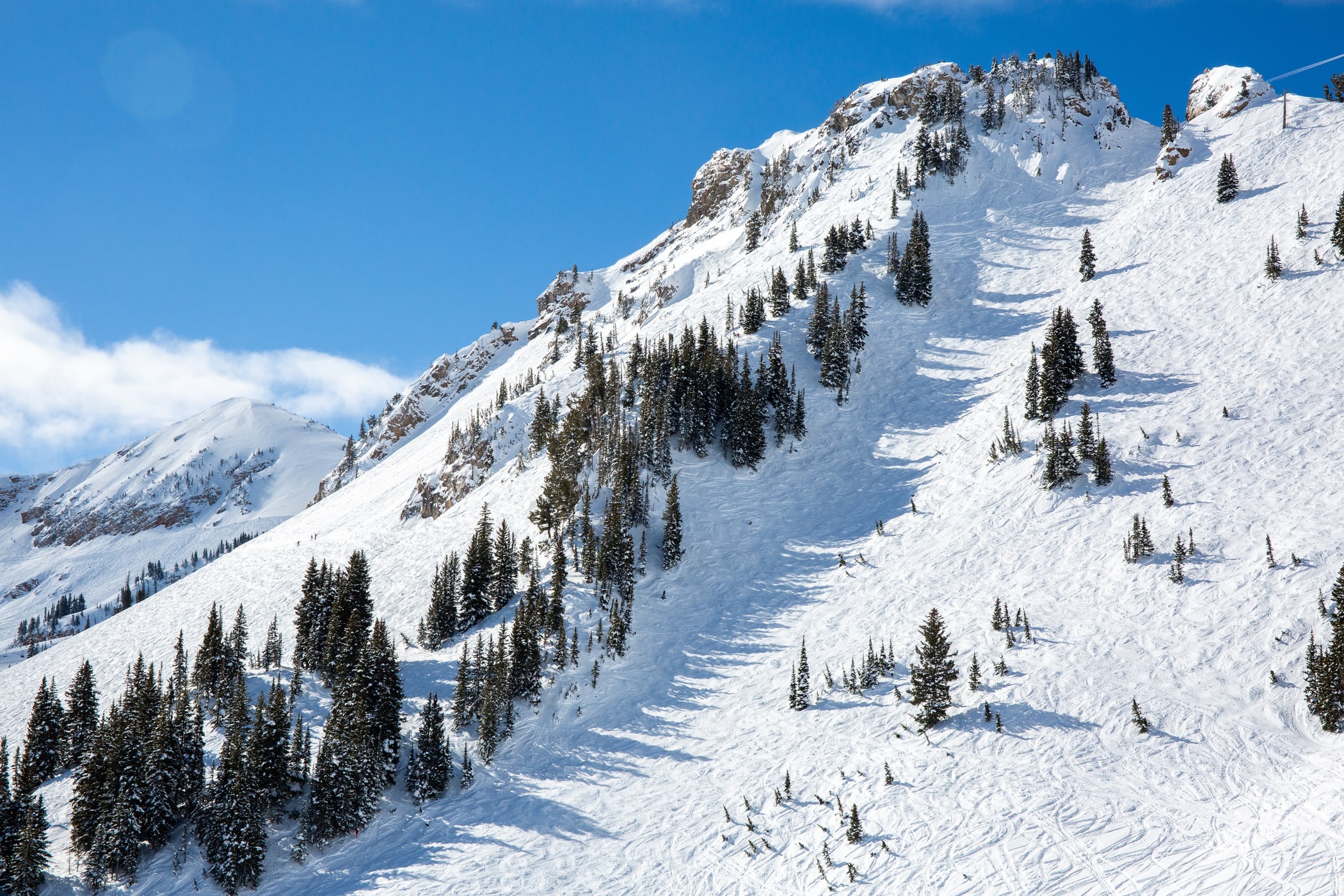 Looking down the barrel of Gunsight | Photo: Iz La Motte
To experience Alta's second-most-famous expert run, stick to the higher road on High Traverse from Collins lift, then look for the side-step track leading up and over the ridge. Follow this for brief weave among the rocks, and you will suddenly find yourself staring down the "gunsight" notch. This very tight entry slot of 45 degrees will make you wish you had practiced more jump turns before coming up here. Remind yourself that there's no time like the present, then send it. The angle mellows gradually, but your legs won't get a break until the broad bowl at the very bottom.
4. EDDIE'S HIGH NOWHERE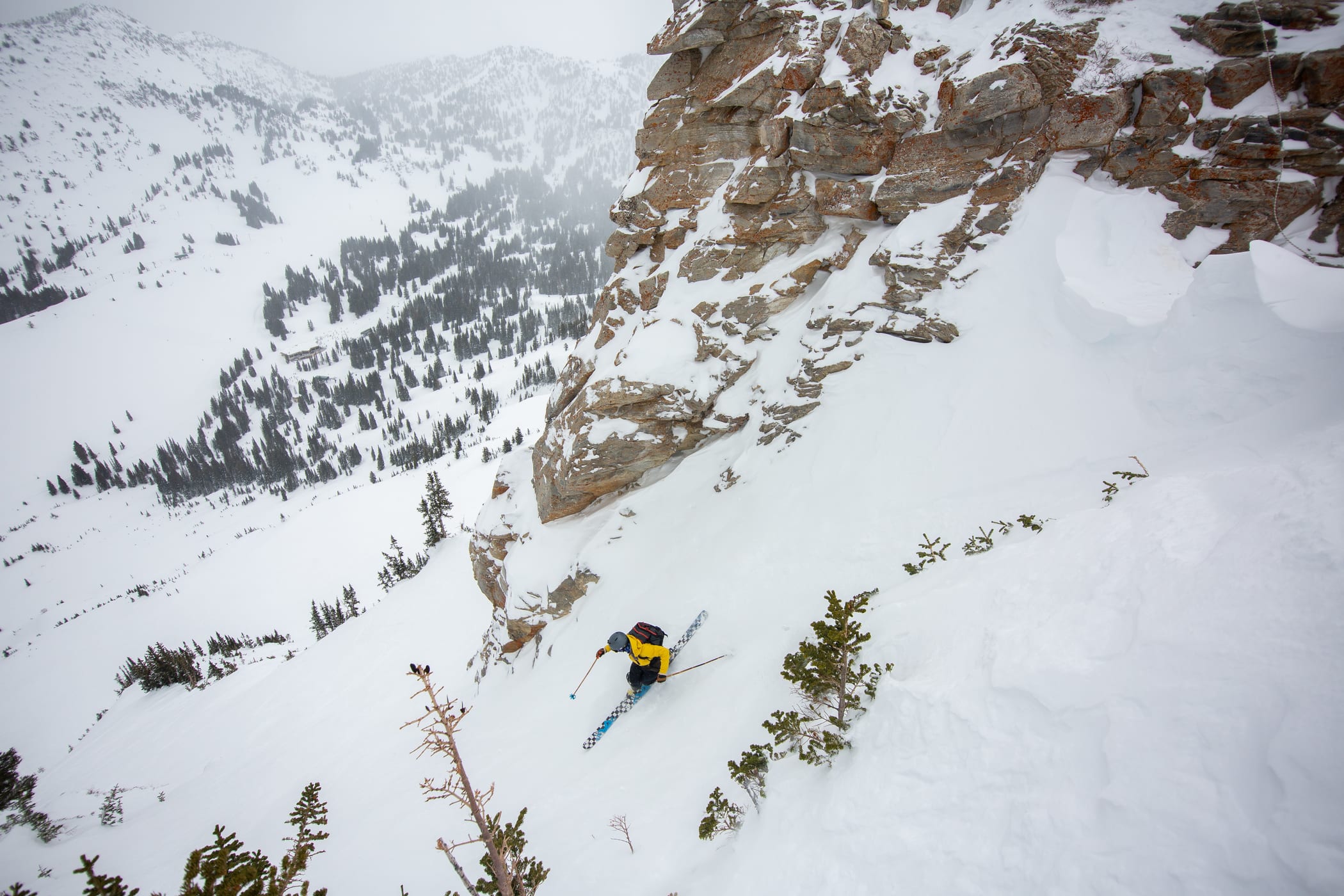 "Tele Tay" Johnson drops a knee into Eddie's High Nowhere | Photo: Rocko Menzyk
For even more thrills, check out Gunsight's lesser-known neighbor---Eddie's High Nowhere---which features an extra-tight entry slot between two cliffs. The line is accessible from the highest section of the High T, but only after a rope-assisted traverse over a cliff band and a short, but spicy, bootpack. All the drop-ins here are steep, approaching 40 degrees, and the angle hardly lessens up for a few hundred vertical feet, but the narrows soon give way to wide open hillside.
5. BALDY CHUTES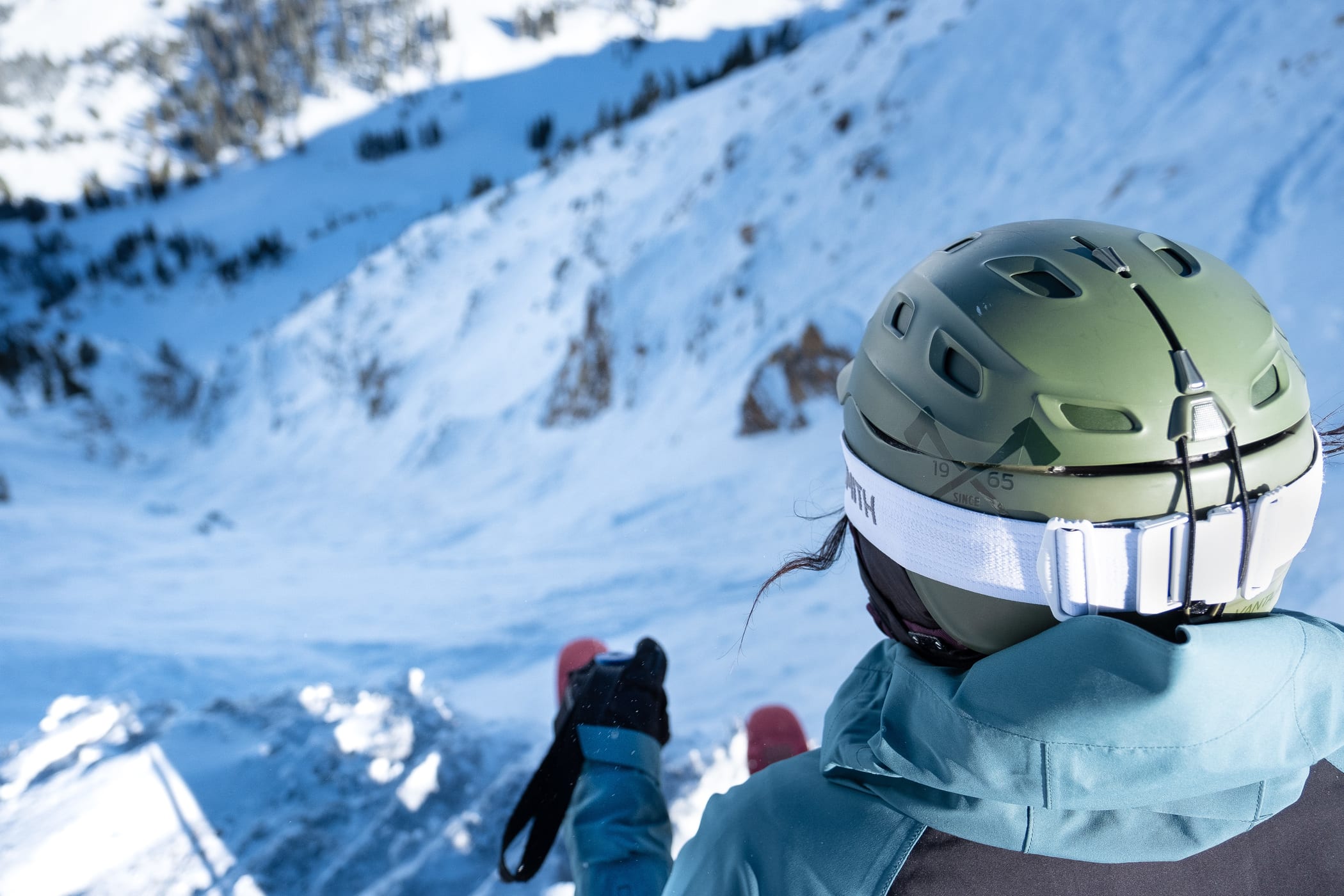 Sara O'Donnell scopes a line in Main Chute | Photo: Iz La Motte
The Baldy Chutes are a very committing series of gullies that plummet from the 11,068-foot summit of Mt. Baldy. Getting into them requires a long but rewarding hike from Sugarloaf lift to the mountaintop, where you can see the Wasatch Range in all directions on a clear day. From there, the way down is a wild ride. Main Baldy Chute is a screamer that hits 44 degrees, not counting obligatory airtime off the cornice that forms up top. Main Chute is actually the easiest option for reaching the Ballroom Bowl below. Give a scout to Little Chute or Dog Leg to explore a step up in difficulty, where the turns get tighter and more technical. These runs are worth lapping when the snow is good. They are sure to keep you gripped and the hike is sure to keep you fit.
6. CECRET CHUTES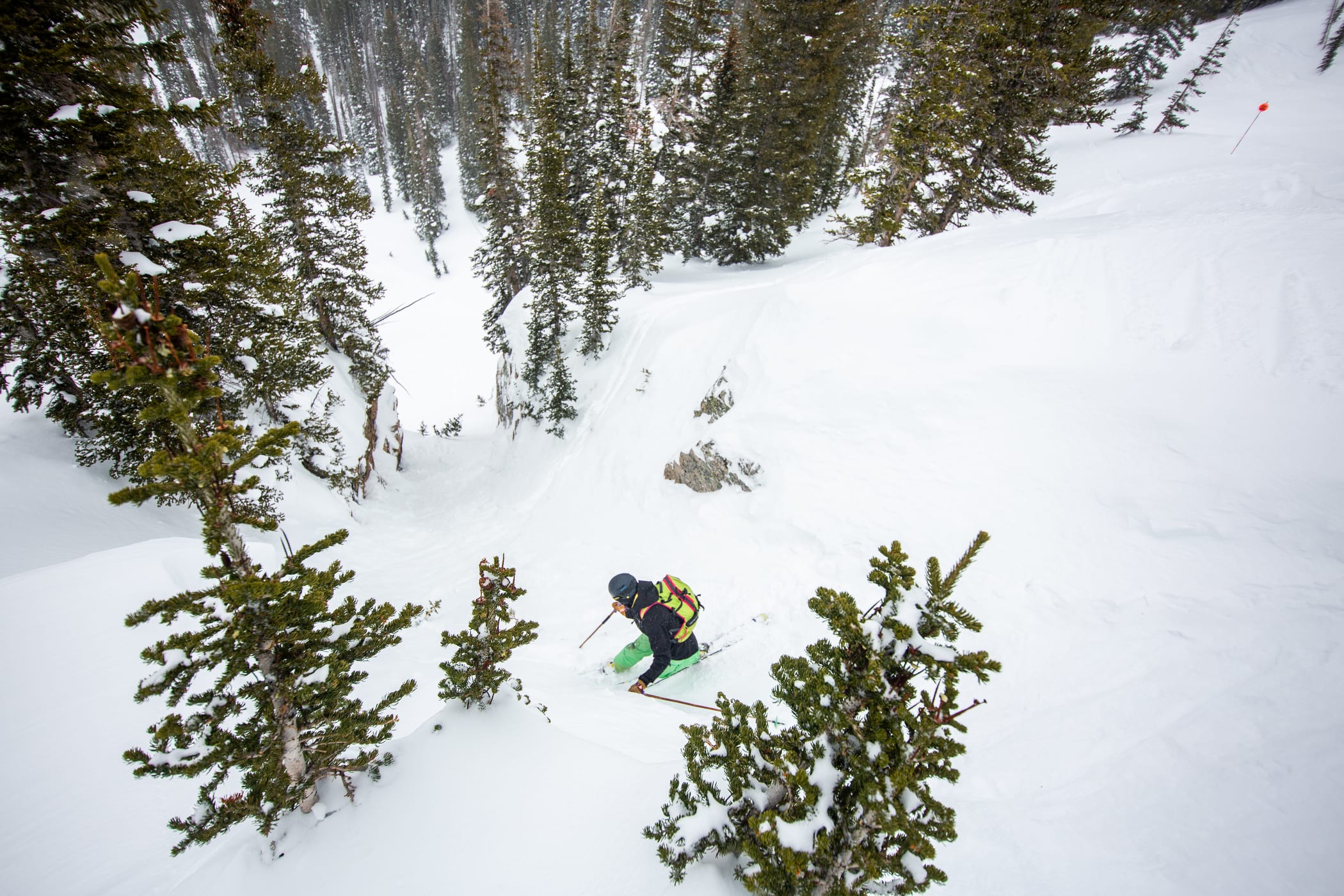 Taylor Johnson gets ready to take a ride in Elevator Chute | Photo: Rocko Menzyk
The Cecret Chutes are located at the bottom of the Devil's Castle area. Starting with a sidestep from the top of Sugarloaf lift, make sure to catch the cliff band that rests skier's right of the scenic (more-so in the summer) Cecret Lake. The chutes contain some spicy exposed turns or straightlines through Bat Cave and Elevator Chutes. They aren't long, but they're steep.
7. EAST CASTLE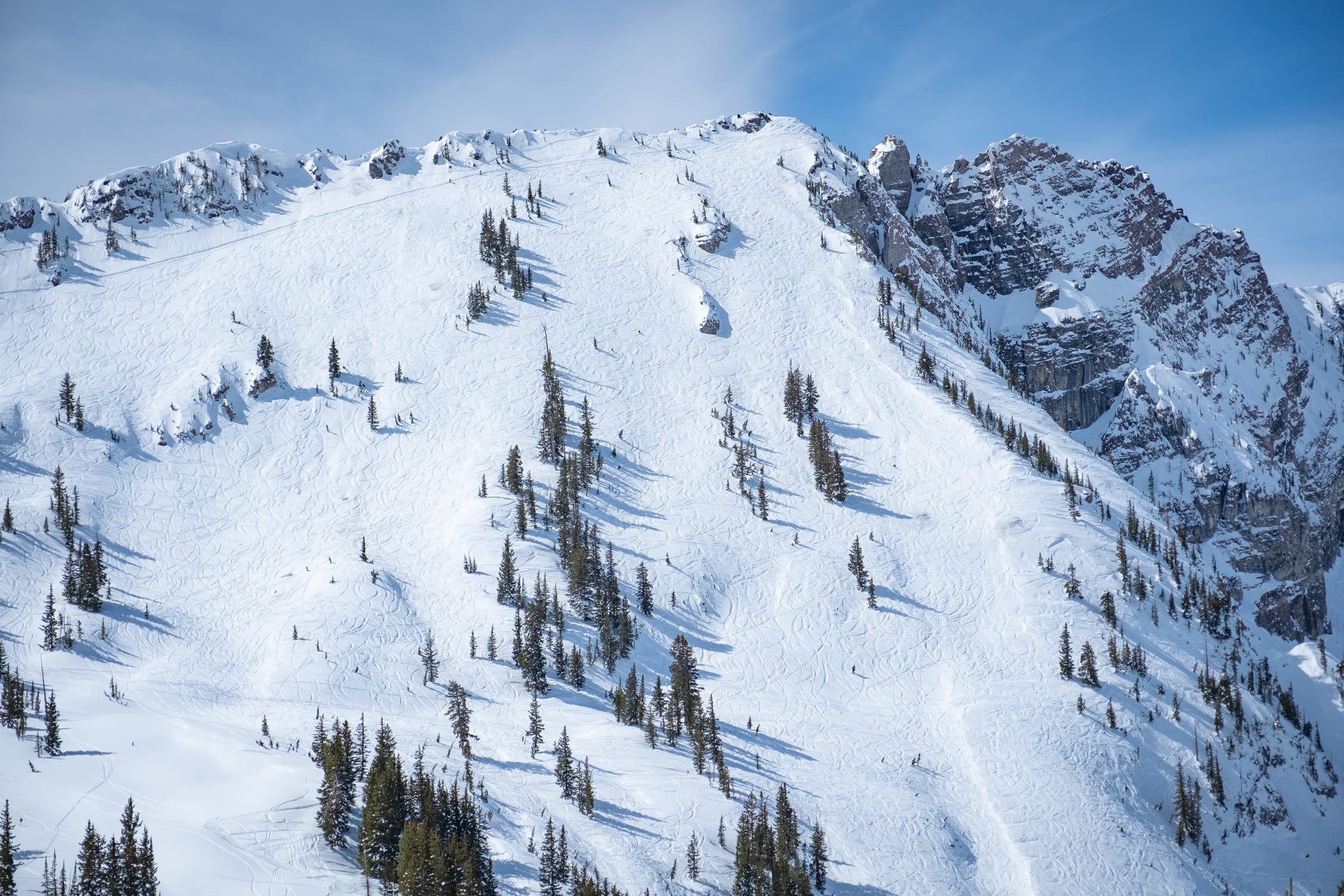 East Castle: rarely open, always steep | Photo: Iz La Motte
This wide-open slope lookers-right of Supreme Point, is a great alternative to pristine powder and mellow pitch of the more commonly skied Devil's Castle. Getting to it requires some commitment in the form of a long sidestep from the saddle below Supreme lift. East Castle is rarely open, which allows skiers to find powder and steeps days after a storm. The sidestep to the top takes between 30-45 minutes, disheartened skiers can drop sooner, but the steepest lines are accessed from the top of the sidestep.
8. SPINEY CHUTES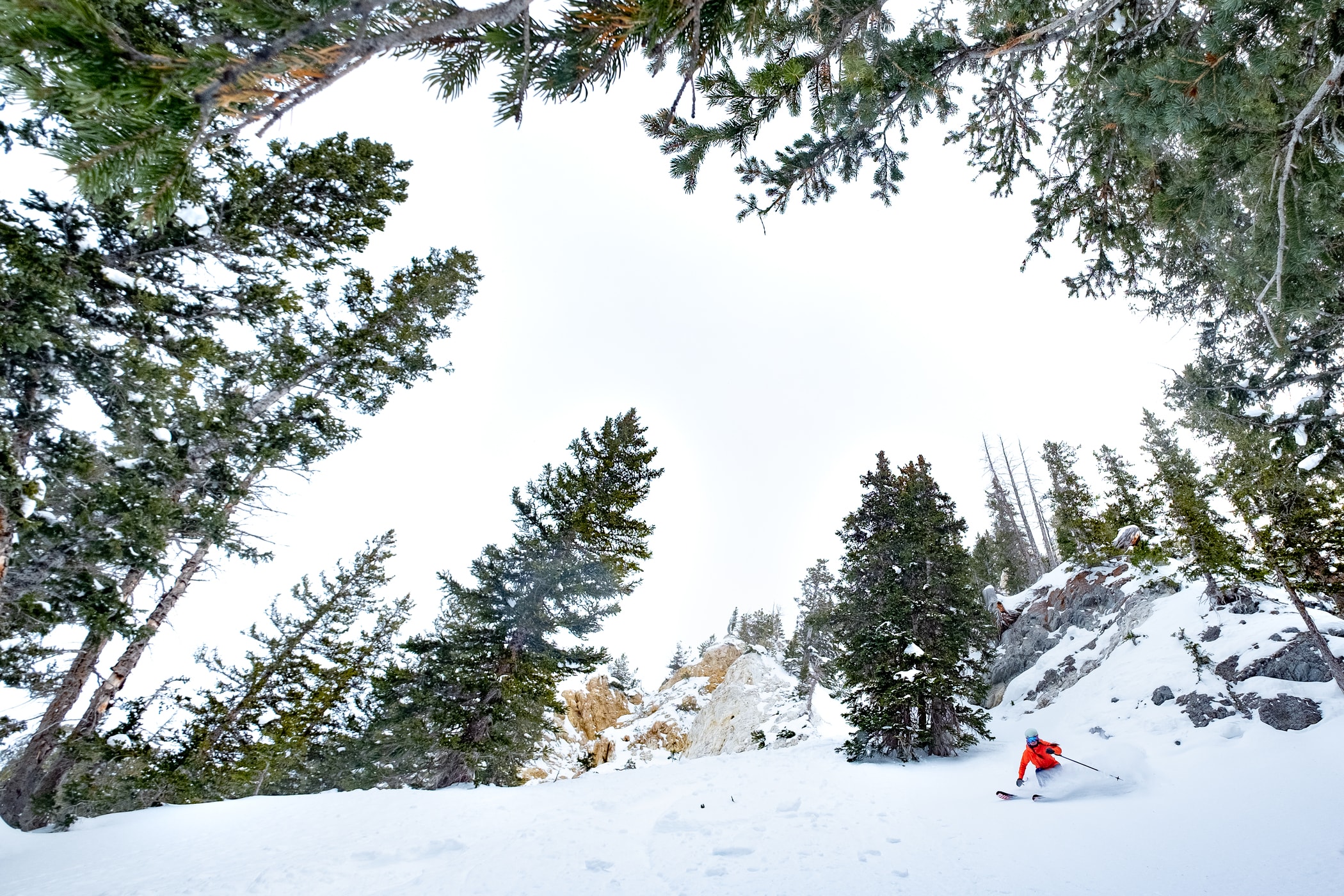 Hannah Barkey finds some untouched snow below Spiney Chutes | Photo: Iz La Motte
Flying under the radar of many would-be powder pilots are the Spiney Chutes. They are deceptively steep at the top, which you will quickly discover as you dive into the trees on a 40+ degree drop in. Like most Alta runs, the chutes here deal a few quad-firing turns before gradually lightening up. To get there, take Supreme lift and exit toward Back Forty and So Long. Before reaching So Long, head down the spine of the ridgeline and pick a spot to drop left into the steep trees of SpineyChutes.
Originally written by RootsRated for Alta.