Research & Education
Investing in our future
Together, with our community, we have a vested interest in the protection of the air, land and water of Little Cottonwood Canyon. In efforts to further our understanding of the canyon environment and enable us to be better stewards of the land, we encourage and support a wide range of environmental education programs and research opportunities.
Alta is an attractive destination for both tourist and environmentally focused programs. Whether you're K-12, a university, or a non-formal educational group, Alta is an ideal environment for hands-on learning and research. We seek to help visitors understand the complexities of conservation through the provision of education support services and a safe interaction within our mountain system. As a highly noted recreational attraction, it is important to provide a greater scientific understanding of our protected watershed and National Forest for all who come here. With your interaction, we can guide and build upon a network of current and past research, as well as outline potential and utilized educational opportunities.
If you currently conduct research, are interested in conducting research, or are seeking to visit Alta with your classroom or colleagues, please contact us.
| | |
| --- | --- |
| Research Partnership Interests | On-Site Resources |
| Atmospheric Science & Climate Change | Located at 8,530–11,080 feet |
| Snow & Avalanche Science | 547" Average Snowfall |
| Ecology & Restoration | Over 350 Plant Species |
| Wildlife Biology & Limnology | Protected Watershed & National Forest |
| Air & Water | GIS & WiFi Services |
| Soil Science | Conference & Guest Lecture Space |
| Energy & Waste Management | Machine & Wood Shops |
| Transportation & Ecotourism | Large Machinery & Construction |
| Ecosystem Services | Dormitories & Shuttles |
A bird's relationship with the environment can be telling in many ways, yielding insight and support for adaptive management strategies.
A winter and summer self-guided tour for all ages that is a fun, educational opportunity to explore the ecology and cultural history of Alta for the classroom or non-formal environment.
We hope to stimulate a culture of education by way of example through internal efforts and investing in our future stewards.
Our naturalist tours offer a relaxed and friendly introduction to Alta's ecology and natural history. Winter or summer, your visit will bring completely different perspectives while offering equally beautiful vistas and wildlife stories.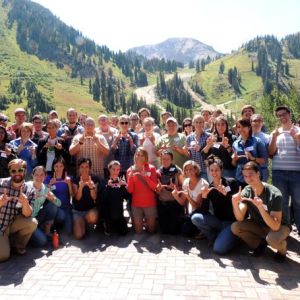 The Alta Environmental Center is a proud partner with the University of Utah, working together to bridge academic and corporate gaps and foster our next generation of stewards.