An important part of sustainability is understanding the need to address the challenges posed by a changing climate, and challenges posed by increased visitation in both the summer and winter seasons.
Alta is committed to respecting its environment, conserving energy, and working to reduce, reuse and recycle as much as possible. Managing the ski area's carbon footprint is essential to a sustainable Alta.
RENEWABLE ENERGY CREDITS
Starting in January 2022, Alta Ski Area will match 100% of its annual electricity use with renewable energy through the purchase of renewable energy credits (RECs)through 2024. With this new commitment, Alta Ski Area will reduce its carbon footprint by an estimated 3,567 metric tons of carbon dioxide per year. Electricity use makes up more than 50% of the ski area's annual greenhouse gas emissions.
As a business that relies on snow, Alta Ski Area recognizes the impact of climate change. Reducing our greenhouse gas emissions aligns with the ski area's mission statement to provide authentic skiing experiences within a natural mountain environment. In order to continue fostering the Alta experience for future generations, the ski area is committed to conserving and protecting the natural mountain environment in which we operate.
What are RECs?
RECs represent renewable energy that has been delivered directly into the power grid. RECs are tradable, non-tangible energy commodities that show proof that one-megawatt hour of electricity was generated from an eligible renewable energy resource. This renewable energy reduces the output needed from existing conventional plants. Rocky Mountain Power buys from independent clean-energy producers right here in our region. The ski area is purchasing RECs through Rocky Mountain Power's Blue Sky program, which allows residential and commercial customers to match all or part of their electricity use with renewable energy resources. The Blue Sky program is Green-e Energy certified by the Center for Resource Solutions.
What are the benefits of RECs?
Purchasing RECs helps build a larger market for renewable energy by creating additional demand for renewable energy. In addition, the Blue Sky program funds local community renewable energy projects to help small and medium-scale community-based renewable projects come to life. Nearly 200 local renewable projects have been completed in our Rocky Mountain Power communities alone. These projects create steel-in-the-ground demonstrations for customers and have helped make projects possible for organizations that do not have access to federal incentives, including homeless shelters, food banks, fire stations, community centers, and schools. Rocky Mountain Power does not make a profit from the Blue Sky program. Renewable energy purchased through the Blue Sky program is separate from, and in addition to, what Rocky Mountain Power buys or generates to serve customers. Learn more about the Rocky Mountain Power Blue Sky program >
Why did Alta choose this option?
Alta's current electricity use levels limit its options for acquiring renewable energy. RECs allow Alta to support renewable energy now while continuing to assess future options that are a better fit for Alta and more directly support renewable energy. The Alta Environmental Center is closely monitoring House Bill 411, Community Renewable Energy Program, which is a potential avenue for participating communities, including the Town of Alta, to achieve 100% net renewable energy by 2030.
Solar Panels at Alta
In cooperation with Rocky Mountain Power and DwellTek (the installation company), Alta Ski Area has installed 98 solar panels at three different locations. Installed in 2015, these solar panels have helped Alta rely more heavily on year-round renewable energy.
Since their installation, the solar panels have helped offset 94 tons of carbon emissions, roughly the equivalent of planting an additional 2,190 trees.
Next time you're at Alta, keep an eye out for the solar panels soaking up the sun at the following locations:
The ski patrol structure at the top of Collins lift
On the roof of the Cat Shop at the east end of the Albion parking lot
The Buckhorn building, home to Alta Ski Area offices, employee cafeteria and employee housing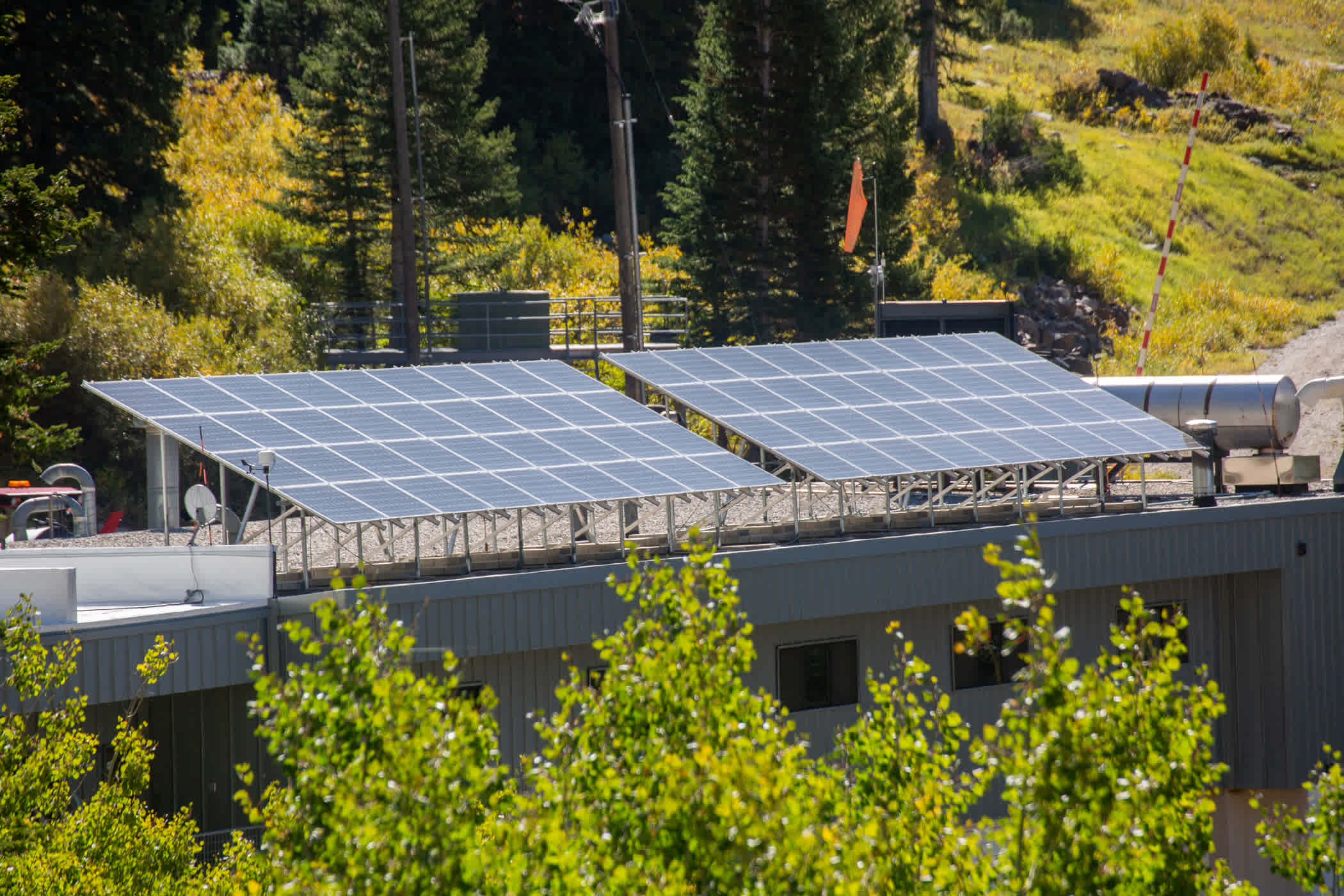 Food Waste Collection Program
Food waste collection efforts at Alta Ski Area started in the spring of 2019 with our first food waste collection pilot program. Food waste was taken to Wasach Resource Recovery, a large-scale food digester located in North Salt Lake. During this pilot program, Alta employees were driving the food waste down the canyon to Wasatch Resource Recovery. A total of 6,400 pounds (or 3.2 tons) of food waste was diverted during the 2019 pilot program.
After a little hiatus, Alta Ski Area, in collaboration with Snowbird Ski and Summer Resort, implemented a second food waste collection pilot program in March 2021 to send all of our compostable waste to Wild Harvest Farms, a large-scale composting facility in Peoa, Utah. Wild Harvest Farms is able to accept both food waste and compostable disposables, which was especially crucial given COVID-19 requirements around the use of disposable containers in restaurants. In addition, Snowbird and Alta partnered with Momentum Recycling to haul the waste to Wild Harvest Farms. At Wild Harvest Farms, food waste and compostable disposables are being composted into a nutrient-rich end product.
In 2022 Alta Ski Area, in coordination with Snowbird Ski and Summer Resort, partnered with Momentum Recycling Solutions to transport the food waste down to Wasatch Resource Recovery, the home of a large–scale food digester. Here, food waste is processed and produces two results: natural gas used to heat homes and nutrient–rich fertilizer that can be used in farming and gardening practices, resulting in a zero–waste process.
Why Is This Important?
When food waste and compostable materials go into the landfill, the waste is unable to decompose because it is covered by other waste creating an anaerobic (oxygen-free) environment which results in the release of methane. In comparison, when this waste goes into the compost pile at Wild Harvest Farms, it goes through an aerobic process (oxygen-rich) where waste is able to break down, which releases carbon dioxide (CO2). It is true that both methane and CO2 are greenhouse gases. However, methane is estimated to have a global warming potential (GWP) of 28 to 36 over 100 years, while CO2 has a GWP of 1 over the same time period.
By taking our waste to Wild Harvest Farms, not only are we lowering the greenhouse emissions caused by our waste, but we are also helping to create nutrient-rich fertilizer which can be used in gardening and farming operations.
Alf's, Albion Grill, all the dining locations at Watson Shelter, and the Buckhorn employee kitchen took part in both pilot programs. Thanks to all of our dining managers and staff for their heroic effort to make this program a success!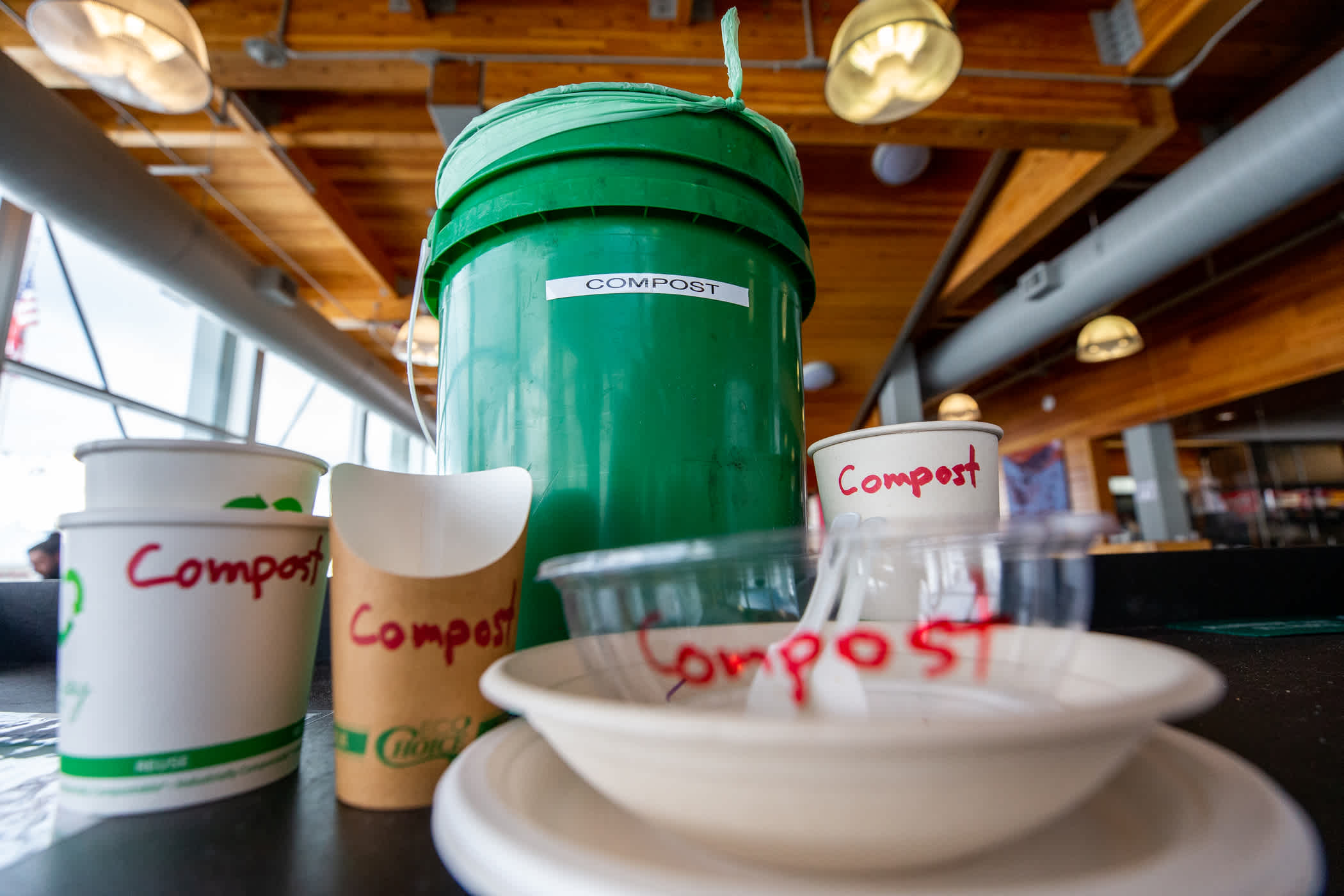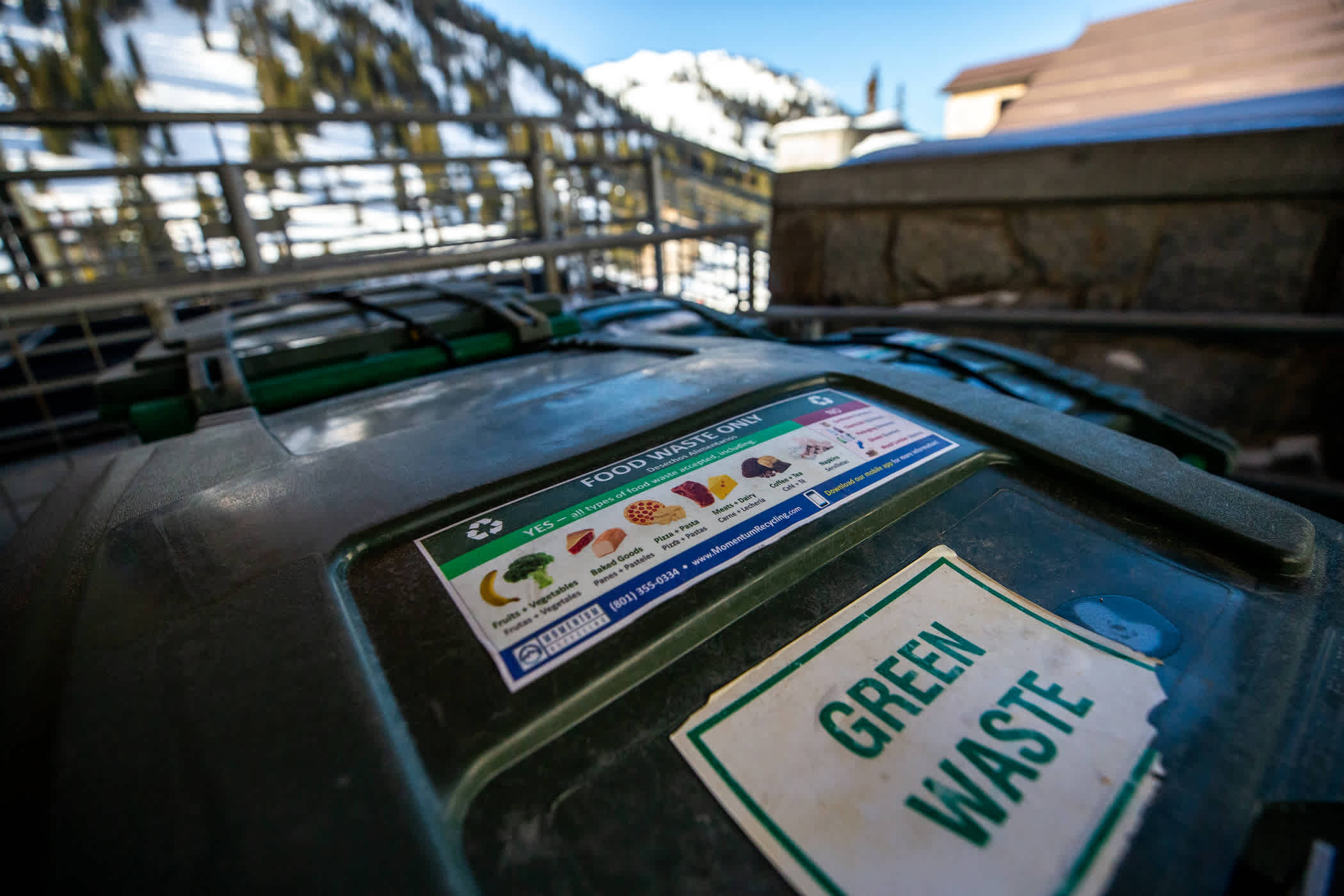 Since March 2021, Alta Ski Area has diverted 81,532 pounds (or 40.7 tons) of food waste from entering the landfill.
LEED Silver Certified Building
The Skier Services building located at the Wildcat base area was awarded a Leadership in Energy and Environmental Design (LEED) Silver Certification following its construction in 2012. LEED certification is a globally recognized green building rating system. The LEED certification system provides a framework for designing healthy, highly efficient, and cost-saving green buildings. Alta's Skier Services building received the LEED Silver Certification based on various interior and exterior design components including:
Building Envelope Design. The building envelope was designed to be tight; meaning, the walls and windows were designed to keep unwanted heat loss or gain at a minimum to keep the building as energy-efficient as possible. The windows installed have low U-factors, or rate of heat loss, further helping to keep unwanted heat loss or gain at a minimum.
Sustainable Materials. A lot of thought was put into the exterior and interior design of this building. All wood used during construction is Forest Stewardship Council (FSC)-certified, which is often considered the "gold standard" for wood harvested from forests that are responsibly managed, provide social benefit, are environmentally conscious, and economically viable. The Öko siding used on the exterior of the building is made of highly durable concrete, is fire resistant, requries no painting, and requires little to no maintenance. Low emitting solvents and paints were used in the interior of the building, and the carpet is made of recycled material.

New Central Plant.

The efficiency of the existing mechanical and electrical equipment for the Buckhorn and Lifthaus buildings, the older buildings attached to the Skier Services building, were upgraded during construction of the Skier Services building. Alta Ski Area saw an opportunity to create a "central plant" to not only serve the Skier Services building, but also to serve the attached Buckhown and Lifthaus buildings. Creating a central plant for these three buildings resulted in the replacement of old, inefficient mechanical and electrical equipment that served the Buckhorn and Lifthaus with new, more efficient heating, water, and electricity equipment for all three buildings.
Automated and Controlled Heating. Variable frequency drive pumps, 95% efficient boilers, computerized monitoring and automatic adjustments, and modulated valves provide for more efficient use of water. Fixtures chosen for the Skier Services building use at least 20% less water compared to fixtures within older Alta Ski Area buildings.
Electric Vehicle Chargers
Alta Ski Area has two Electric Vehicle (EV) chargers through the Leaders For Clean Air EV charger program. One EV charger is located on the east end of the Albion Day Lodge and the second EV charger is located in the front row of the Wildcat parking lot.
Annual Sustainability Report
In order to keep the public up-to-date on Alta's sustainability efforts, including its carbon footprint reduction efforts, the Alta Environmental Center produces an annual sustainability report.