100" of snow. 60 Hours Indoors. And 6 hours of country club skiing.
It's no surprise that the 2020-21 season got off to a slow start. It took a while to break out of the slump that was the year 2020 as Alta Ski Area's fabled snowpack was well below average through the end of January. Since Alta first opened for business in 1938, skiers have known that it only takes a couple of well-choreographed snow dances and a few Alta storms to turn seasonal snowfall numbers around in a hurry. We didn't realize how quickly that could happen nor did we realize how effective our snow dances could be.
The first week of February delivered a hard-hitting storm and 27" of new snow, continuing a string of storms ideal for the Weekend Warriors. While we all welcomed the new snow with open arms, weekend storms can also be a double-edged snowflake placing additional stress on the infrastructure of a ski area during a pandemic.
Just in time for the long President's Day weekend, an active weather pattern took aim at the Wasatch. The first storm started on a Thursday and dropped three feet of new snow by the end of the weekend.
Saturday, February 13th | Mid-day Highway 210 Closure
The Saturday of President's Weekend was a classic Alta storm skiing day. The snow was relentless, filling in tracks between laps. Around 2pm, the Utah Department of Transportation (UDOT) made the decision to close Little Cottonwood Canyon for mid-day avalanche control work.
Skiers had a tough decision to make—cut their powder day short and beat the road closure, or postpone real-life and keep skiing powder.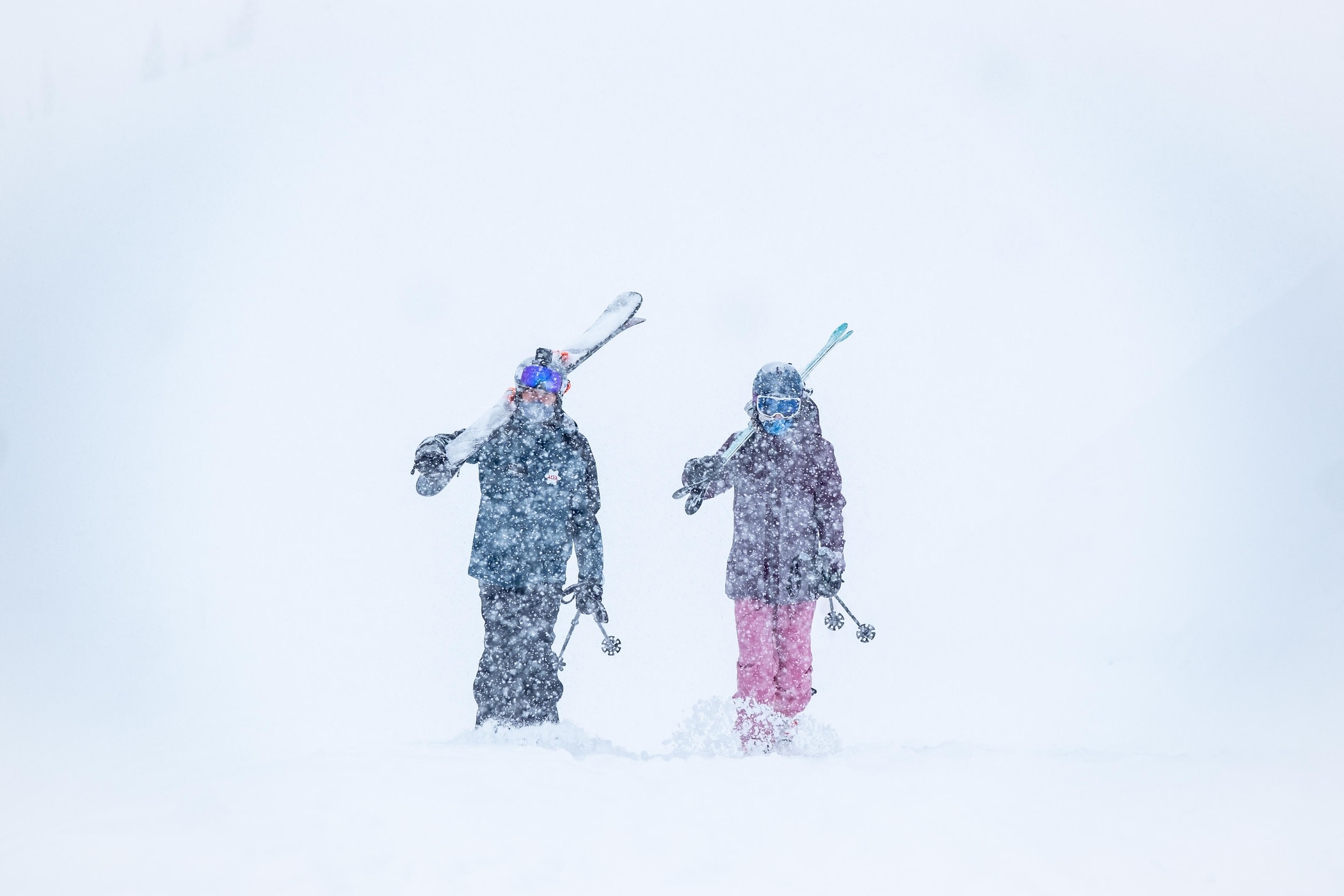 The road reopened on Saturday night, but just a few hours later the Alta Marshal implemented a town-wide Interlodge order, requiring residents, employees and lodge guests to shelter in place until avalanche professionals have completed necessary avalanche mitigation around the Town of Alta. Because 80% of buildings in the Town of Alta are in avalanche slidepaths, no one is allowed to leave their homes, lodges or places of work during Interlodge.
Sunday, February 14th at 9am | First Interlodge of 2021 is Lifted
When the avalanche control work concluded and Interlodge lifted, Valentine's Day was a powder lover's dream as Cupid delivered one of the deepest powder days of the season.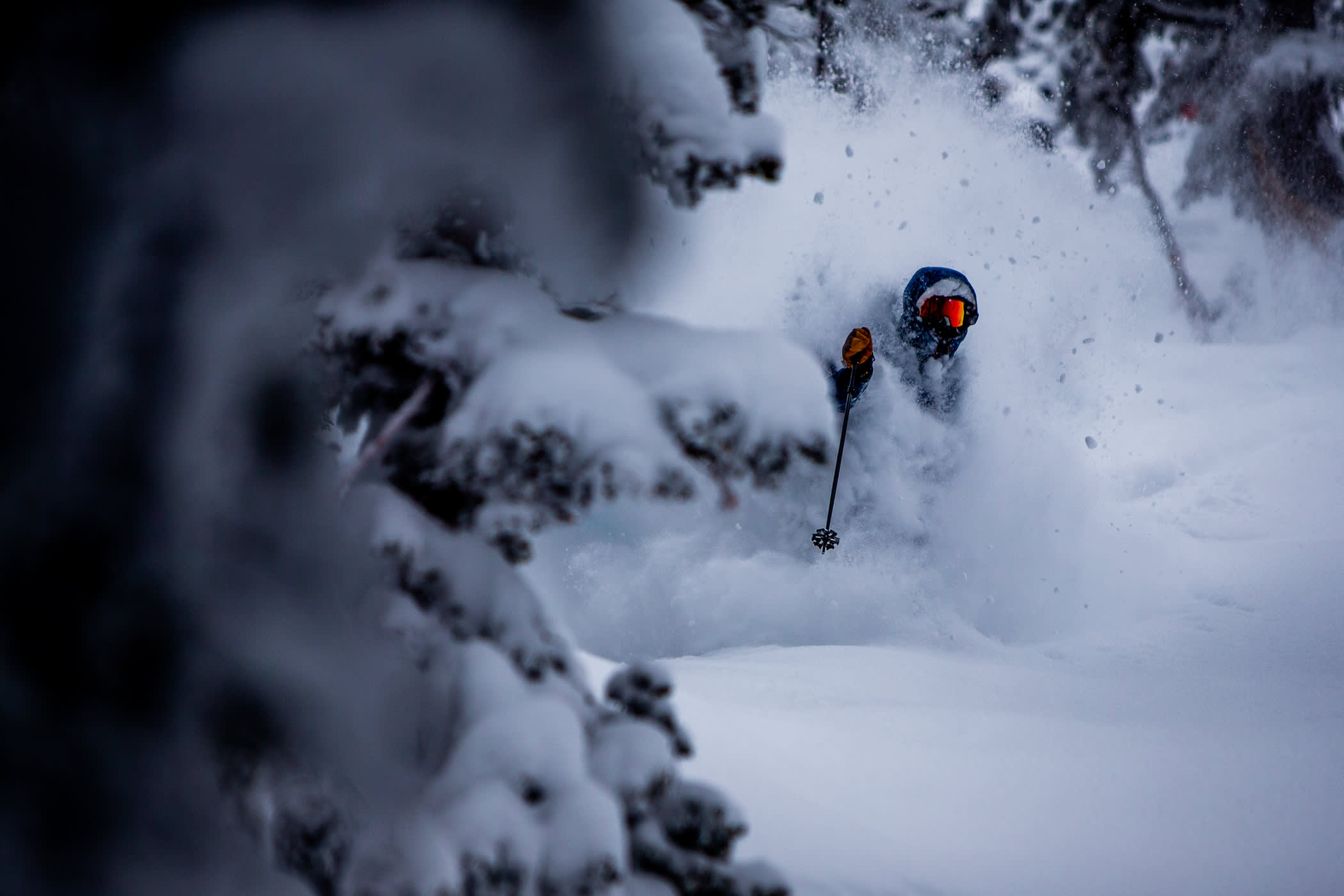 Monday, February 15th at 11pm | Interlodge Starts
Just as the holiday weekend came to a close, a midweek storm cycle moved in, much to the delight of vacationers, Alta locals and employees. Anticipating overnight wind and snow, the UDOT decided to close Highway 210 just before midnight, in an attempt to reduce vehicle traffic and organize early-morning avalanche mitigation on the many slide paths that threaten the only road in or out of Alta and neighboring Snowbird.
At 11pm on Monday, February 15th, Highway 210 closed and the second Interlodge of the season went into effect. Canyon residents, employees and lodge guests were required to shelter in place for the night. Interlodge was expected to end around 8am when the road would re-open to the public.
Mother Nature had other plans.
Tuesday, February 16th | Hours 1-25 of Interlodge
It snowed 10" between midnight and 8am. Interlodge orders remained in place as the UDOT Avalanche crews and the Alta Ski Patrol performed avalanche mitigation on the slopes of Alta Ski Area and the slide paths above Little Cottonwood Canyon.

Around 10am, as crews were performing control work, a natural avalanche occurred between Monte Cristo and Mount Superior. The resulting slide buried the Superior section of Highway 210 before careening into Little Cottonwood Creek and dusting the Bypass Road between Alta and Snowbird.
With a lot more snow and wind in the forecast, the decision was made to keep Highway 210, Snowbird and Alta Ski Area closed for the day. Interlodge orders remained in place into the evening and overnight as skiers dreamed of the powder day ahead.
Wednesday, February 17th | Hours 26-49 of Interlodge
Snow continued to fall overnight, bringing storm totals to 51" by Wednesday morning. Alta Ski Patrol and UDOT again went to work, performing additional avalanche mitigation. A large natural avalanche had occurred overnight in the Lisa Falls area, in the same slide path that experienced a massive landslide in the summer of 2019. Highway 210 was buried under 14 feet of snow, downed trees and boulders.
The entire Town of Alta went into Maximum Security Interlodge. All lodge guests, Alta residents and employees were instructed to take shelter in designated lower-level areas away from windows.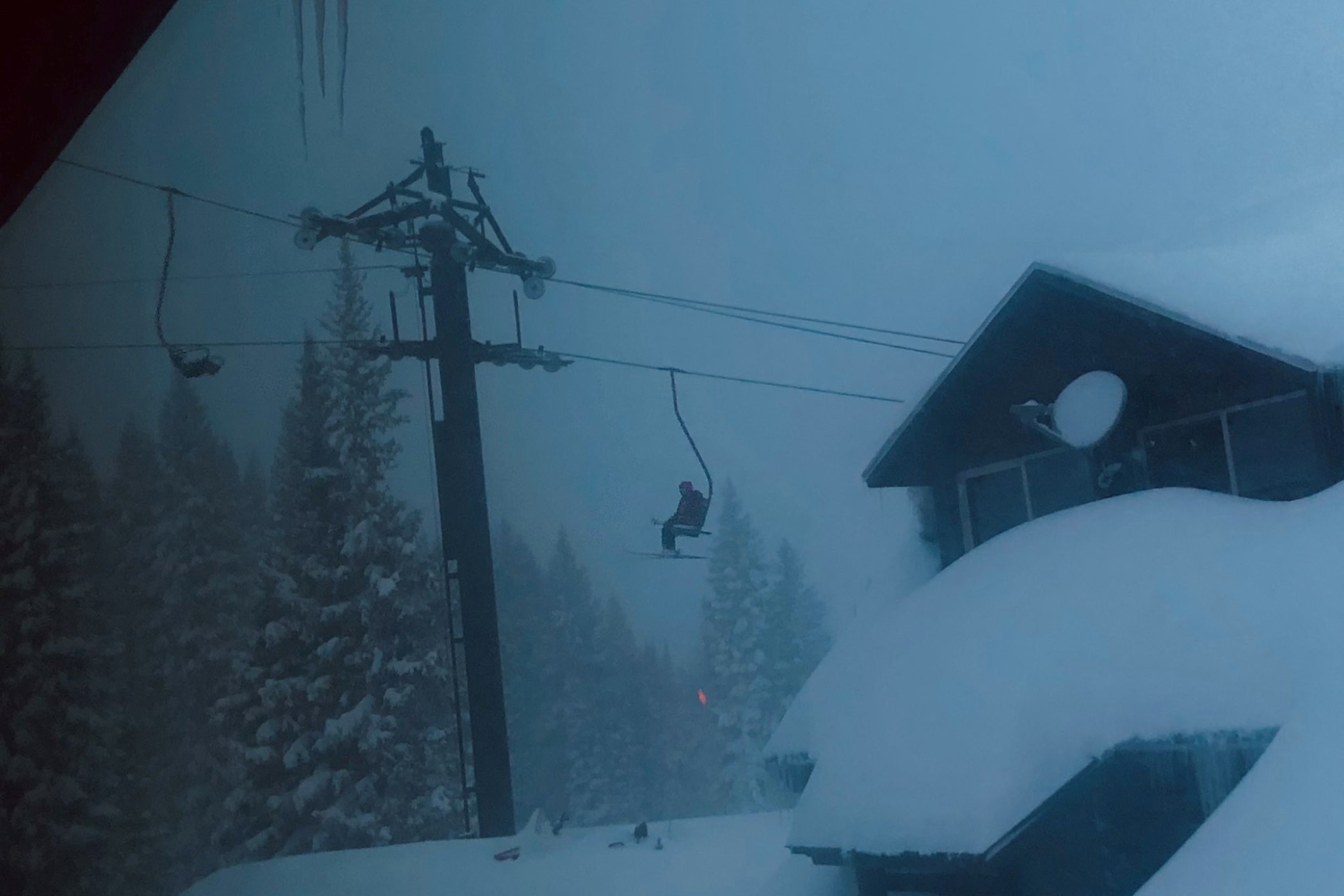 Not long after control work began, a naturally-triggered avalanche began in the 7 Sisters area of Highway 210. A UDOT truck and snowcat were caught in the slide. While everyone involved escaped without injury, this area of the canyon is frequently used as a staging area for snow removal and avalanche mitigation. Long-time Alta locals could not recall the last time 7 Sisters or Lisa Falls had been buried by an avalanche. It became quickly apparent that the road may not open for a second full day.
The Alta Ski Patrol continued their work inbounds and debated a 2pm opening for those still Interlodged in the Town of Alta. After a meeting with UDOT, it was decided that an opening was possible, but not in the best interest of all parties involved. Interlodge remained in place throughout the Town of Alta as day turned to night and the snow continued to fall.
Thursday, February 18th | Hours 49-60 of Interlodge
In the wee hours of Thursday morning, the 60-hour Interlodge was lifted, eclipsing the 52-Hour Interlodge of February 2020.
Not long after sunrise on Thursday morning, the snowfall finally started to slow. While Little Cottonwood Canyon was still buried under feet of avalanche debris and three moose were spotted walking down the road during what would normally be rush hour, Alta Ski Patrol concluded their routes and Alta Ski Area was ready for skiers to take the slopes, pending avalanche mitigation around the town.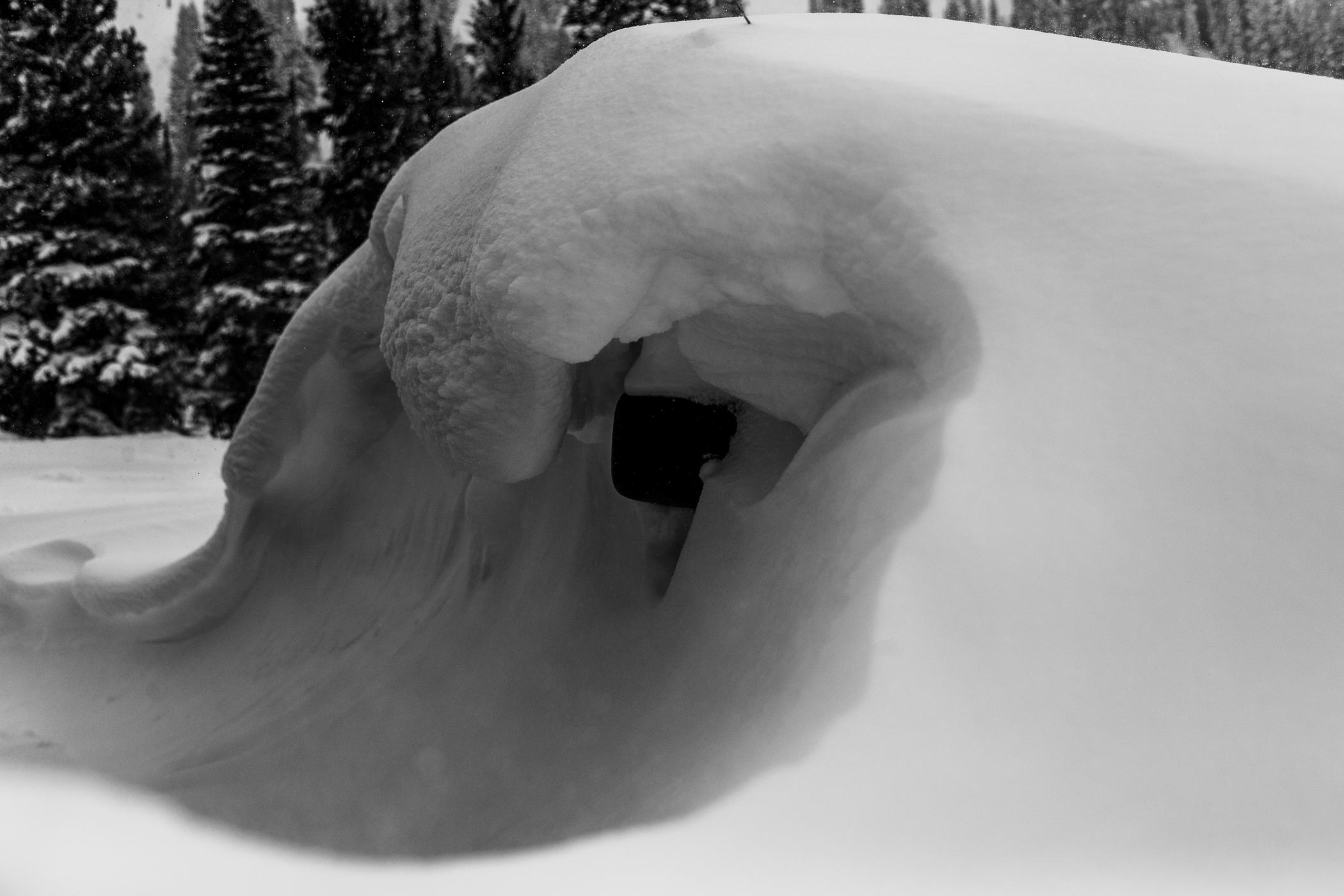 When the skies had cleared, a helicopter was summoned to run an aerial bombing mission on the peaks above Little Cottonwood Canyon. Avalanche professionals loaded a helicopter and strategically dropped explosives high above Highway 210 and the Town of Alta.
Shortly before 11am on Thursday morning, the Interlodge order was lifted and the Collins and Wildcat lifts of Alta Ski Area started carrying skiers up the slopes of Alta that had seen 65" of new snow since the 60-Hour Interlodge began and 103" in just over a week. With Highway 210 still closed for a few more hours, Alta Ski Area would be open to the lucky few who had weathered the storm in the Town of Alta—a rare phenomenon known locally as a Country Club day.
When the Marshal announced that Highway 210 would reopen to downhill traffic at 2pm, those who had endured the lockdown for 2 ½ days had a difficult decision to make—dig out and return to real life or join one of the most exclusive ski clubs in the world.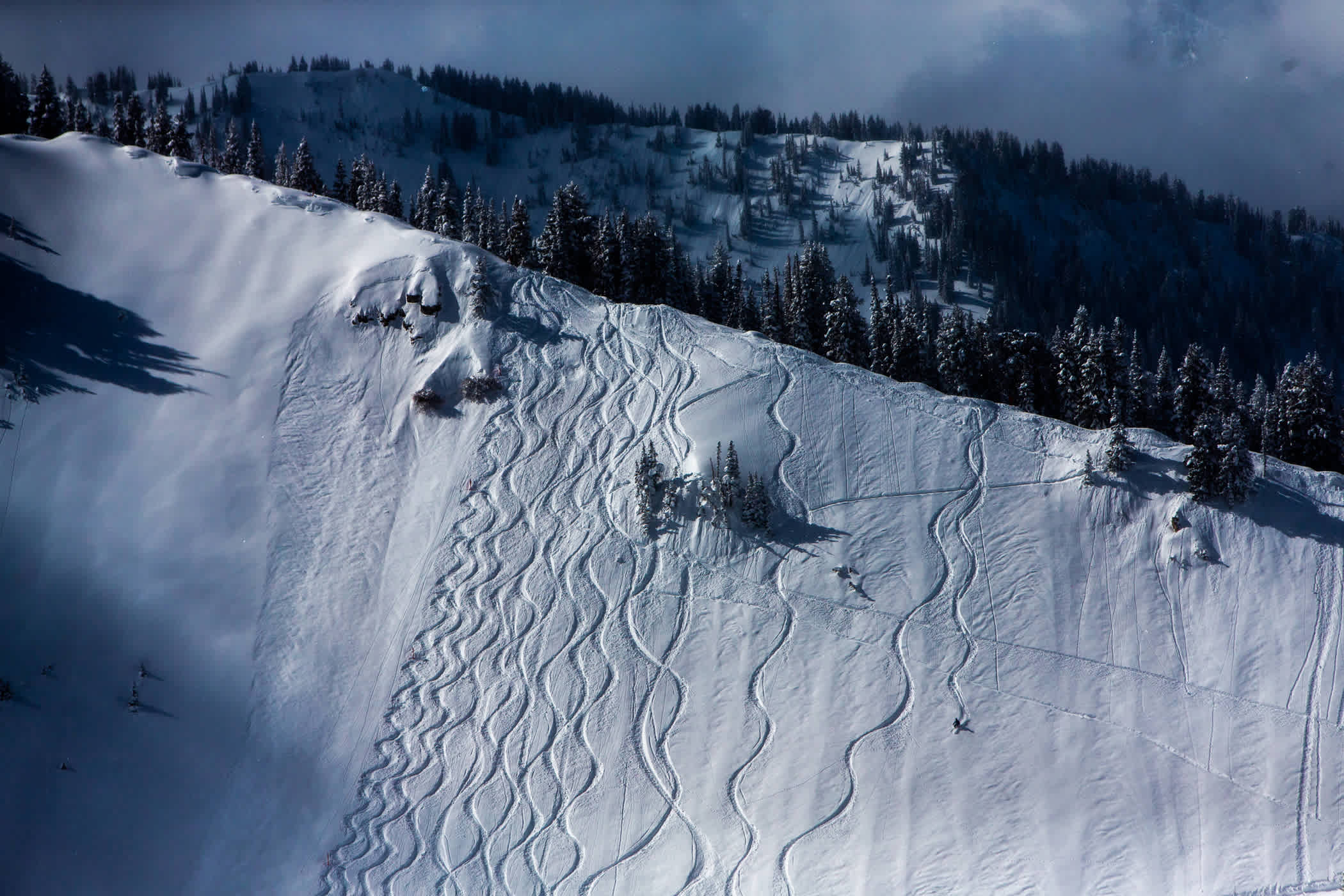 Those that chose to ski were rewarded with some of the best ski conditions imaginable. After a 60-hour lockdown, skiers spun lap after lap of untouched powder on Wildcat and Collins lifts. With no one around to create a lift line, there was barely enough time to swap chairlift Interlodge stories before skiers found themselves floating back down the mountainside again.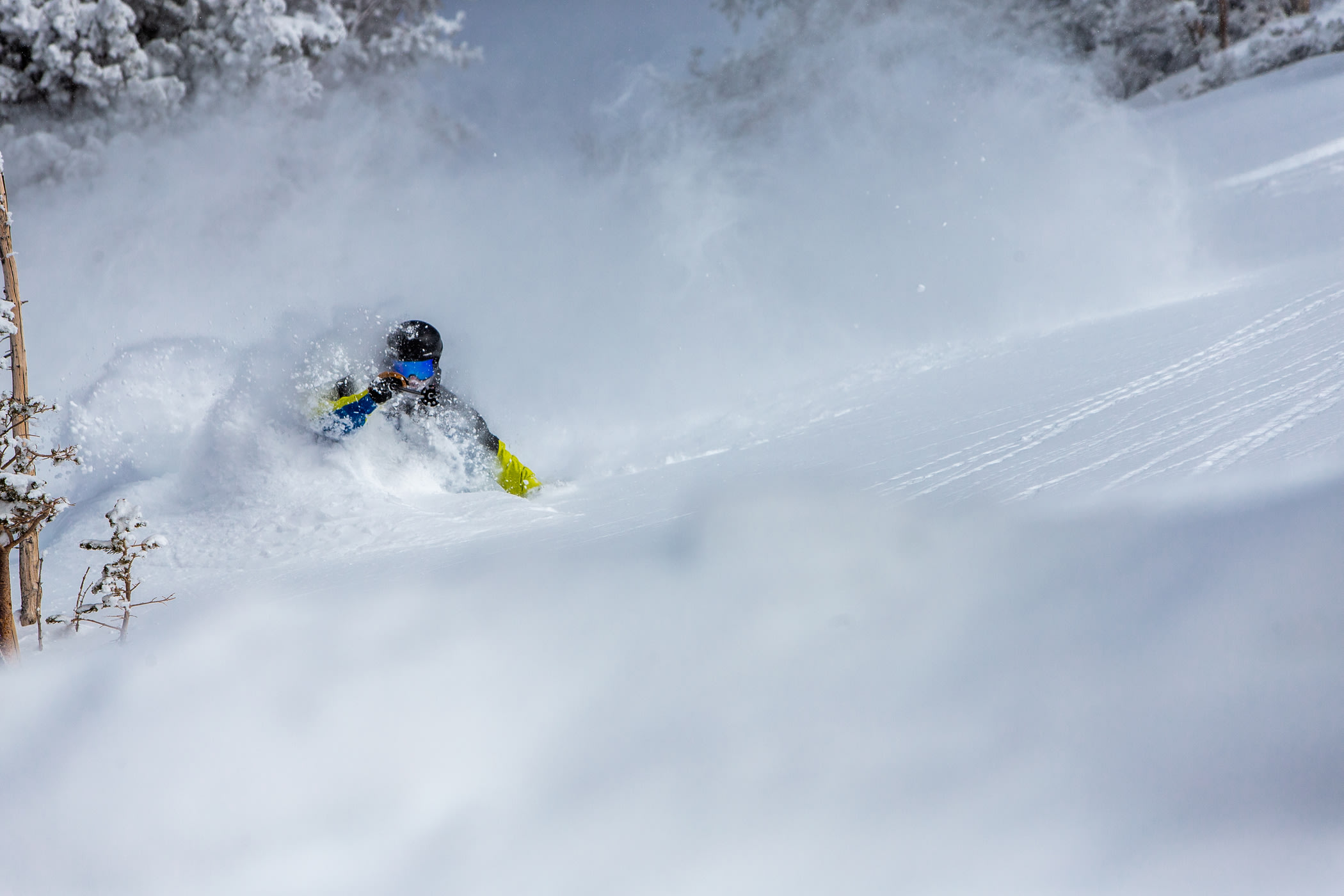 One-by-one, legs grew weary and the beckoning of real-life became overwhelming. Little Cottonwood Canyon opened and skiers made their way home. Reinforcements arrived from the Salt Lake Valley as canyon employees and locals returned to their mountain home, more than happy to take the chair of an exhausted skier.
When it was all said and done, a 60-Hour Interlodge yielded six hours of Alta Country Club skiing and one hell of a story to tell back in the real world.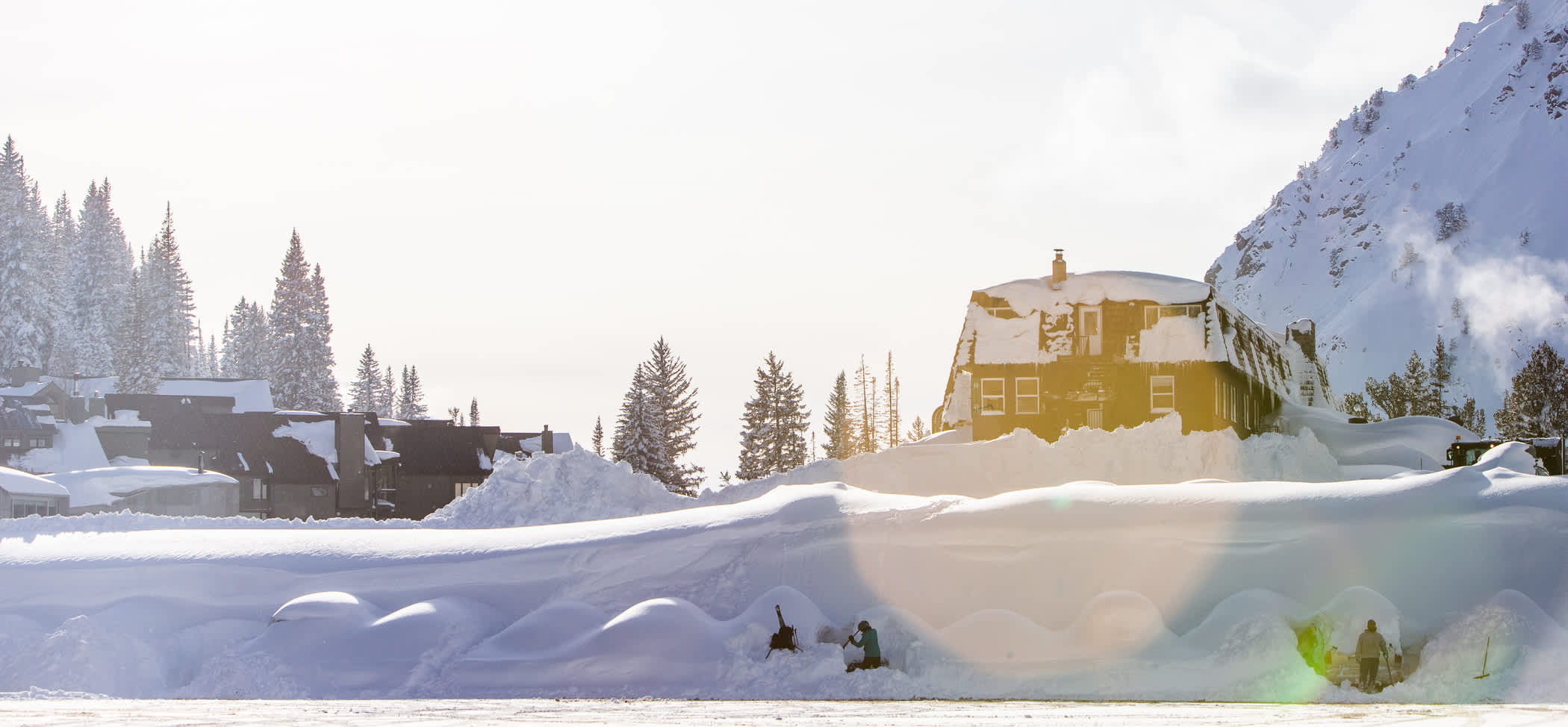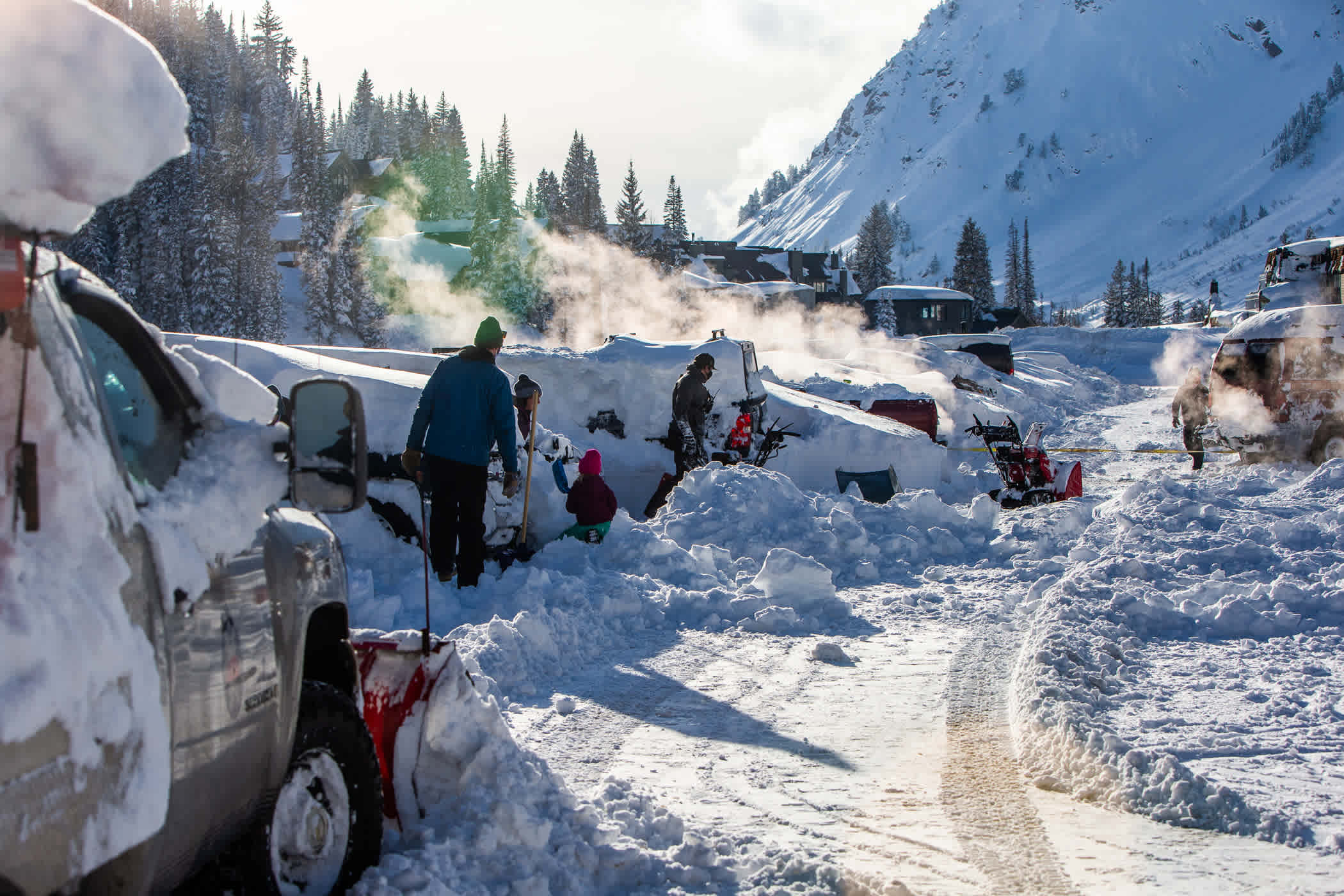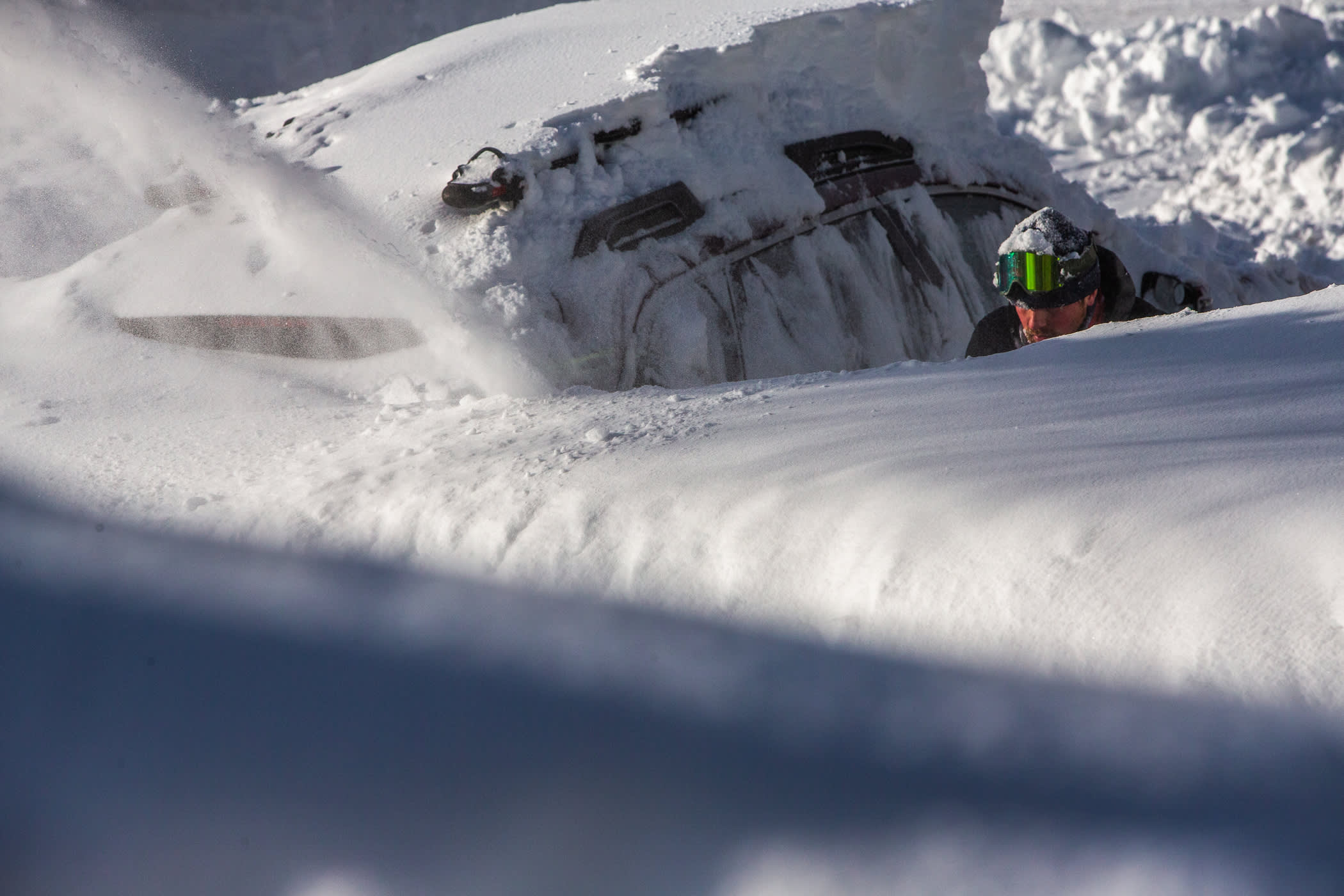 60-Hour Interlodge by the Numbers
Storm Totals
38" = Storm 1: February 11-14th
65" = Storm 2: February 15-18th
103" = new snow from February 11-18th
210 = natural and controlled avalanches during the storm cycle

159 = size 2 or larger avalanches
56 = size 3 or larger avalanches
34 = avalanches that impacted Highway 210
A Snowy February
200.5" = season-to-date snowfall on February 1st
346" = season-to-date snowfall on February 26th
88.5" = 40-year average February snowfall
145.5" = February 2021 snowfall through 2/26
Recent (Notable) Interlodges
60 hours = Interlodge at Alta | February 14-18th, 2021)
52 hours = Interlodge at Alta = 52 hours | February 6-8th, 2020)
After digging out vehicles and homes, those who had weathered the 60-Hour Interlodge were rewarded with a breathtakingly peaceful sunset above the Town of Alta. A stark contrast to the power and potential destruction on display just a few hours prior and a great reminder of why we continue to call Alta our home, despite the inconveniences and complications that we come with it. Much like the sunset, the calm was fleeting. Another round of storms, avalanche control and digging out was on the doorstep.
A huge thank you to UDOT Avy, UDOT Cottonwoods, Alta Ski Patrol, Snowbird Ski Patrol and everyone else for keeping us safe and to all of the lodge guests, Alta residents and employees for your patience and understanding during this unprecedented interlodge.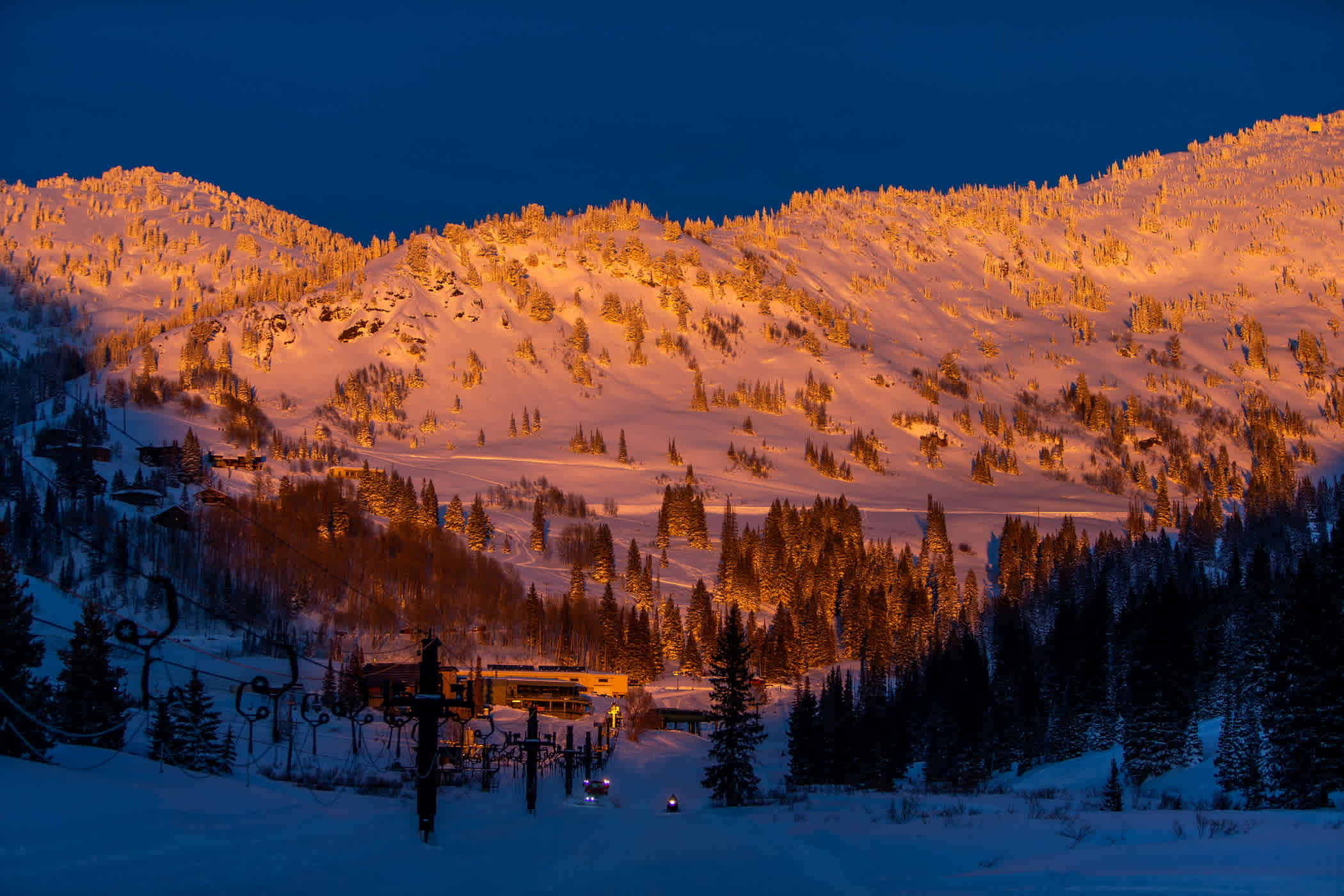 After receiving 12 feet of snow already in February, Alta Ski Area is still a little behind the pace to catch the 42-year average of 540" of annual snowfall. But there's plenty of snow in the forecast as we head into March, Alta's snowiest month. Let's continue our snow dances, but maybe not all of us at once. The Alta Country Club has enough new members this season.
Photos: Iz La Motte, Rocko Menzyk, UDOT, Lexi Dowdall and Carl Heath.
Skiers: Megan McJames, Jonah Williams and Andrew Cassano.