Between January 16 and January 25th, Alta received over seven feet of snow
Just in time for the MLK holiday weekend, a winter storm cycle made its way to the top of Little Cottonwood Canyon. Between January 16 and January 25th, Alta received over seven feet of snow—approximately the height of a polar bear standing on its hind legs. Needless to say, that's a lot of snow. With 272" on the season, a 93" base and more snow on the way, now would be a great time join us for a day of skiing or book that ski trip to Alta.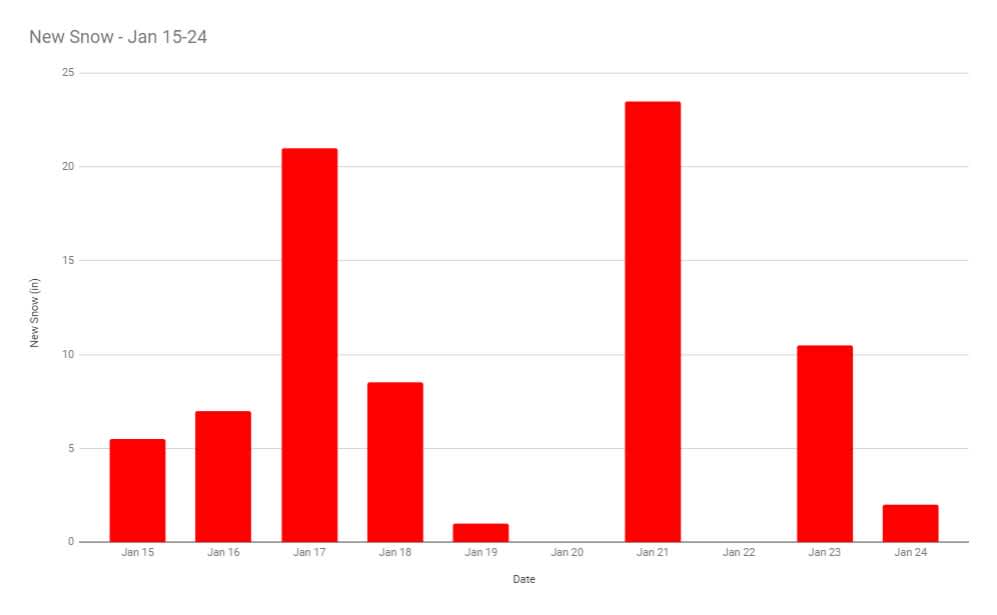 The storm cycle started out like most others. A few inches of dense snow put down a nice layer to soften up turns. Add a little wind to move the snow around and keep things fresh. But then the faucet turned on. And then the faucet turned into a fire hose. Two weeks later, we're still digging out.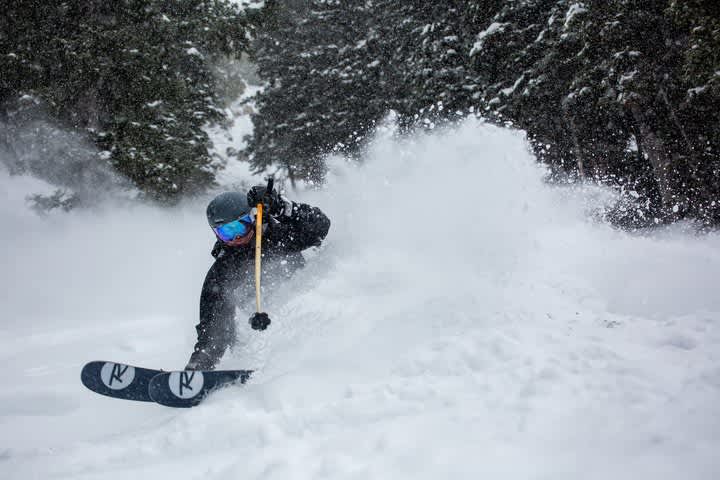 January 17th - Brandon Ott slashes the first foot of new snow from the storm cycle.
January 17th saw 21" of new snow, which provided some of the best storm skiing conditions in recent memory. The snow continued through the night, adding another 8.5" by the morning of January 18th. The town of Alta was interlodged until almost 10am to allow avalanche control work to conclude. It was snowing, the wind was blowing, but those willing to brave the wintry conditions were rewarded.

January 18th - Adam Fehr comes up for air
After a couple days of calmer weather just in time for the holiday weekend, another storm made its way to the Wasatch. What looked to be a moderate wave of snow, quickly turned into one of more intense storms of the season, with snowfall rates of 3" an hour. The storm arrived early Monday morning and put down over a foot of snow in the first few hours.

January 21 - Madison Ostergren enjoys a country club morning
Avalanche danger closed Little Cottonwood Canyon at 9:15am. The select few skiers staying in Alta or who managed to beat the road closure were treated to a nearly deserted ski area. A phenomenon the locals call Country Club. As the snow continued to fall, the ski area was forced to close at 12:45. Highway 210 opened briefly for downhill traffic, but a mid-canyon avalanche had other plans. Guests, residents, and employees were again interlodged, unable to head outdoors until almost 7pm when the road reopened.

January 21 - Snowfall rates exceeded 3" an hour on MLK Day.
With annual snowfall of 545", Alta is positioned well to manage lots of snow, but occasionally there is such a thing as too much snow. January 21st, was one of those days. Two days during this cycle saw 24-hour snowfall greater than 20 inches. The Martin Luther King Day storm saw most of the 23.5" in less than 12 hours. While we never want to close the ski area, sometimes mother nature has a different plan. Thanks to the Alta Ski Patrol and the Utah Department of Transportation for keeping everyone safe.

January 21 - "4X4 or Chains Required"
The storms have since cleared out and we've been treated to a week of blue skies and sunshine.

January 24 - Amy David waited a week to enjoy powder snow and sunshine
Need a little more motivation? Check out a short video from Sweetgrass Productions, filmed January 22nd at Alta.