we are passionate about skiing at Alta Ski Area. investing in a ski lesson can drastically improve your skills on the slopes.
Whether you're a beginner or veteran skier, investing in a ski lesson can drastically improve your skills on the slopes. Take ski instructor Robbe Mayall's word for it. "Everyone can benefit from lessons," explains Mayall, 58, who has been skiing for 48 years and now instructs at the Alf Engen Ski School in Alta, Utah. "For beginners, lessons can really shortcut the process of learning to ski and help create good fundamental skills. Intermediates can find the flow and control that allows them to experience more of the mountain. And experts can learn the tactics and techniques to enjoy steep terrain and soft deep snow."

The spectacular scenery around Alta draws skiers of all abilities | Photo: Dobber Price
Skiing is taken seriously at Alta Ski Area. Located in Utah's Wasatch Mountains, Alta is one of the oldest ski resorts in North America, world-renown for the diversity of challenging terrain and the quality and quantity of deep powder---averaging 545" of snow annually. Alta is also home to the honored Alf Engen Ski School.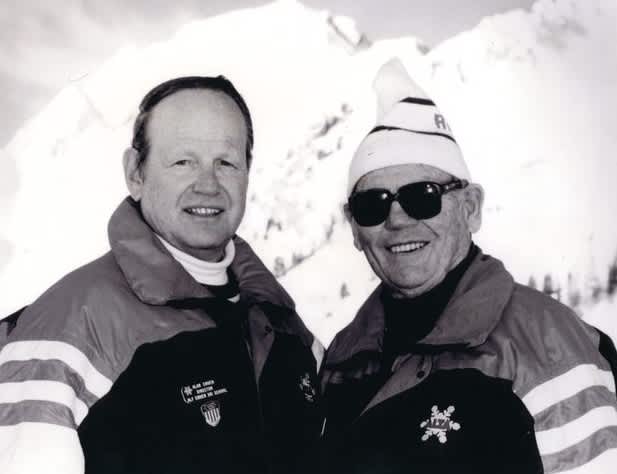 Father and Son: Alf Engen (right) and his son Alan | Photo: Alta Historical Society
Alf Engen was a world-class Norwegian-American skier, who won several ski jumping world records and is best known for his technique in powder skiing, which he discovered and honed at Alta. The ski school carries on the spirit of its famous namesake. Skiers of all abilities, levels, and ages have access to private and group lessons, specialized workshops and clinics, multi-day ski camps, and individualized coaching led by certified instructors. But more importantly, it maintains an authentic "skier's mountain" vibe that's far from elitist and focuses on the pure enjoyment of skiing.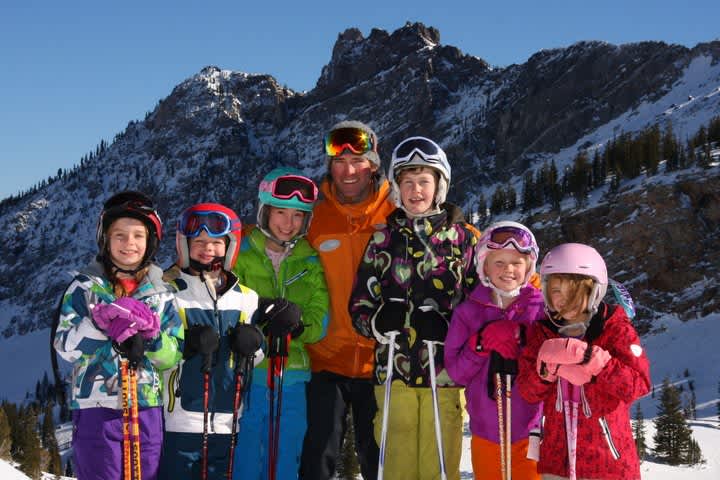 Alf Engen Ski School offers Kids Programs | Photo: Dobber Price
"The Alf Engen School is unique in that we only hire experienced instructors who have attained certification through PSIA (Professional Ski Instructors of America) to provide high quality lessons for all of our students. It is a small group of dedicated ski pros who love helping people attain their skiing dreams." - Robbe Mayall
From both a personal and professional perspective, Mayall believes that taking a lesson can truly transform anyone's skiing experience. Plus, it's a great opportunity to meet other ski enthusiasts and use the full resources of the resort.
Robbe Mayall gives eight useful tips for skiing he'd share with his students out on the slopes:
Practice on familiar terrain: Only when you are skiing skillfully on comfortable terrain should you attempt more challenging conditions.
Look toward your next turn: Many people ski looking at their feet or skis. You wouldn't ride looking at the front wheel of your bike, would you?
Play with the shape of your turns: Try to make turns that have different shapes. Make turns that look like a big S instead of a Z. How about a C or a J or even a comma?
Remember to breathe: Many people hold their breath while skiing, which restricts them from following through movements.
In skiing "balance" is a verb: You are never in balance, but rather always balancing.
Always direct your weight to the inside edge of the outside ski: That's the left (big toe) edge of the right ski in a left turn. Skis are made to turn the direction they are tipped (edged). Learn to tip both skis symmetrically in the direction you want to turn.
It's all in the legs: Make movements to redirect your skis with your legs rather than your upper body.
Relax and appreciate the experience: Take in the view, breathe in the fresh air!
Find out for yourself why the Alf Engen Ski School has developed such a strong reputation across the country—and why skiers of all abilities return to Alta year after year to enjoy its spectacular powder.
Written by Emily Polachek for RootsRated in partnership with Alta.