No, those are not alien space ships or micro-mountain living pods on the slopes of Mount Baldy.
No, those are not alien space ships or micro-mountain living pods on the slopes of Mount Baldy. Those space pod-looking things are actually a very integral part of Alta's network of avalanche control systems. While most Alta skiers are familiar with Alta Ski Patrol's avalanche control work via the sounds of explosions on powder mornings, there is a lot more going on around Alta Ski Area, the slopes around the Town of Alta and the slide paths above Highway 210 in Little Cottonwood Canyon.
When new snow falls—Alta averages 540" of snow each season—Alta Ski Patrol utilizes Remote Avalanche Control Systems (RACS) along with Avalaunchers, two-pound hand charges and an M101-A1 105 Howitzer to control avalanche-prone slopes around the ski area. Whether out of necessity or as a way to stay one step ahead of those pesky avalanches, Alta has always been quick to adopt the latest avalanche mitigation technology. In fact, Alta Ski Area is recognized as the birthplace of North American avalanche research.
Those odd-looking egg-shaped devices—most prominently noticeable on the slopes of Mount Baldy—are called O'Bellx, a new form of RACS from the French company TAS. Instead of TNT and Howitzer artillery, these modules use a mix of oxygen and hydrogen to create an explosion that generates controlled avalanches. The concept is very similar to the popular Gazex systems in place around the Wasatch.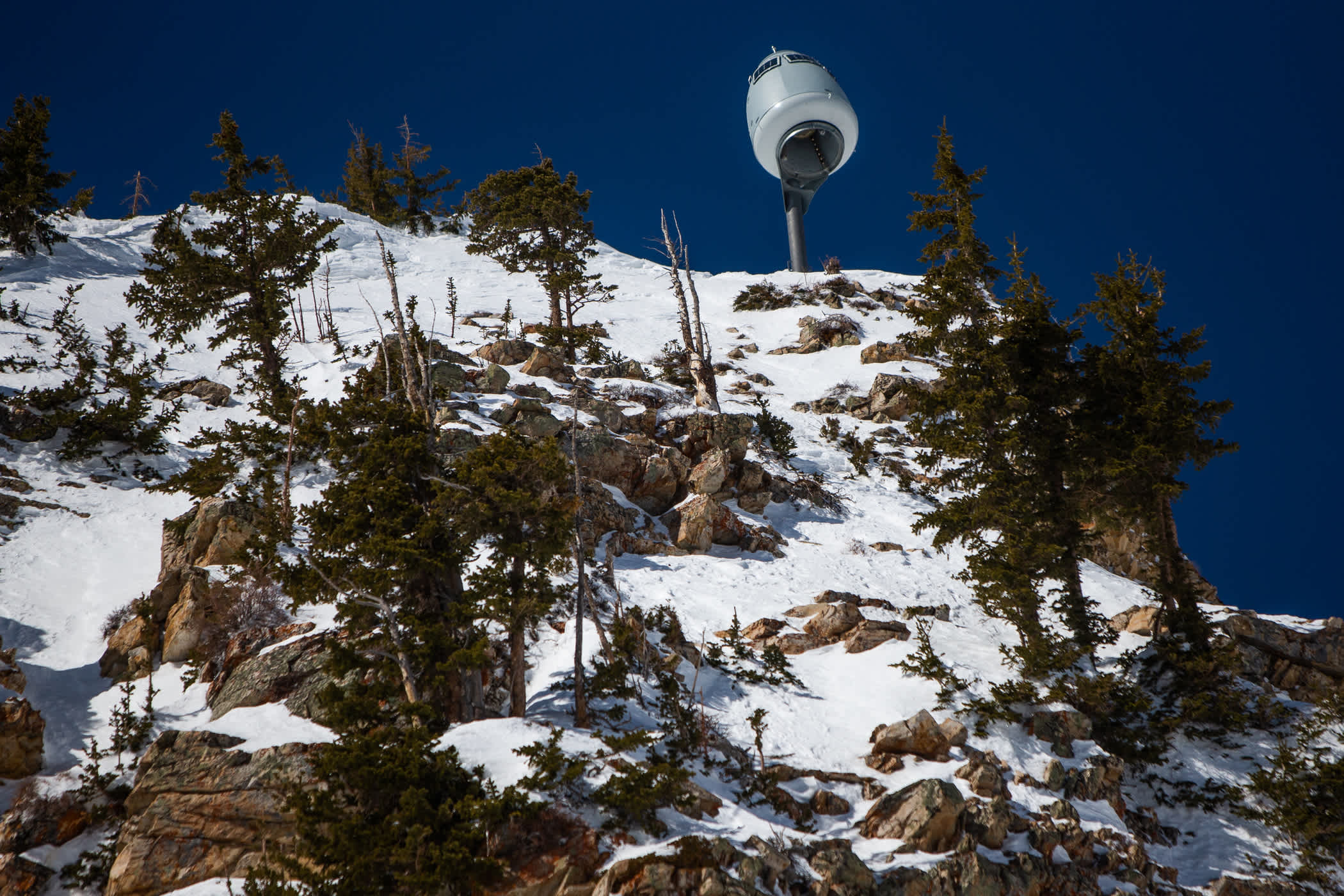 Once a thousand-pound foot bracket is installed at the top of an avalanche starting zone, the 1,200-pound O'Bellx module—the egg-shaped thing that is not an alien space pod—is stocked with hydrogen and oxygen and flown into place. The device is then controlled remotely via phone, radio or similar device. A "shot" can be fired in as little as 13 seconds and can be synchronized with nearby modules. Each module holds between 30-35 shots. Once empty, the module is flown back to a refueling area via helicopter, then flown back to its home on Mount Baldy.
While this sounds like a somewhat complicated procedure, these O'Bellx devices have several advantages over some of the more traditional tools of avalanche control.
Remote-controlled firings are possible 24 hours a day, seven days a week regardless of issues with weather, snow or visibility
Hydrogen and oxygen are readily available and require considerably less oversight than similar explosive devices
This drastically reduces the number of hand charges or artillery used by the Alta Ski Patrol
Unlike Gazex towers, underground or above-ground pipelines are not necessary
The O'Bellx pods can be relocated in the summer months, reducing visual pollution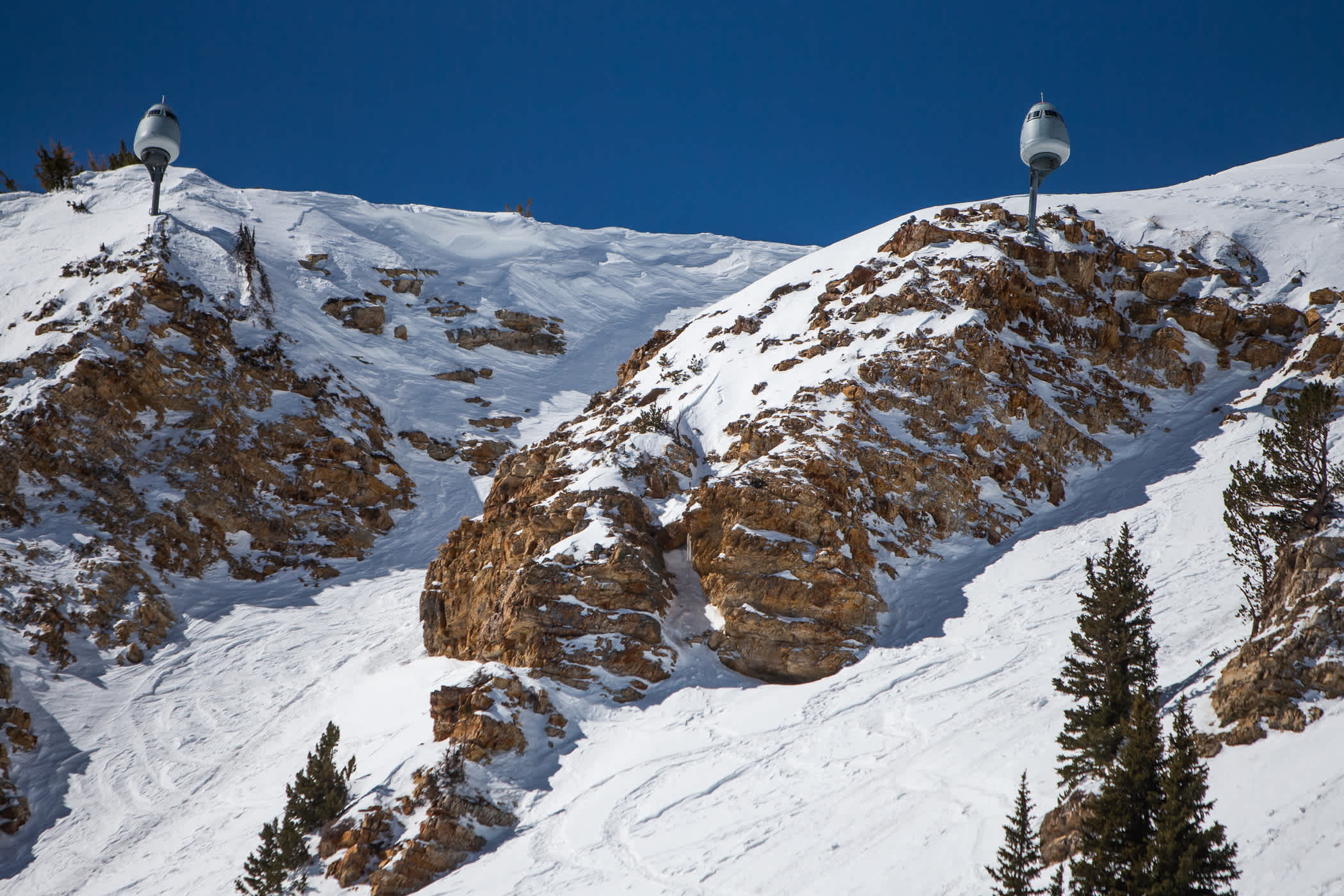 So, next time you're cruising across the EBT between the top of Sugarloaf and Collins lifts, gaze up towards East Baldy and see them for yourself. And feel reassured that not only are they not aliens, but those O'Bellx modules are also there for all of our safety and the newest tool in Alta's perennial battle against avalanches.
Learn more about the tools of avalanche mitigation via Ski Utah >