Alta is known for its incredible snow and a relaxed atmosphere. Here's how to spend three days at one of Utah's top ski destinations.
Snow defines Alta Ski Area, a skiers-only resort renowned for massive amounts of powder snow and a variety of terrain that offers skiing for every ability. Sitting at the top of Little Cottonwood Canyon just 32 miles from the Salt Lake City International Airport, Alta delivers the snow with an average of 547 inches of The Greatest Snow on Earth™ blanketing its slopes every winter. The area offers 2,538 feet of vertical elevation from the base to the top of Mount Baldy and 2,614 acres of skiable terrain. While Alta's reputation is black-diamond runs, almost half of its 116 runs are for beginner and intermediate skiers. Alta is the perfect place to not only ski powder snow but also to improve as a skier. Spend three days at Alta, taking a lesson and sampling the easier terrain, and you'll be a better skier when you leave.
Staying Overnight at Alta
Before heading to Alta, decide where you'll spend the three nights in Little Cottonwood. While Alta Ski Area doesn't own lodging, they have teamed up with local lodges and property managers to make room-finding a breeze. Check out Alta Lodging to book a room, town-home, condo, or chalet for the length of your stay. Alta's five ski-in/ski-out lodges—Alta Lodge, Alta Peruvian Lodge, Alta's Rustler Lodge, Goldminer's Daughter Lodge, and the newly renovated Snowpine Lodge (set to open in late January)—are convenient to the lifts. Each lodge also offers restaurants and après-ski activities. Room prices include daily meals so you don't have to worry about where to eat at the end of a perfect ski day.

Day 1: Saturday
Alta Ski Area is naturally divided into two sections—Albion Basin and Collins Gulch—that are separated by the northeast ridge of Mt. Baldy. The Albion base area is the best place to get acquainted with the mountain with easy runs, varied terrain, and the Alf Engen Ski School.
Start the day exploring Albion Basin via Sunnyside and Albion lifts. The wide runs are perfect for families, including Crooked Mile, Patsey Marley, and Dipsy Doodle. Experts in the group can seek out a challenge on Vail Ridge.
Break for lunch at Alf's Restaurant at the top of Albion and Sunnyside, which is also near the bases of the Sugarloaf and Supreme. Alf's offers hearty food, including vegetarian chili, soup in bread bowls, grilled options like burgers, brats and a tasty Reuben, hot cocoa, and local beers. It's the perfect spot to meet up with others in your group. Time your lunch before noon or after one to avoid crowds. After lunch, jump back on the lifts and hit the slopes.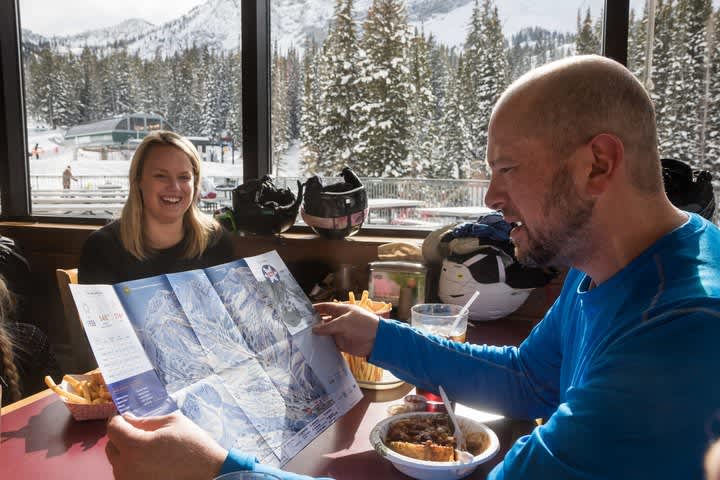 Après-ski is conveniently located in the base area lodges. Local favorites include the old-school Sitzmark Club in the Alta Lodge, the family-friendly Goldminer's Saloon, and the lively Peruvian Bar at the Alta Peruvian Lodge. The Rustler and Snowpine Lodges also offer great places to grab a drink or snack after a day on the hill.
Grab dinner at your lodge or venture across the street to the Shallow Shaft Restaurant, featuring an award-winning wine list.
Day 2: Sunday
Grab breakfast at the lodge, or switch it up with a quick bite or a full breakfast at the Goldminer's Daughter at the Wildcat base, or from the Albion Grill or Alta Java in the Albion base area. Pick up your rental skis and boots at Alta Ski Shop or Alta Sports, then walk next door for lift tickets, childcare, or to sign up for a lesson.
You can take it easy and revisit some fun runs or you can push the limits. Beginners could advance to fun intermediate runs like Rollercoaster and Razor Back from Sugarloaf Lift or head up to the top of the Supreme lift.
Sunday lunch is available on-mountain at Alf's or Watson Cafe for intermediate skiers. The Albion Grill is located at the Albion base, home to the majority of Alta's beginner terrain. On a sunny day, the Slopeside Cafe at the Goldminer's Daughter has great food and a fun outdoor patio.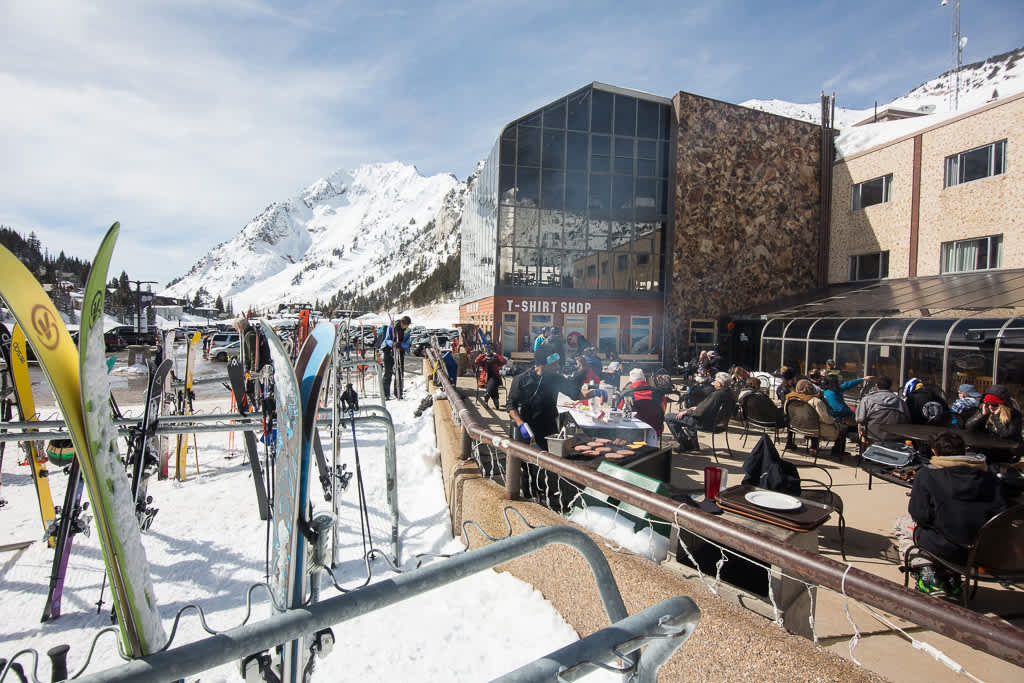 After lunch, consider an afternoon ski lesson at the Alf Engen Ski School. Beginner and intermediate skiers can opt for a two-hour class with special lessons for children. More advanced skiers can take an Afternoon Workshop to focus on the conditions of the day.
Day 3: Monday
Intermediate skiers can take black diamond challenges off Collins or Wildcat lifts or do harder blue lines like Aggie's Alley to a finish on Lower Rustler. A good first black diamond run is Johnson's Warm-up from Wildcat.
Grab lunch at Watson's Shelter, located mid-mountain near the Collins angle station and a quick ski down from the top of Wildcat. Watson's Cafe offers some of the best food on the mountain, with a Niman Ranch Pulled Pork Sandwich and Vegetarian Chili being some of the highlights. Or treat yourself with a well-earned lunch in Collins Grill. Located on the third floor of Watson's, this European-inspired mountain bistro has some of the finest on-hill food in Utah.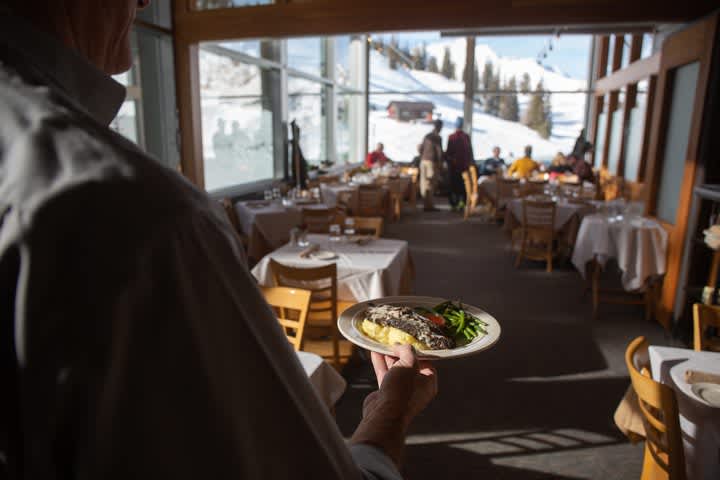 Experts can explore skiing on lines like Westward Ho or ski more glorious steeps off the High Traverse. Catherine's Area east of the Supreme chair usually holds fresh snow and offers terrain for every skier's ability. End your three-day adventure and test your newly acquired skills with a rundown Alf's High Rustler aka High Boy. This iconic line has been Alta's proving grounds for generations of Alta skiers and makes the perfect ending to a long Alta weekend.
Written by Stewart Green for RootsRated Media in partnership with Utah Office of Tourism. Updated 12/30/18 by Adam Fehr.