Counting down to Our 86th winter.
As you may have heard—or hopefully experienced in person—Alta Ski Area smashed almost every single snowfall record during the historically snowy 2022–23 season. Between October 22nd, 2022 and April 30th, 2023, Alta received 903 inches of snow. While we don't anticipate a repeat performance of our 85th winter, we're ready for Mother Nature's encore.
Updated: 11.27.2023 @ noon
It took a little longer than expected, but Mother Nature delivered another two feet of snow in the past week and Alta Ski Area opened Wildcat and Collins lifts on Saturday, November 25th.
We recommend expert skiers only given the current conditions. Limited groomed terrain will be available with no access to the Albion Basin.
It's still autumn, but Alta has already seen a few winter storms. Our first dusting of snow occurred on Labor Day. The first top-to-bottom snowfall occurred on October 2nd, followed by a foot of snow on October 12th. This early snowfall on fall colors created some breathtaking scenery and provided a few inches of base depth that will stick around into next summer
October 12th: Fall foliage and fresh snow | Photo: Rocko Menzyk
In total, Alta Ski Area received 21.5 inches of snow in October—slightly below our 43-year average of 26.6 inches. The most recent round of snow was followed by sub-freezing temperatures that allowed Alta's snowmaking teams to get to work. A week of snowmaking later, the high-traffic corridors are now holding a considerable amount of natural and manmade snow. With a little help from Mother Nature, we hope to be skiing soon.
October 26th: Following an eight-inch storm, snowmakers fired up the snowguns | Photo: Rocko Menzyk
Your 10-Step Preseason Checklist:
With just a few weeks until the lifts start spinning, now is the time to make the most of preseason at Alta.
Our season pass offices are now open daily from 8am–4:30pm. If you didn't reload last year's pass online, swing by the Skier Services building in the Wildcat base area to pick up your Alta Season Pass. Beat the rush before opening day and ski direct-to-lift on Opening Day. Live out of state? Reload your Alta Season Pass online.
Bring your family. Bring your friends. Or just bring yourself, and experience a natural mountain environment with a rich history of deep powder. Single-day and multi-day lift tickets are now available online. You can even skip the ticket line and grab your lift tickets at one of Alta's Ticket Pick-Up Boxes at either Albion or Wildcat Ticket Offices. Buy in advance and save.
Parking reservations will be required to ski Alta this season each Friday–Sunday and Holidays starting December 15th. Our parking reservation system greatly improves the skiing experience—providing skiers the reassurance that they will have a place to park without having to arrive hours before first chair. Reserve parking today on AltaParking.com.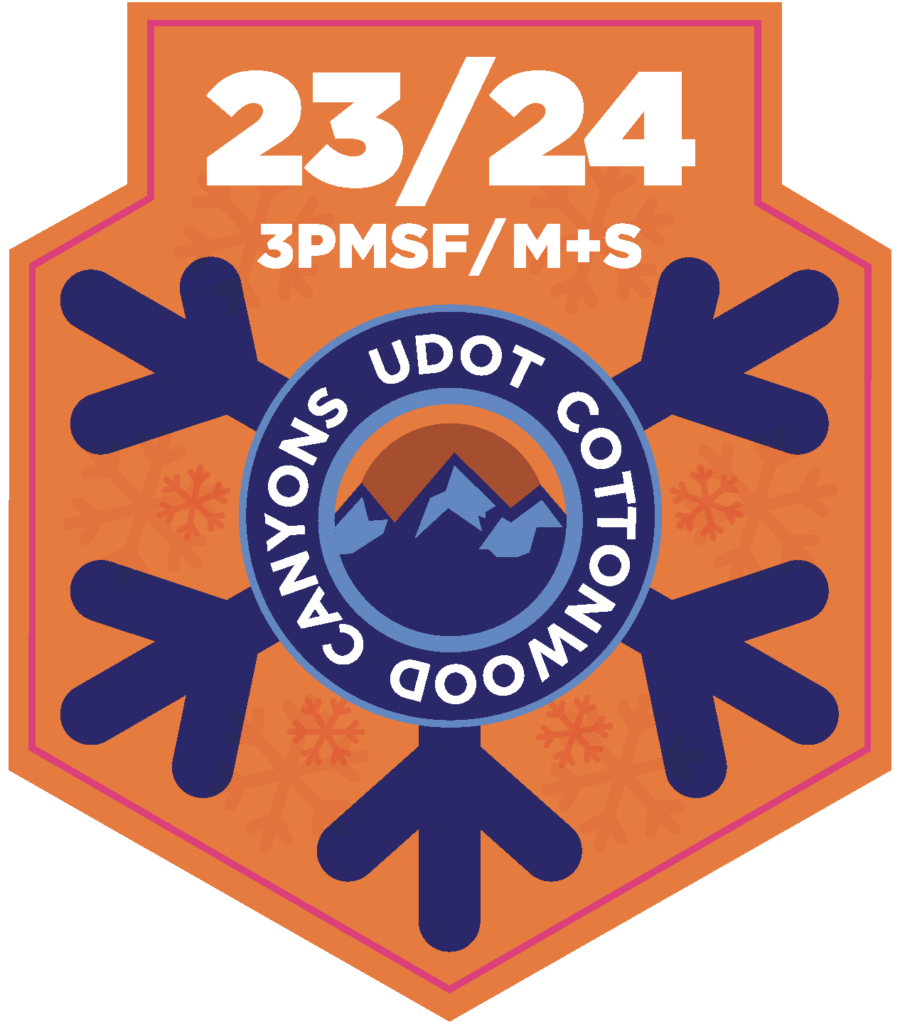 The return of winter also means the return of the Traction Law. Preseason is the ideal time to ensure your vehicle is ready for winter travel.
The Utah Department of Transportation (UDOT) Cottonwood Canyons sticker program is a winter safety, preparedness and education program specifically designed for the Cottonwood Canyons. The goal of this program is to increase vehicle safety and preparedness by pre-inspecting vehicle tires for winter driving conditions in advance of drivers traveling in the canyons. If a vehicle's tires and traction devices meet the requirements, a sticker is placed on the windshield to show a vehicle has proper traction devices for traveling in the canyons when the Traction Law is in effect.
The sticker program is free of charge, completely voluntary and will run from November 1st, 2023 through February 28th, 2024. Learn more about the UDOT Traction Law and sticker program.
Beginning November 1st, the Alf Engen Ski School will accept reservations for this year's curriculum of Private Lessons, Classes and Programs for all ages.
Skiers in the Adult Learn-To-Ski Program | Photo: Photo-John
In addition to Kid's Lessons and Season-long Programs, the Alf Engen Ski School is offering some great Adult Multi-Week Programs.
Online reservations are now available for the Alf Engen Ski School.
It's a great time of year to score some deals on last year's demo skis and logoed items from past seasons. The Alta Ski Shop in the Albion Day Lodge is open daily from 9am–4pm. Can't make it to Alta this preseason? The online Alta Gear Store is a great place to load up on Alta-branded swag.
Preseason is a great time to bring in your old gear for a little tune-up. The Alta Ski Shop will be happy to tune your skis, do some boot fitting or replace some gear in preparation for the upcoming ski season. Alta season passholders receive 20% off ski rentals and tuning services at Alta Ski Shop.
Alta Ski Shop's rental reservations are now available online.
Alta Community Enrichment has plenty of great community events—join a free yoga class, enroll in a mindfulness course or take an art class with Alta's favorite community-centered non-profit.
Check out the Alta Community Enrichment Events Calendar.
Check out Alta Ski Area and Sweetgrass Production's Steeped In Tradition video series. This award-winning series tells the Alta story through the modern skiers and personalities that are carrying on the spirit of Alta.
Last season we released the story of Alta photographer Re Wikstrom. We are pleased to announce that Steeped In Tradition Episode 11 – Re was recently accepted into the Banff Mountain Film Festival.
Whether you're new to Alta Ski Area or a seasoned vet, our Alta 101 video series is a great place to learn more about our unique mountain culture or to brush up on the basics after a long off-season.
We will continue to update Alta.com with important information for the upcoming season. Keep an eye on Alta's Mountain Cams as we ready the ski area for Opening Day. As always, we will continue to add winter stewardship, environmental education and other activities to our Events Calendar.
Offseason Updates
What a difference a year makes. One year ago today, we were working around the clock to install the new Sunnyside lift through the first snowfall of the season. Global supply chain issues delayed the installation of the new lift until January 2023. The new Sunnyside six-pack lift was worth the wait, as it greatly improved access to Alta's beginner terrain that will be available again at the start of the 2023–24 season.
Albion Lift Removal
One of the first things you may notice when arriving at Alta this season is that the Albion lift is not where you left it. For the first time in almost 50 years, the Albion lift line is now void of lift towers and an endless string of black centerpole double chairs. While the Albion lift was retired at the conclusion of the 2021–22 season, the decision was made to keep the Albion lift on retainer as a backup plan for potential delays in the new Sunnyside lift. This decision wound up paying off and the Albion lift was brought out of retirement to provide lift service to Alta's beginner terrain at the start of the season. Once the Sunnyside lift was completed, the Albion lift drifted back into retirement while watching the snowpack grow to historic highs.
Shortly after the conclusion of the 2022–23 season, the Albion lift was re-retired...for good this time. Various parts of the lift will be used to keep the similar Wildcat lift operational. The Albion chairs were sold to employees or donated to the Alta community. The towers were removed and sold as scrap metal. Only the memories remain.
Wyssen Towers on Mount Baldy
It wouldn't be summer at Alta without the occasional sound of helicopters echoing off the canyon walls. In late July, the Alta Avalanche Office went to work at 11,000 feet. This summer's work saw the completion of a multi-year project installing Remote Avalanche Control Systems (RACS) on Mount Baldy. The Avy Office installed five Wyssen Towers above Perla's, Little Chute, Main Chute and the High Shoulder of Baldy.
Alta Ski Area is considered the birthplace of North American avalanche forecasting and mitigation. For decades, Alta has embraced new technologies in its neverending battle with the avalanche problem. Wyssen Towers and other RACS are the next wave of technology that will eventually replace the military-grade artillery that was pioneered and utilized by Alta patrollers over the past seven decades.
Looking up at Mount Baldy, you can see the new Wyssen Towers, each standing about 30 feet high. Stored in boxes at the top of each tower are explosive changes that will lower and detonate above the snowpack. Much like the Howitzer, the mitigation is remote. But unlike the Howitzer, there is no need for military-grade artillery.
Snowmaking Improvements and Erosion Gully Work
If you were hiking around Alta Ski Area this summer, you may have experienced a few temporary trail closures as we improved Alta's snowmaking systems in the Albion Basin.
A little further up the mountain, our crews have been hard at work this summer reshaping and re-grading the Erosion Gullies in the Supreme Area. This work completes a project that began last summer and has opened up a great new ski run from the top of the Supreme lift.
Alta Environmental Center's Busy Summer
The Alta Environmental Center (AEC) faced a big workload in a short summer window as last season's snowpack stuck around a lot longer than usual. The AEC successfully planted 13,000 native wildflowers and shrubs. Despite the lingering snowpack and challenging weather, the team managed to get these plants in the ground ahead of schedule. In addition to these large-scale projects, the summer conservation team cared for an on-site tree and plant nursery, nurturing the growth of native species that are vital to our revegetation efforts.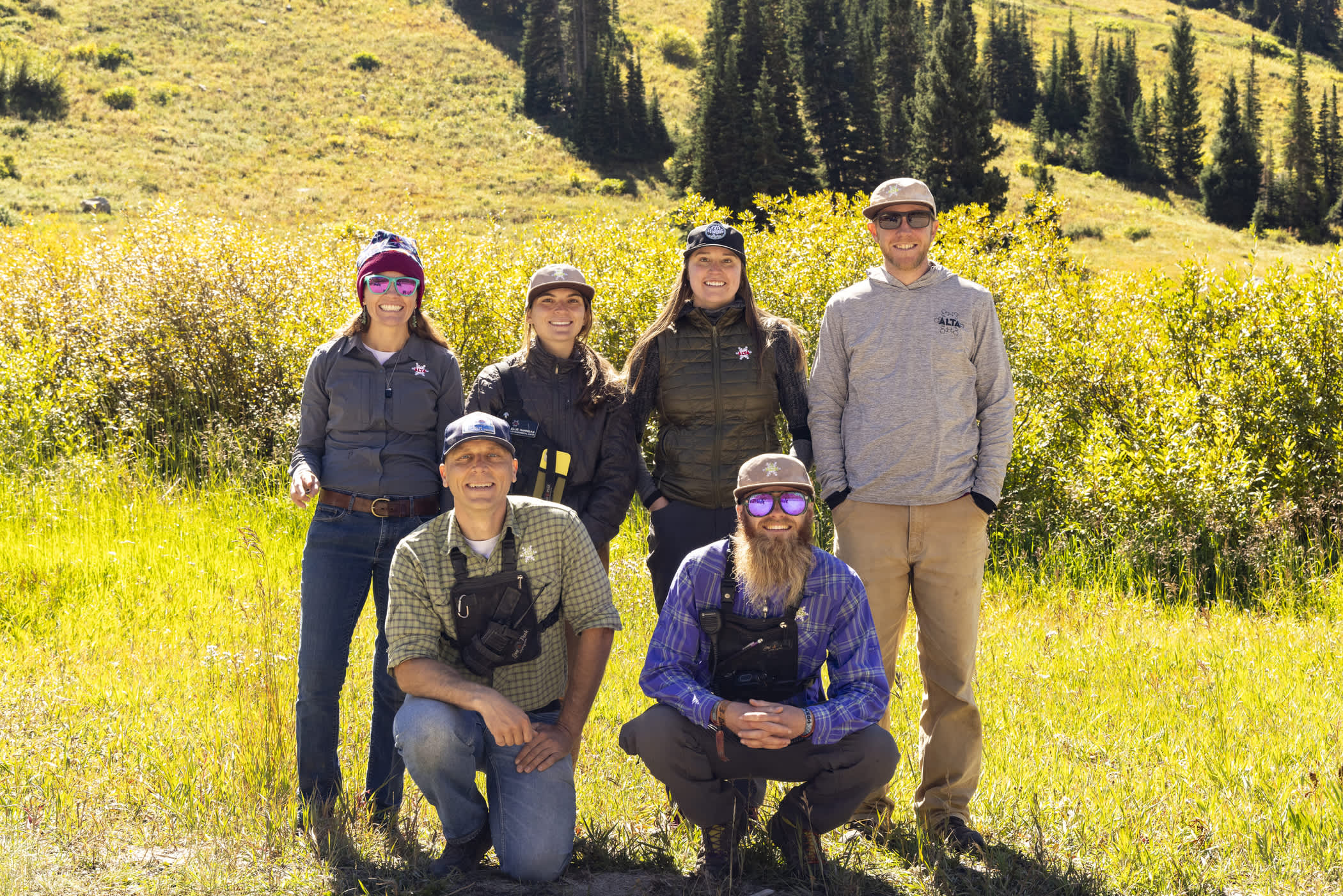 September 23rd: The AEC team wrapped up a busy summer | Photo: Rocko Menzyk
The AEC team is also responsible for managing invasive and noxious weeds throughout the ski area. This task involves surveying and hand-pulling weeds from 75 acres of land. Another 25 acres are managed by Friends of Alta and Cottonwood Canyons Foundation. Year over year, the AEC measured significant decreases in the overall presence of invasive species here at Alta. In between vegetation management, the AEC and Cottonwood Canyons Foundation also care for the network of trails at Alta throughout summer and fall. Learn more about the AEC's summer projects in their Fall 2023 Newsletter.
JOIN US FOR OUR 86TH WINTER.