The start of the 2021-22 season has been anything but normal.
All of a sudden, it's January 2022 and Alta has a 92-inch base and season-to-date snowfall of 256 inches. It's been a rollercoaster ride to get us to this point. Wait for it. We dive into the storms, avalanches and powder skiing of Deep-Cember after a COVID and parking update.
COVID-19
The 2020-21 season at Alta ended on a positive note as we managed to stay open and stay skiing through the pandemic. As vaccination rates increased and new reported cases in Utah started to decline, we finished the season planning for a return to normal for the 2021-22 season.
This summer and fall, we experienced COVID-19's peaks and valleys, the introduction of vaccinations and boosters, brief glimpses of the return to normal, followed by waves of variants that have required Alta Ski Area to put back in place many protocols from last season.
The COVID roller coaster rolls on into 2022. The Salt Lake County Health Department issued a 30-day mask order effective January 8, 2022. Per the County order, all employees and skiers visiting Alta Ski Area must wear a well-fitting mask when indoors in public, regardless of vaccination status. This order has been posted on the entrances to all public spaces within the ski area.
Parking
This summer was one of transformation, as Alta Ski Area announced and implemented a weekend & holiday parking reservation system. Partnering with third-party companies Interstate Parking and Honk Mobile, Alta is now requiring season passholders, multi-resort passholder and all visitors to Alta to reserve parking during peak periods.
It's a big change—one of the more notable changes in Alta Ski Area's recent history—but we feel that it is a crucial step in managing skier visitations during peak periods.
Alta's proximity to Salt Lake City and surrounding communities is what many people have moved to Utah to enjoy. On a good day, you can leave your home in the Salt Lake Valley and be making turns at 10,000 feet in 30 minutes to an hour. Skiing is not a weekend-only activity, but a regular pastime that fits neatly into a lot of skier's daily routines. On powder days, it's not out of the question to ski a few laps at Alta in the morning and be back at the office before your boss even notices.
Weekends & holidays are different and we need to start treating them as such. Demand often exceeds Alta's parking lot and lift capacity during peak periods. Last season, we turned around cars carrying skiers on 14 days, all but one of those days fell on a weekend or holiday period. Our skiers were arriving at Alta before sunrise to secure a parking spot, then waiting in an idling car staying warm until the lifts opened for the day. The on-mountain skiing experience also suffered from overcrowding.
Change is scary and it can be disruptive. But after almost a month of parking reservations, we have seen the restoration of the weekend & holiday ski experience. Those who have reservations for the 8am-1pm time slot have been showing up as the lifts start spinning and leaving once their legs are tired. Those without a reservation have been waiting until 1pm to start their ski day and skiing until the lifts close for the day at 4:30pm.
Thus far, parking reservations have helped create a better experience for our skiers. It has required a little extra planning, but the response has been overwhelmingly positive.
We will continue to closely monitor our parking reservations system and make changes when necessary. Thank you for your patience as we implement such a big change for the 2021-22 season.
Parking Changes in Alta, a message from Alta GM Mike Maughan >
Snowfall
Now that you glossed over the COVID and parking updates, let's get back to the good stuff, the reason that we all ski Alta—The Greatest Snow on Earth. Regarding snow, the start of the 2021-22 season has been anything but normal. It all started back in early October. Alta received its first measurable snow on October 9th. And it just kept snowing. Ambitious backcountry skiers were hiking up and skiing down every slope and face in the closed ski area. The number of cars in the parking lot on October weekends resembled some midweek days during ski season. By the end of October, Alta had seen 67 inches of snow—the snowiest October at Alta since the 2004-05 season.
October 11th, 2021: Snow and foliage after the first snow of the season | Photo: Rocko Menzyk
Just as we were throwing around the idea of moving up Alta's opening day to mid-November, high pressure took over and the snow stopped falling. The first few weeks of November were sunny and warm—too dry to snow and too warm for our snowmaking crews to do their jobs. The stability of our snowpack started to deteriorate.
Old Man Winter finally returned the week before Thanksgiving and we were able to blow some manmade snow and open the ski area. The first few weeks of the season were quite enjoyable as Alta's teams worked to open as much terrain as possible—even opening Main Chute on Mount Baldy before the end of November. In total, just 21.5 inches of snow fell at Alta during November 2021, the driest November since the 2007-08 season. Alta's high-elevation prominence and north-facing aspects provided Alta skiers over 60 runs while many other ski areas across the state sat idle, waiting for colder temps and a pattern change.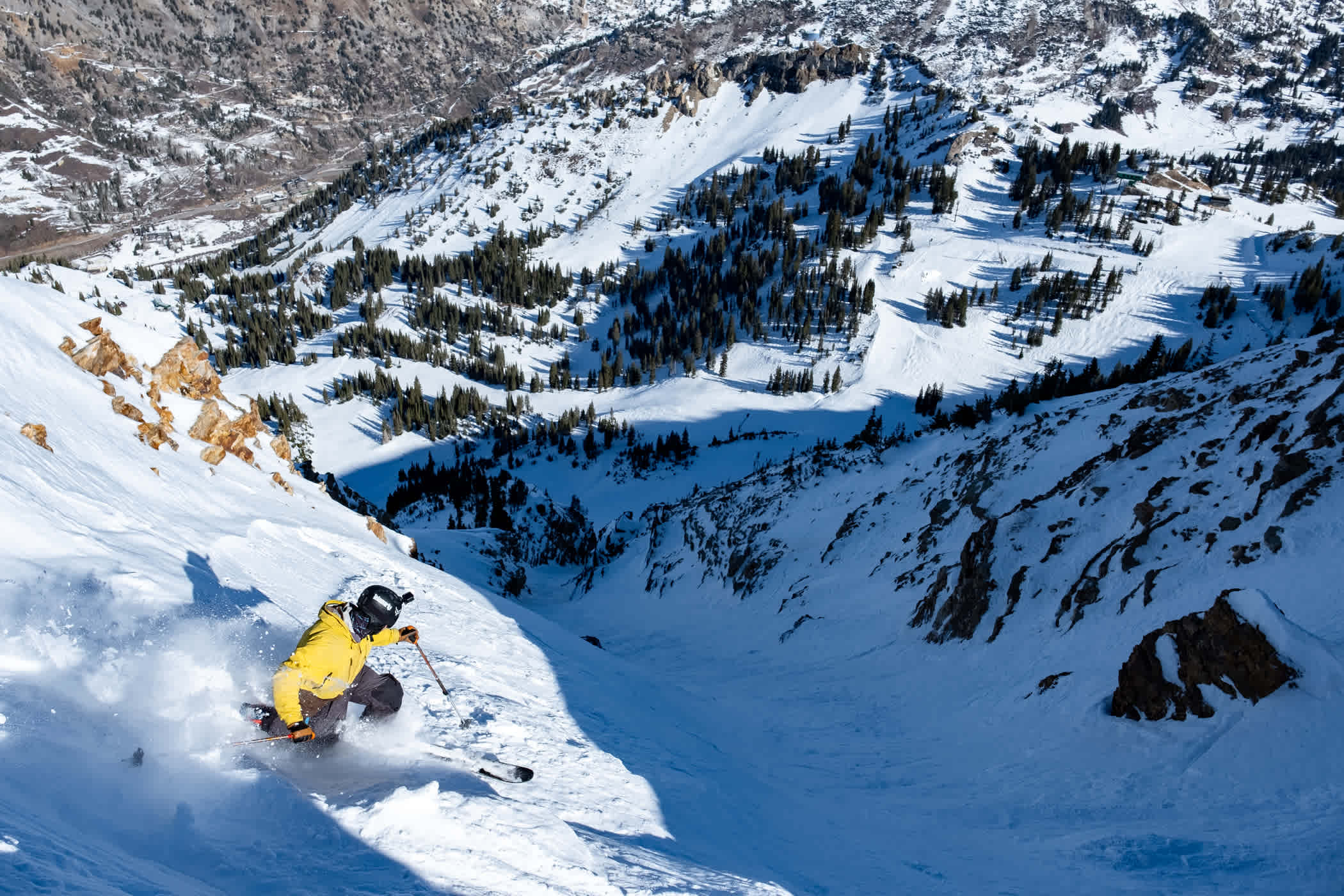 November 29th, 2021: Taylor Johnson drops in Main Chute | Photo: Iz La Motte
As we flipped the calendar to December, the weather continued to stay dry, but the forecasts started to hint at a pattern change. After two-plus weeks without snow, things changed in a hurry. The second week of December delivered two storms of 29 inches and 42.5 inches, respectively.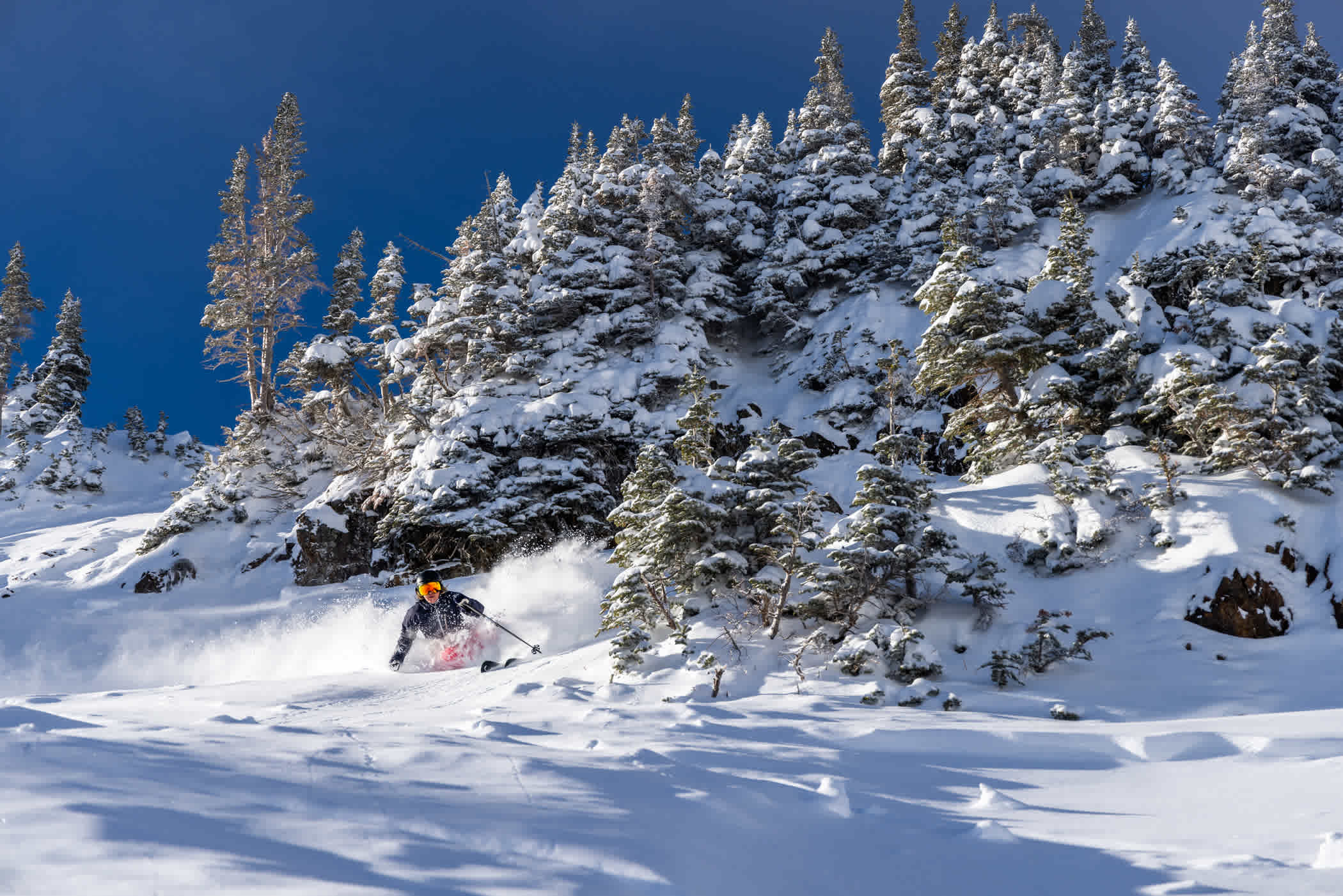 December 11th, 2021: Anna Marno enjoys a bluebird powder day between storms | Photo: Rocko Menzyk
Just as we had finished digging out from 71.5 inches of new snow and started preparing for the upcoming holiday season, another series of storms took aim at Little Cottonwood Canyon. Some forecasts were calling for triple-digit snowfall totals! While we always love to see a robust snow forecast, that much snow during the peak holiday season can wreak havoc on ski area infrastructure.
Luckily, the first wave of the storm slightly underperformed and snow totals for the storm cycle totaled 72 inches. We witnessed a few delayed openings as the Alta Ski Patrol worked around the clock to manage the avalanche problem but avoided full-day closures that were experienced throughout the West. The combination of wind, snow and cold temperatures contributed to some incredible skiing conditions during the holiday period.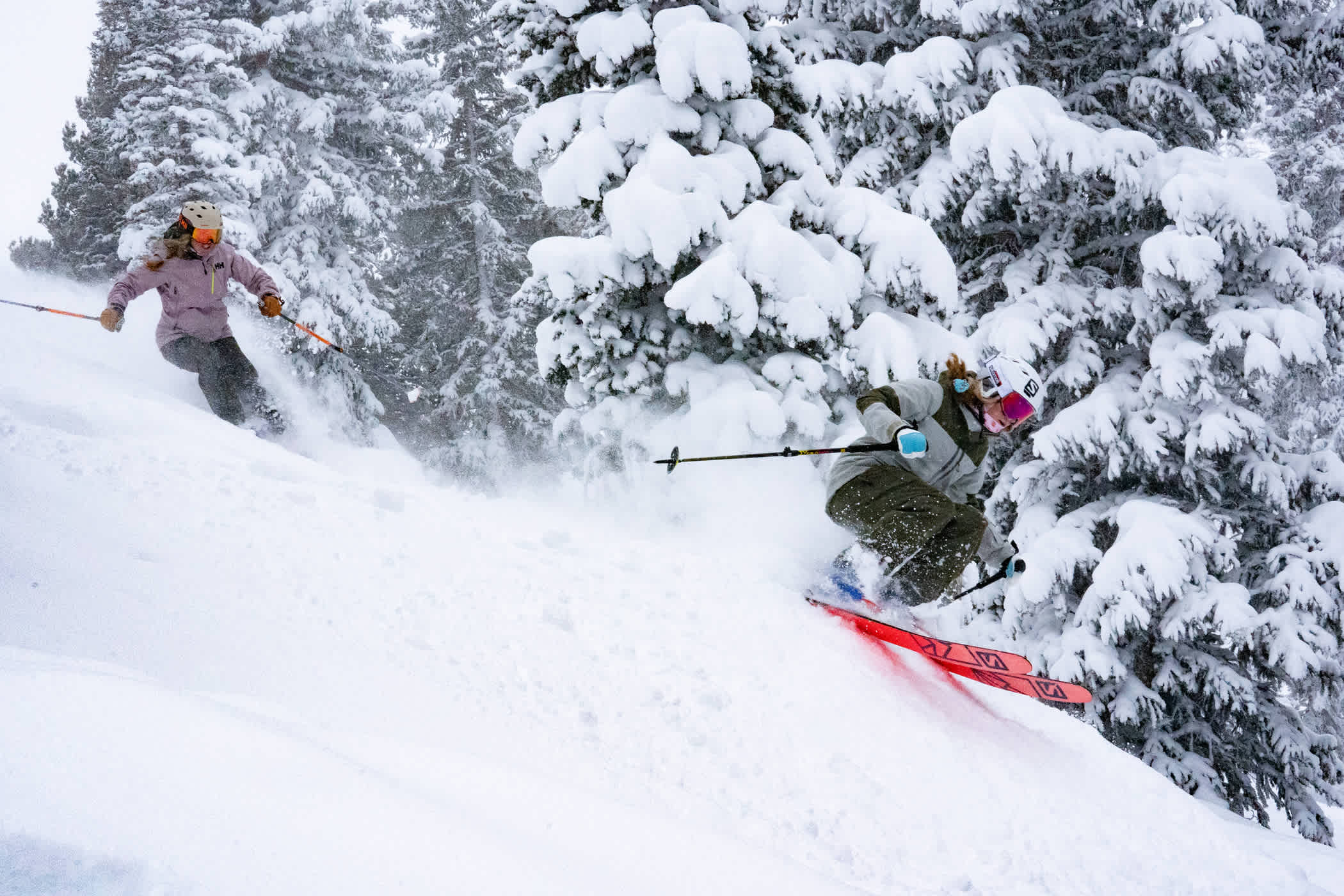 December 28th, 2021: Mali Noyes and Hannah Follender enjoy some December powder | Photo: Chloe Jimenez
When it was all said and done, between December 8th and New Year's Eve, Alta received 143.5 inches of snow. December 2021 was the fourth snowiest single month in the past decade at Alta Ski Area.
January 1st, 2022: New year, same Evan Thayer | Photo: Photo-John
Snowpack
Ten days into January and the snow has continued falling. Unfortunately, the snow from October now rests at the bottom of Alta's 92-inch base. November's dry spell sped up the deterioration of the snowpack.
On New Year's Eve, a 36-inch storm cycle required avalanche mitigation on Mount Baldy. The Alta Ski Patrol shot the 105mm Howitzer and triggered a massive avalanche across the face of Mount Baldy. The snow cascaded down the mountain coming to rest 200 yards from the Collins angle station. The avalanche almost ripped to the ground, failing on the layer of the snowpack from October's storms, leaving behind a seven-foot crown of snow on the High Shoulder and Perla's.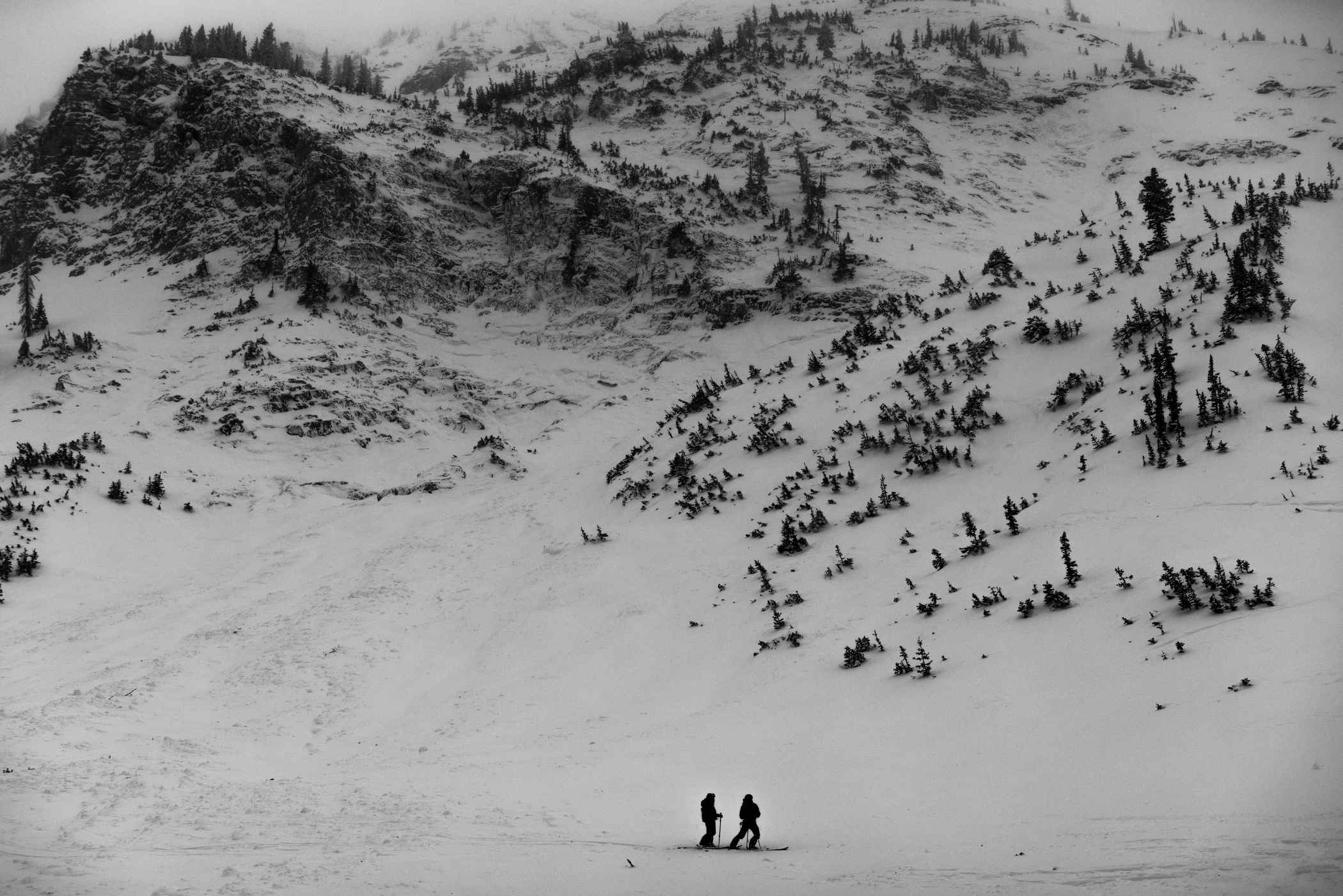 December 31st, 2021: Alta patrollers inspect the Mount Baldy avalanche | Photo: Rocko Menzyk
Shortly after the New Year, another large avalanche cycle ushered in the start of 2022. Following a 72-inch storm cycle that contained over seven inches of water, the Alta Ski Patrol intentionally triggered another massive avalanche on East Greeley. The resulting slide could be seen and heard throughout Little Cottonwood Canyon. Cell phone footage of the avalanche made local and national news.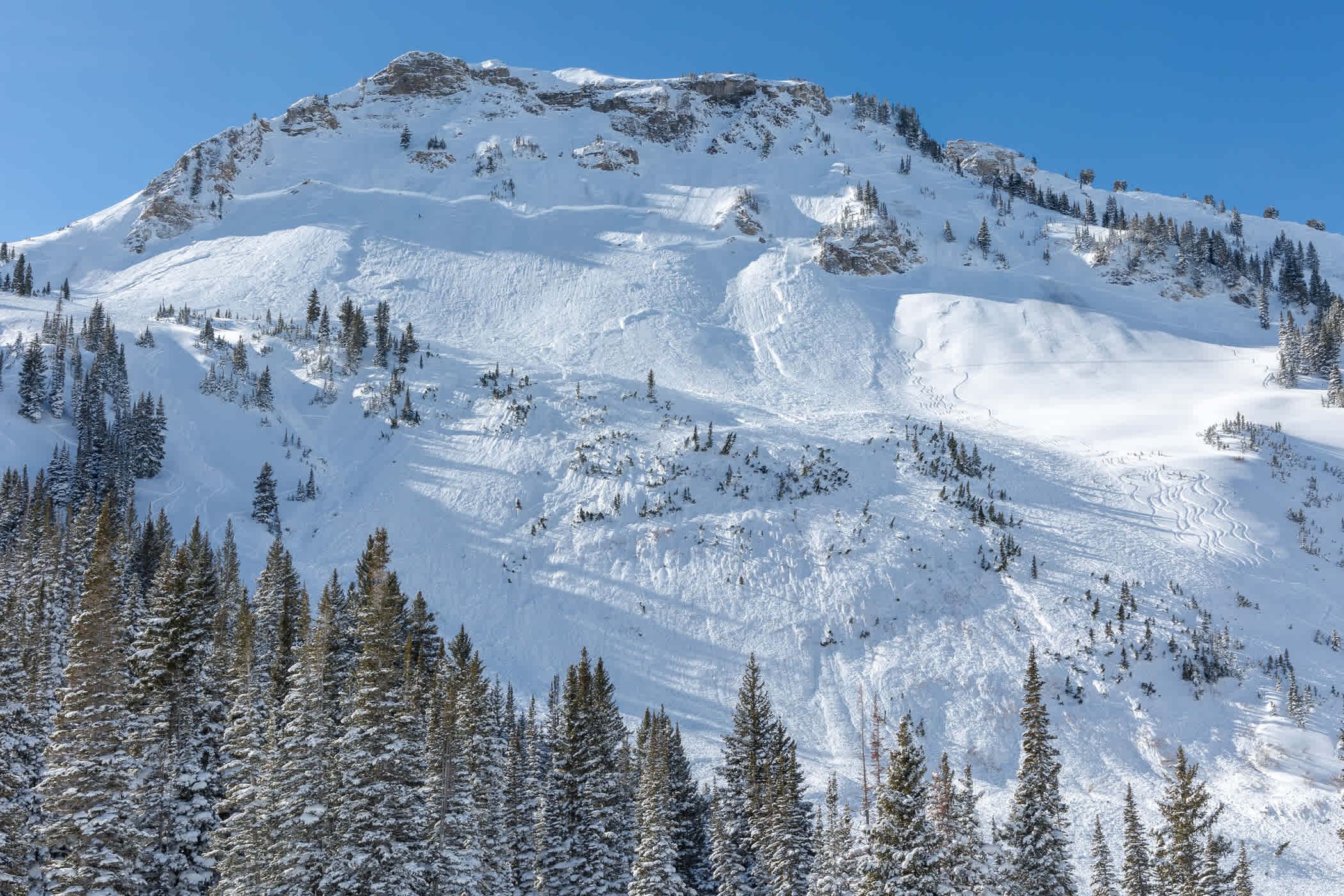 January 2nd, 2022: Backside avalanche from January 2nd, 2022 | Photo: Photo-John
These two massive avalanches are a great reminder that the mountains are always in charge. Alta is the birthplace of North American avalanche research and our avalanche department is second-to-none. But at the end of the day, delayed openings, terrain closures and rope lines are not an accident or some grand conspiracy to keep you from skiing your favorite powder stash. Avalanche mitigation and the occasional inconvenience are a fact of life in Little Cottonwood Canyon. Thank you for your patience thus far this season as we work with a finicky snowpack.
Snowfall By the Numbers
October snowfall: 67.0"

Snowiest October since 2004-05

November snowfall: 21.5"

Driest November since 2009-10

December snowfall: 143.5"

Snowiest December since 2007-08
4th snowiest single month in the past decade
164% of our 40-year average snowfall
194% of our 10-year average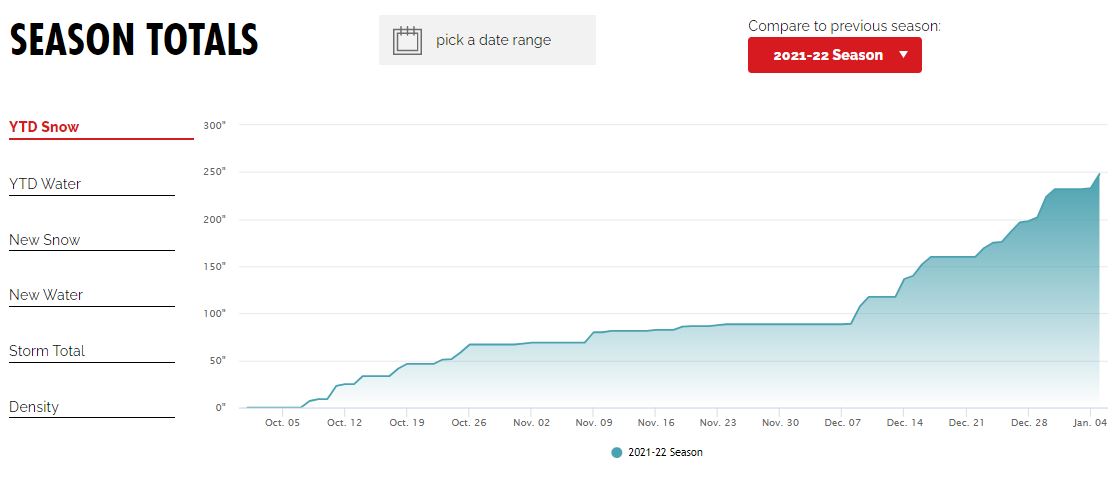 Deep-Cember Stats:
December water content: 13.05"

188% of our 40-year average
223% of our 10-year average
Wettest December since 2010-11

6th snowiest December in the past 41 seasons all of those seasons finished with above-average snowfall

1981-82: 167" | 748"
1983-84: 209.5" | 708.5:
1996-97: 152" | 620.5"
2003-04: 148" | 609"
2007-08: 147" | 702"
5 snowier Decembers led to average seasonal snowfall of 677.6"

6th wettest December in the past 41 seasons

1981-82: 17.53" water | 748" snow
1983-84: 19.18" water | 708.5" snow
1996-97: 13.85" water | 620.5" snow
2005-06: 13.24" water | 641.5" snow
2010-11: 14.82" water | 724" snow
5 wetter Decembers led to average seasonal snowfall of 688.5"
Snowy Decembers have historically led to above-average snowfall. With just over 100 days left in the 2021-22 season, we are blessed with an above-average snowpack that is starting to heal. Coverage around the mountain is phenomenal. Skiable terrain is increasing as the Alta Ski Patrol works to open additional terrain with each passing storm. Our weekend & holiday parking reservations have dramatically improved the skiing experience in peak periods. And we've learned how to successfully operate the ski area in the face of the pandemic.
Like a trip through the Supreme lift angle station, it's been a bumpy ride. But we're still open, we're still skiing and we're still smiling—because winter days at Alta are filled with ever-changing views, world-class skiing and a community of people who have dedicated their lives to snow.