Steeped In Tradition Episode 9 – Interlodge.
Interlodge. The meaning behind the word is widely unknown, yet it evokes mystery and intrigue from powder skiers across the globe. Alta and Little Cottonwood Canyon receive prodigious snowfall as witnessed during last year's 100'' February storm cycle. These large storm events coupled with Little Cottonwood Canyon's unique geography necessitates Interlodge—by order of the Alta Town Marshal's office.
Go behind the scenes with Alta Ski Area and Alta Community Enrichment who partnered with Sweetgrass Productions and Iz La Motte as they tell the definitive story of Interlodge.
What Is Interlodge?
An Interlodge order requires residents, employees and lodge guests to shelter in place while avalanche professionals from Alta, Snowbird and the Utah Department of Transportation (UDOT) perform avalanche mitigation. Because 80% of buildings in the Town of Alta are in avalanche slidepaths, Interlodge travel—moving outdoors between lodges or other buildings—is prohibited while an Interlodge order is in place. Under the Alta town ordinances, violating Interlodge is a Class B Misdemeanor punishable by up to a $1,000 fine and 6 months in jail.
Alta Ski Area averages 540 inches of seasonal snowfall between October 1st and April 30th. This 45 feet of snowfall requires a significant amount of avalanche mitigation in the ski area and around the Town of Alta. Frequently throughout the season, UDOT will close Little Cottonwood Canyon's Highway 210 overnight for early morning avalanche mitigation. When this occurs, an overnight Interlodge order is not an uncommon event in Little Cottonwood Canyon.
How long an Interlodge order remains in place can vary, significantly. Most Interlodge orders remain in place from midnight until 8am. During a long-duration storm cycle, the various avalanche mitigation teams work to stay ahead of Mother Nature and keep Highway 210 and the ski area open. Sometimes, the snowfall wins.
"We try and run a ski area every day of the season, but in a place like this, there are a few days of the season where you have to give in and let the storm do its thing." — Jonathan Morgan, Alta Avalanche Office
The 60-Hour Interlodge of February 2021
In February 2021, Alta received 162.5 inches of snow, the snowiest single month in the past decade. Over 100 inches of that snow fell in one week, leading to a 60-Hour Interlodge.
The first Interlodge order of the 2020-21 season went as planned. At midnight on Sunday, February 14th, Highway 210 closed and everyone in Little Cottonwood Canyon sheltered in place overnight. Avalanche mitigation was performed at daybreak and the Interlodge order was lifted the next morning at 9am. The next few days were anything but normal.
A second Interlodge order was put in place at 11pm on Monday, February 15th. As early morning avalanche conditions were tended to by Alta Ski Patrol, Snowbird Ski Patrol and UDOT, the snow kept falling and the Interlodge order remained in effect. It would remain in place for the remainder of the day and overnight.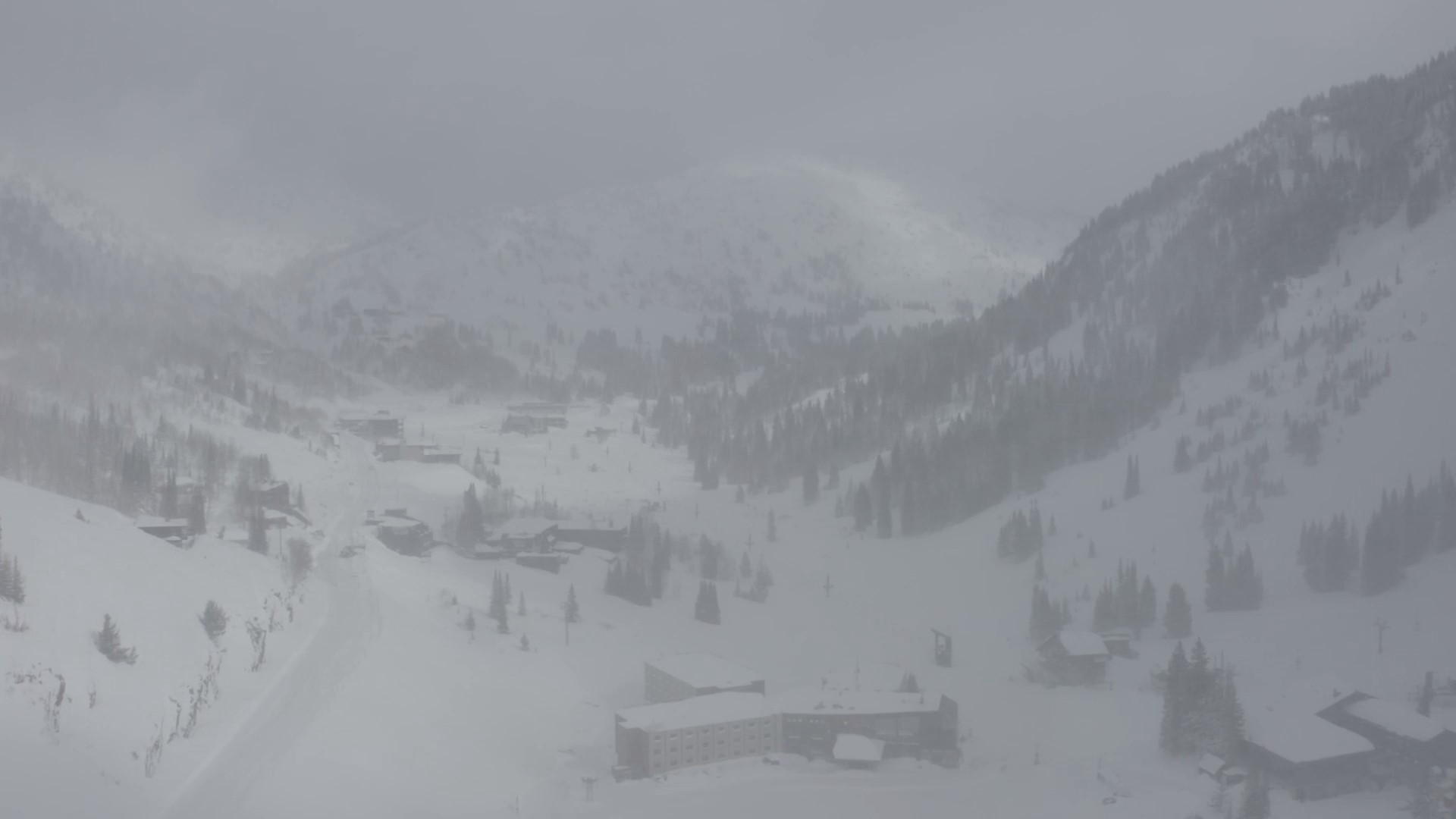 The storm raged on into Wednesday morning. Mother Nature was winning the battle and the avalanche danger continued to increase. The Town of Alta went into Maximum Security Interlodge—all lodge guests, Alta residents and employees were instructed to take shelter in designated lower-level areas away from windows. For the second consecutive day, Alta Ski Area, Snowbird and Highway 210 remained closed. Once avalanche mitigation had been completed, the Maximum Security Interlodge was lifted, but the Interlodge order was still in effect heading into a third night.
Lodge guests kept busy reading books and playing cards with other guests in the lobby. Alta residents cooked dinner and watched movies in their homes and condos, taking inventory of supplies and individual morale. And Alta employees dined and sheltered with those in employee housing for the night or slept in their offices while keeping an eye on the news and weather.
"It can be a roller coaster of emotion. We have no control over the storm ... " — Charlotte Miller, Alta resident
Finally, on the morning of Thursday, February 18th, the 60-hour Interlodge was lifted and people were again free to set foot outside. In total, Alta had received 63 inches of snow, witnessed 210 natural and controlled avalanches and had waited out the longest-duration Interlodge order in recent memory. With Interlodge lifted, the mountains stood tall beneath the deep blue Utah sky, drenched under a coat of fresh snow—awaiting the hoots and hollers that would soon become the soundtrack for the mountain.
The Interlodge Country Club
As an Alta skier, you may have heard of the fabled Interlodge and wondered why anyone would want to subject themselves to a shelter-in-place order of hours or days. The simple answer is known locally as a Country Club day.
On rare occasions, Interlodge orders will lift while Highway 210 remains closed for avalanche debris cleanup. Alta Ski Area and Snowbird spin their lifts for those residents, lodge guests and employees who waited out the storm indoors. As powder-starved skiers wait patiently in the Salt Lake Valley for Highway 210 to reopen, the hundreds of skiers in Alta and Snowbird are free to enjoy the untracked, powder-filled slopes of Little Cottonwood Canyon.
The 60-Hour Interlodge of 2021 ended around 11am on Thursday, February 18th. Vehicles were able to make their way out of the Canyon, but the road up to Alta remained closed for several more hours. Those who had persevered through a two-and-a-half-day lockdown had a difficult decision to make—start digging out and return to real life or join one of the most exclusive ski clubs in the world.
Country Club days like this are few and far between. There are some powder mornings when the ski area will open just as Highway 210 opens to uphill traffic. The first hour or so, as the cars make their way to Alta, has the feel of a country club day. But a true Country Club day, when Little Cottonwood Canyon remains closed and the lifts keep spinning, is the stuff of legends—a unique experience you'll likely tell your friends, children and grandchildren about.
Interlodge Lore
The unique phenomenon of Interlodge is woven into the fabric of Alta's history. As mentioned in the Steeped In Tradition video, Highway 210 was once closed for two weeks as avalanche debris had completely buried the road. Food rations had to be airdropped by a plane to keep the residents and guests of Alta fed while travel to the Salt Lake Valley was cut off.
Interlodge is a part of the Alta experience. Those who choose to call Alta home—whether it's year-round, for the winter or even one weekend each ski season—know that day-to-day life can be interrupted by Mother Nature. It may be one night, it might be a few days. But if you weather the storm and follow the rules of Interlodge, you might also experience the best day of skiing of your life at the Alta Country Club.