A Deep Dive Into our Deep Snowpack.
Eighty-five winters ago, skiers were first drawn to Alta by the promise of powder days. Eighty-five years later we are experiencing a special winter—one that has delivered storm after storm and the continued promise of powder days.
As of January 26th, Alta Ski Area has seen 446 inches of snow on the season—the snowiest October–January stretch in the 43-year history of the Collins study plot. We have now surpassed the 1981–82 season, which saw 442 inches of snow by January 31st—on its way to a record-setting 748 inches of seasonal snowfall.
Since our first snow on October 22nd, Alta has seen an average of 4.6 inches of snow per day.
January 2023 has already seen over 13 feet of snow. According to OpenSnow data, our current snowpack is at 175% of average. Compared to the 42-year history of the Collins study plot, we've seen above-average snowfall and water in each of the first four months to start the 2022–23 season. All of this snow and water has made for some incredible skiing, but will also go a long way in replenishing our state's rivers, reservoirs and the Great Salt Lake when the snow eventually melts.
Let's do a deep dive into Alta's snowfall history and our Photo of the Day Archive and see how this season compares to some of the months and winters in Alta's storied and snowy history.
October 2022 | 37.5 inches—142% of average
It seems like a distant memory, but the season got off to a concerning start. We're used to seeing our first flakes in September or early October, but this season saw warm and dry weather through most of October. Alta didn't receive its first measurable snow until October 22nd. That first storm of the season delivered a couple of feet of snow, the beginning of a snowy pattern that would drop 37.5 inches of snow by the end of the month.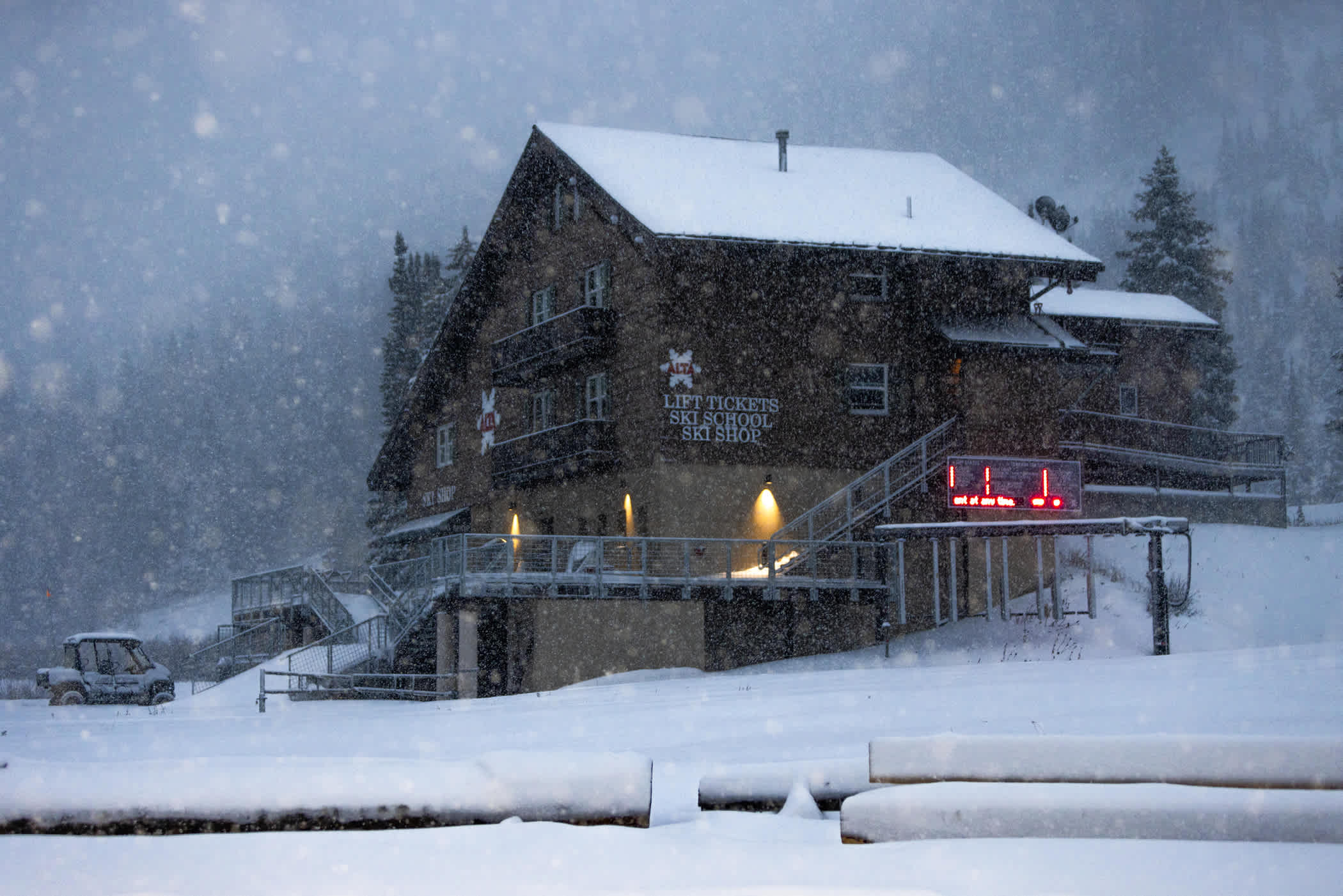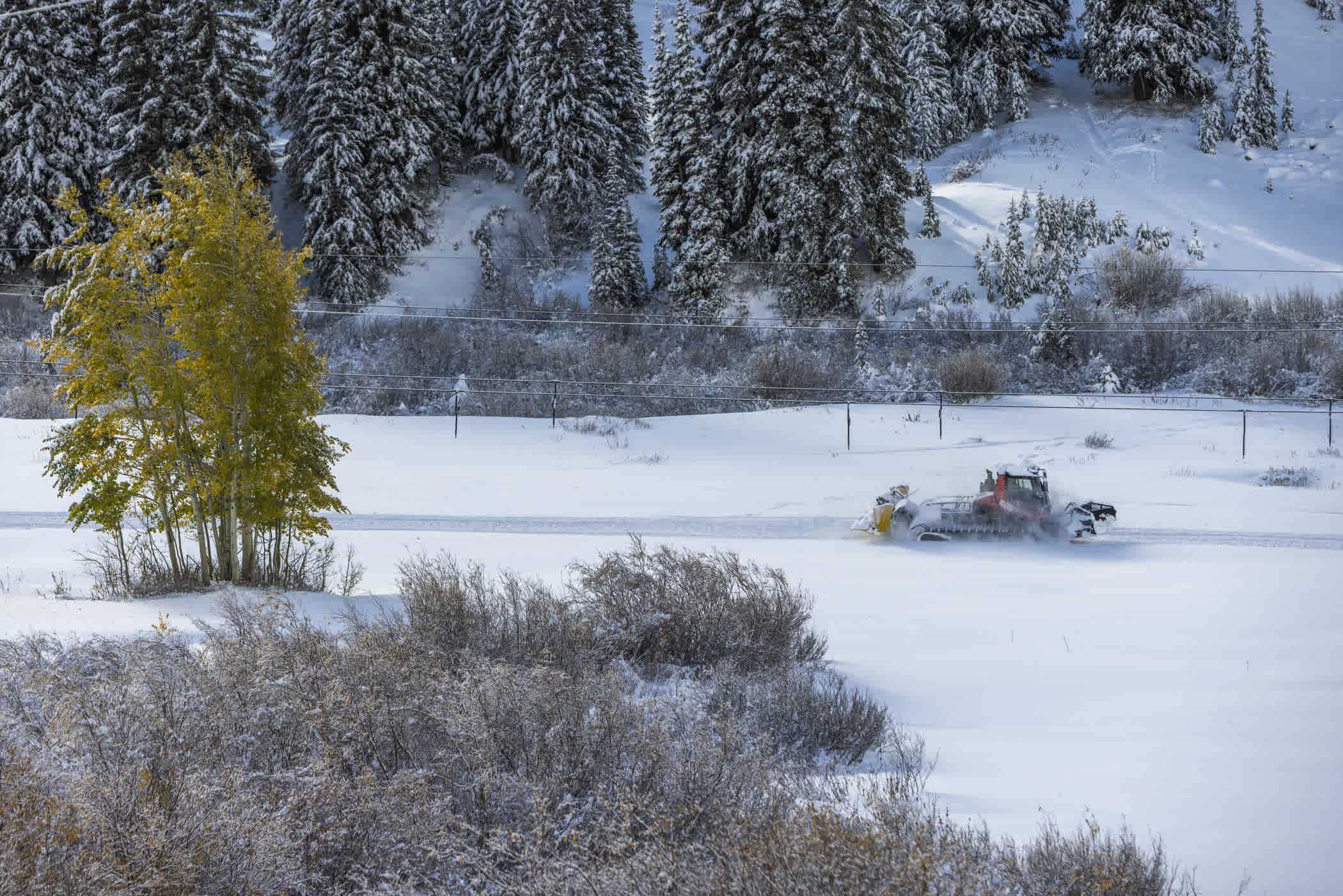 October 23rd: A snowy morning following a two-foot storm—our first snow of the season | Photos: Rocko Menzyk
October 2022 was only the fourth-snowiest October in the past decade, but 42% above our 42-year average.
November 2022 | 85.5 inches—120% of average
The first week of November delivered two big storms, followed by almost three weeks of high pressure. Temperatures stayed cold and the snowmakers worked around the clock to prepare Alta Ski Area for Opening Day on November 18th. Another storm cycle delivered two more feet of snow to close out the month.
November 28th: Sam Cohen enjoys some deep snow | Photo; Rocko Menzyk
In total, November 2022 saw 83.5 inches of snow—the snowiest November in the past decade and 20% more snow than we typically see in November. Five days saw snow totals of at least 11 inches.
Deepcember 2022 | 163 inches—183% of average
The storm train barreled straight through December. A series of storms battered Little Cottonwood Canyon from every direction, varying in wind direction, duration and density. Below are a few highlights:
December 1st–7th | 37 inches in a week
December 5th: Quinn Wolferman surfing some higher-density pow | Photo: Rocko Menzyk
A series of storms rolled through Alta after passing through California. These wetter, warmer systems set down a solid base of 9–11%-density snow. The final wave was 5.5 inches of 5%-density snow—a little Alta Magic that made for some incredible skiing.
December 11–15th | 70.5 inches of Alta Magic—aka The Lowe Pressure System
December 13th: Rob Lowe enjoys a Deepcember day | Photo: Rocko Menzyk
Rob Lowe, who has been skiing Alta and Snowbird since 1976, made a surprise visit to Alta in the middle of December. A storm that forecasts expected to deliver 14-21 inches of snow, visited Alta and refused to leave. By Thursday, 70.5" of snow had fallen from just 2.9 inches of water an astonishing 4.1% density. The Lowe Pressure System was the fourth-biggest storm total in the past two decades at Alta.
December 27–29th | 28 inches and Bluebird
December 29th: Anna Marno dives into a deep bluebird powder day | Photo: Chloe Jimenez
A couple of storms delivered an additional 28 inches of snow from 2.16 inches of water = 7.7% density snow that Alta is used to seeing. And then the sun came out for a classic Alta bluebird powder day.
December 30th–January 1st | New Year's Eve Atmospheric River Event
December 30th: Buried cars in the Wildcat lot | Photo: Rocko Menzyk
An atmospheric river dropped 37 inches of snow from 4.73 inches of water, 12.8% density snow that resembles the maritime snowfall of the Sierras or Cascade Ranges. It was a wet and wild end to 2022.
According to OpenSnow, we received new snow on 15 of 31 days in December—11 of those days saw over six inches of snow and nine of those days saw at least 11 inches of new snow.
It was the third-snowiest December in the past 43 years—eclipsing the 143.5 inches of snow in DeepCember 2021—and tied for the seventh-snowiest single month in the past 42-plus season.
Janu-BURIED 2023 | 13 feet and counting
The storm train barreled full steam as we kicked off the new year. In fact, the New Year's Eve storm delivered so much snow, water and wind, that Alta Ski Area and Highway 210 were unable to open on New Year's Day. The Utah Department of Transportation's avalanche mitigation work yielded some impressive slides in Little Cottonwood Canyon. The Town of Alta celebrated the New Year with a full-day Interlodge, as lodge guests, residents and Alta employees were unable to go outside due to the threat of avalanches.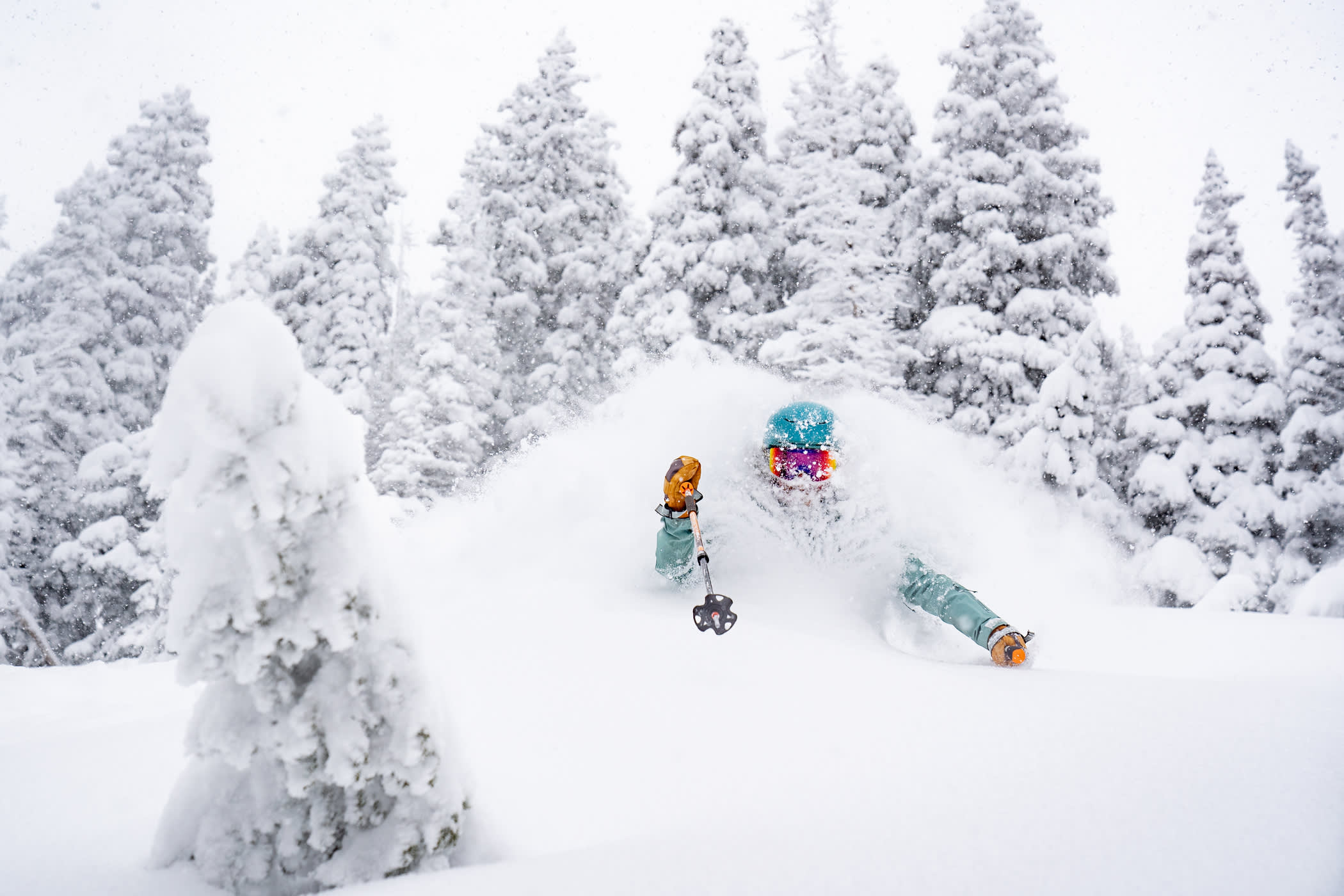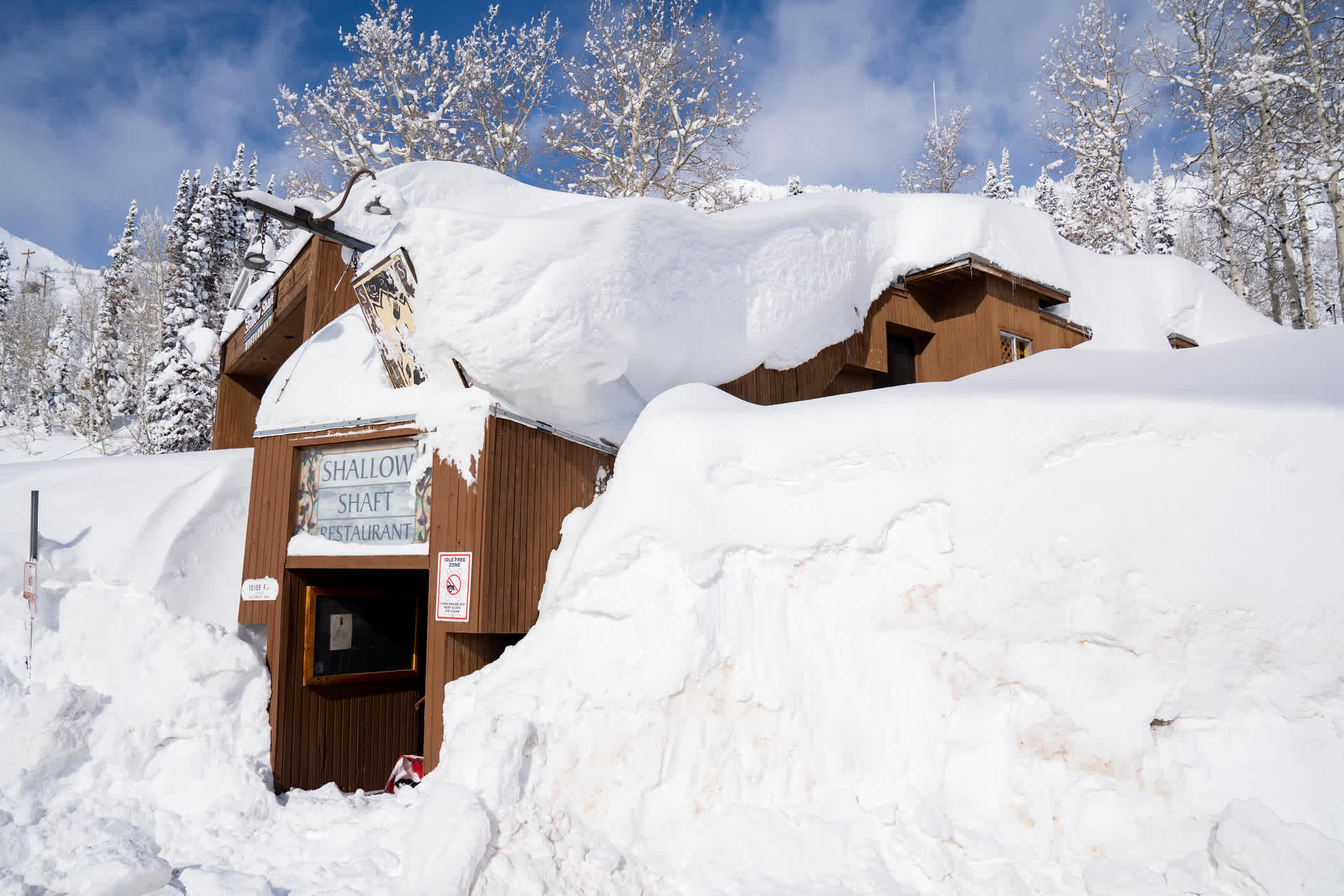 January 3rd & 4th: Katie Hitchcock and a Town of Alta building both get buried | Photos: Chloe Jimenez
Despite the one-day closure, the snow kept falling and the snowbanks grew taller. Another storm took aim at Alta Ski Area as the first week of 2023 came to a close. This storm dropped another two feet of snow and another series of road closures and Interlodge orders—but also some incredible storm skiing and another bluebird powder day.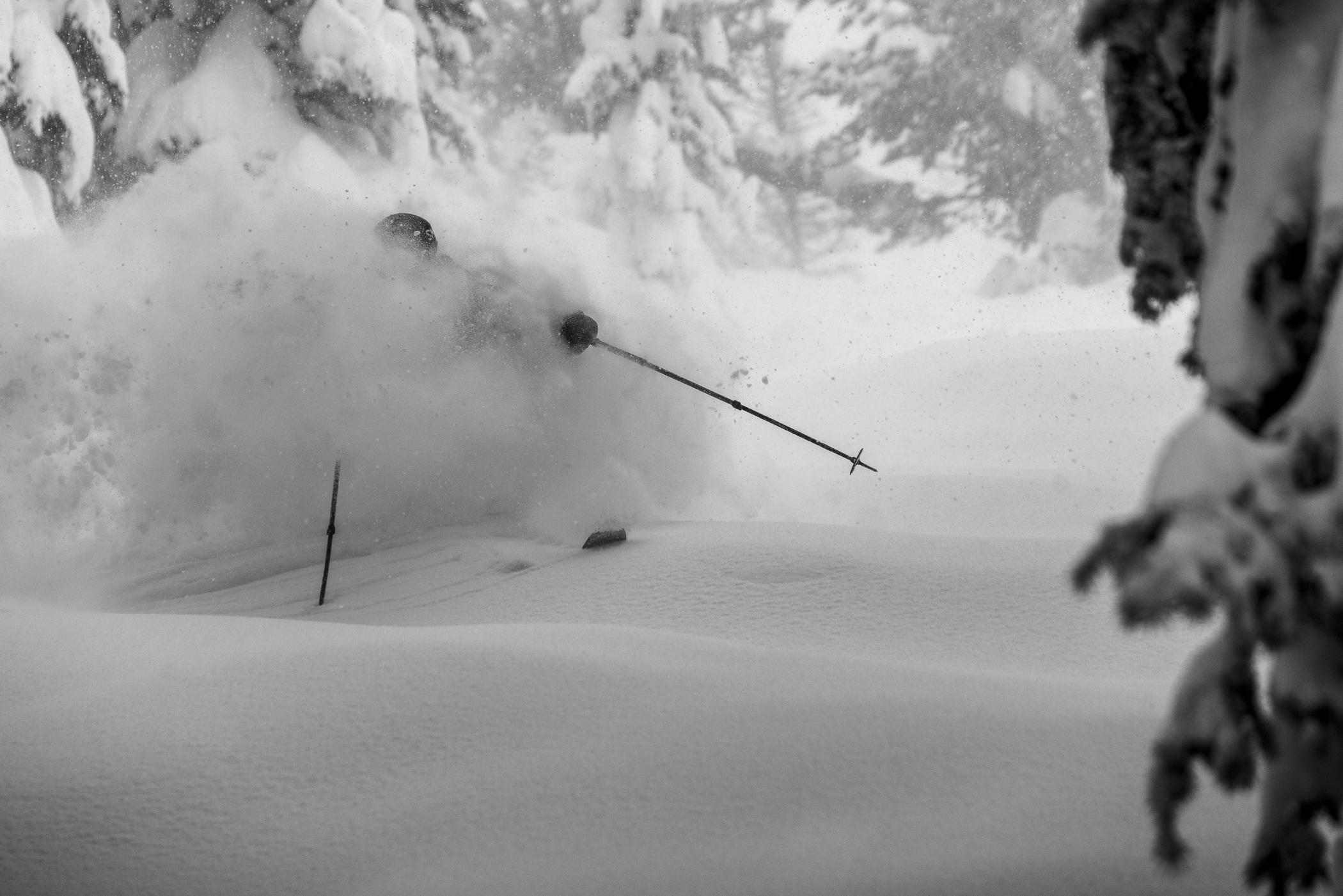 January 6th: Davis Lentz checks snow depth in the Westward Ho trees | Photo: Rocko Menzyk
January 7th: An Alta local enjoys a bluebird powder day on the Backside | Photo: Photo-John
Another storm cycle dropped 39 inches of snow in two days between January 10th–11th. The Town of Alta went into Interlodge at 9pm on January 11th. Avalanche mitigation produced some big slides that again buried sections of Highway 210. Unlike New Year's Day, the weather cleared and Alta Ski Area was able to open Wildcat and Collins lifts for the hundreds of lodge guests, local residents and employees that had spent the night in the Town of Alta. While UDOT worked to clear the road, some lucky skiers got to experience the Alta Country Club—a rare phenomenon when the highway is closed and skiers get to enjoy a 39-inch storm to themselves.
January 11th: Alta Country Club day | Photo: Alta Mountain Cams
January 15th–18th saw a five-day storm that delivered five feet of new snow, bringing our January snowfall totals to 147 inches of snow. Just 19 days into the month, snowfall totals were already 160% of average snowfall for the month of January—our fourth-consecutive above-average month to start the season.
January 16th: Freeride World Tour champion, Maxime Chabloz, charges through 50-plus inches of snow | Photo: Rocko Menzyk
January 18th: Ted Battesh digs out the Collins snow stake cam | Photo: Jonathan MorganJanuary 19th: Dani Laird stands in awe of the growing snowbanks of Alta | Photo: Chloe Jimenez
On January 25th, a surprise nine-inch powder day pushed our season snowfall total to 445 inches—officially the deepest start to the season (October through January) in the 43-year history of the Collins study plot.
January 25th: Troy Tully dives into a surprise nine-inch storm that set a new October–January snowfall record | Photo: Rocko Menzyk
Fun fact: We've already received more snow this season than we saw over the entirety of the 2021–22 season and 12 other seasons in the past 43 years.
A strong start to the season is by no means a guarantee of a deep season. We don't have to dig very deep to uncover that fact, as the 2020–21 season was a great reminder of how quickly our snow fortunes can change.
We never really know what Mother Nature and Old Man Winter have in store for us. So we'll just keep watching the forecast, praying for snow, skiing the new snow when it falls and digging out in between storms. After all, it's a ritual that's worked for 85 winters, why change now?